A lap around Neil Jenney's sprawling art studio is a trek through history, that of Jenney's own art and art history more broadly. He pans from remnants of sculpture, his first entree into art to the Bad Paintings that encouraged his notoriety, and the Good Paintings that have defined his style in the decades since. "Good painting starts with good drawings," he explained candidly. "Line is the measure that separates all artists." His descriptions of the works disperse into related art movements, artists friends' works, accounts of conversations. Jenney's lack of formality and signature denim bib overalls lend to a nostalgic air of Americana, befitting an artist who paints natural scenery and landscapes. His quick wit and earnest humor, often directed towards the ironies of painting and the arts, reveal little remaining naïveté in the Realist painter, whose renowned career spans a half century. His demeanor is knowing and seasoned, but when he speaks of art, Jenney's enthusiasm is as genuine and compelling as one imagines it was when his career had just begun. The maverick reputation that precedes him readily becomes apparent. He is at once a veteran artist, a devotee of nature and the environment, an eschewer of art world pretense with a determined and exacting vision of his work, down to the granularity of tree bark or shades of moonlight reflecting on night water. 
An iconoclast in twentieth century American art, Jenney's focus shifted from Abstract painting and sculpture to pursue a new brand of Realism. His Bad Paintings of the 1960s were coined after Marcia Tucker's exhibition "Bad Painting" at the New Museum in 1978. These purposefully sketchy, gestural works poked at preconceptions of taste and connoisseurship, and, according to Jenney, were "good concepts painted badly." The Good Paintings, ongoing since the 1970s, pursue the same goal through an inverse approach. Using oil paint on wood panel, Jenney creates heavily stylized studies of the North American landscape, each surface rendered surreal with faultless detail. Most recently, in the New Good Paintings, he has expanded his scope to other geographic locations, creating vistas as disorienting as they are clear. His current exhibition with Gagosian, Drawings & Paintings, features one painting from each of the key phases in Jenney's career, as well as a selection of drawings. Art Dependence spoke with Jenney to learn more about his distinctive art styles and the underlying social and artistic concerns that motivate him as an artist.
ArtDependence: You have said of your indoctrination into the art world: "I had two striking realizations: one, that even if I produced the worst paintings possible, they would not be good enough; and two, that idealism is unavoidable." How does your idealism manifest in the Bad Paintings that established your reputation and the Good Paintings that followed?
Neil Jenney: Idealism is unavoidable because as an artist, you cannot avoid doing the very best you can. The premise of the Bad Paintings was to have content beyond basic symbolism in America. Pop Art had no dramatic development, it was essentially a veneration of the superficial. I wanted to get beyond that and have a veneration of the profound.
AD: You did not embrace Photorealism, the art movement that preceded the Bad Paintings period of your work. You have said: "I felt like it was just second-generation Pop - pretty but a stale idea. So I told a friend 'it would be better to have a good idea and do it terrible!'" What were the good ideas behind your Bad Paintings?
NJ: I think of myself as a sculptor, that is how I started as an artist. No one had enough floor space so I had to move my ideas from the floor to the walls, but I have always been a sculptor at heart. The Bad Paintings came from an early period when I was sculpting with found materials - scavenging junk, fluorescent lights and tin cans, anything I could find and bringing it all together. It was the same idea with the Bad Paintings - a duality of these things and those things relating.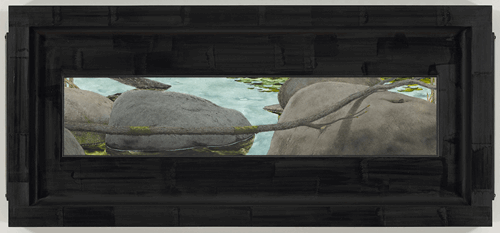 NEIL JENNEY, Ozarkia, 2014. Oil on wood in artist's frame, 28 x 64 x 3 3/8 inches, 71.1 x 162.6 x 8.6 cm. © Neil Jenney. Courtesy Gagosian.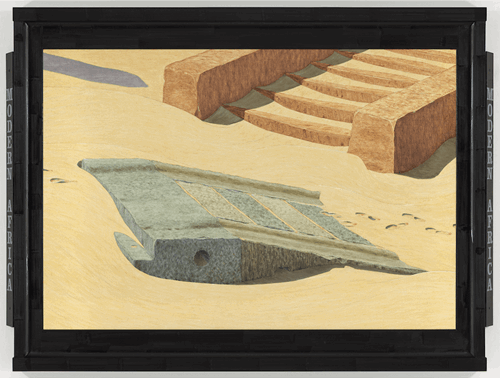 NEIL JENNEY, Modern Africa, 2016. Oil on canvas in artist's frame, 74 x 101 x 3 inches, 188 x 256.5 x 7.6 cm. © Neil Jenney. Courtesy Gagosian.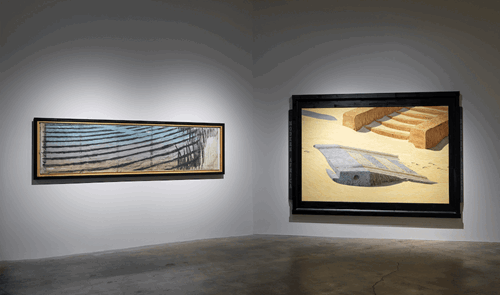 "Neil Jenney: Drawings & Paintings". Installation view at Gagosian Park & 75, New York. Artwork © Neil Jenney. Courtesy Gagosian.
AD: Of the era when your work first became prominent, New York Times art critic Roberta Smith remarked, "In those two years [1969-70], Mr. Jenney helped put Representational painting on a new course and established precedents for the art of the 1970s, 80s and 90s." How would you describe your legacy to Representational art in the decades that have followed?
NJ: I thought we would search for Vermeer, but in the end, it's just me and Vija Celmins. Honestly, I have not thought much about my legacy. I have always tried to follow my own instincts and find new answers to questions. I wanted to like the work I created, and just tried to believe in myself and my ideas along the way.
AD: After your Bad Paintings, in your next turn as an artist, your Good Paintings show a very different side of your abilities: flawless finishes, meticulous attention to detail and precise color, texture and form. How was this level of refinement important to the new phase of your work?
NJ: It all starts with drawing. That is why we called the show, Drawings & Paintings, because the drawings must come first. I start with what I want to capture and think about how to achieve that. As you draw, you see things – water moving at a different pace in one part of the stream than another, the reflection of sky and sun in the current. You see and understand, and you memorize, you cannot be searching. You have to know what you want to achieve before you start to paint it, even with a model. Still, everything is trial and error. I study my best work and learn from it, to elaborate on the technical aspects. I keep trying to make each piece better.
AD: You consider framing as an extension of your paintings themselves with the frame mimicking a window unto a scene, presenting the painting and its illusions. When you consider framing a given work, how do you decide on the best presentation for your illusion?
NJ: At first, I did not frame my paintings because I did not want to interfere with their purity. Now I love framing because I see how it creates an architectural foreground for the work. Sometimes the titles come first, sometimes the imagery. I like to reference the future and the idea of tomorrow.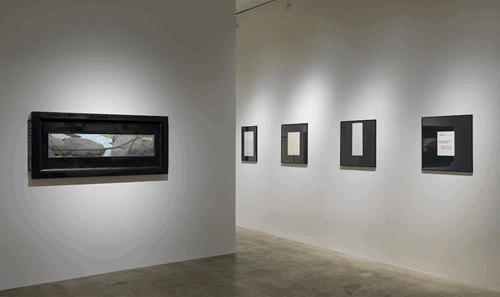 "Neil Jenney: Drawings & Paintings". Installation view at Gagosian Park & 75, New York. Artwork © Neil Jenney. Courtesy Gagosian.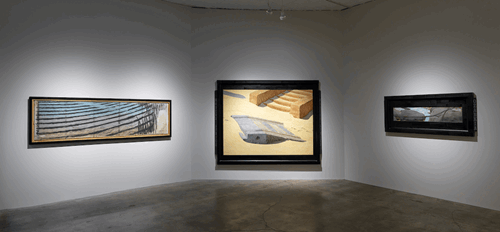 "Neil Jenney: Drawings & Paintings". Installation view at Gagosian Park & 75, New York. Artwork © Neil Jenney. Courtesy Gagosian.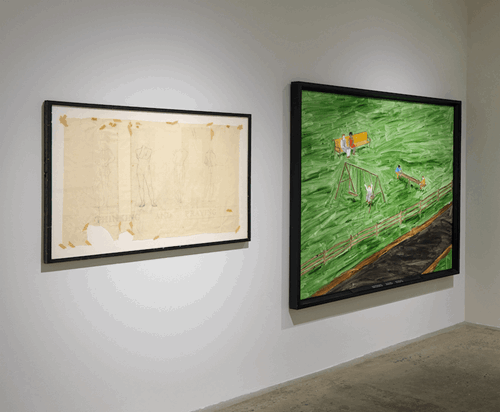 "Neil Jenney: Drawings & Paintings". Installation view at Gagosian Park & 75, New York. Artwork © Neil Jenney. Courtesy Gagosian.
AD: Drawings & Paintings divides your work between three distinctive eras: Bad, Good and New Good Paintings. The show includes a single painting to define and characterize each phase of your career. How did you choose the selections that anchor the exhibition?
NJ: For each, I tried to focus on what is profound – in the Modern Africa series, that is civilization and mother nature. I appreciate newness and that comes through in the differences in each phase and the works chosen.
AD: You have said that in art, there are only two styles: Abstraction and Realism: "Abstraction is always an element in all art. In music, and in drawing and in painting and sculpture, it has to succeed abstractionally to succeed." Where do we find the Abstract in your work as a Representational artist?
NJ: There is Abstraction, Realism and a combination of the two. I started as an Abstract Expressionist, I was working a lot with shapes, especially squares. My work since is somewhere in between. The Bad Paintings were conceptually relational, and the Good Paintings offered an alternative to Photorealism, exacting but with more feeling.
AD: In your latest incarnation, New Good Paintings, your art expands the styling of your Good Paintings into new environments with subtle subtext about the artist's cultural role, climate change and societal progress. What is important about these themes to your new work and how do you expect these ideas will guide your future endeavors as an artist?
NJ: The Realist movement is dedicated to intuitive adjustment, and in the computer age, I think we want a human element, a human effect. I feel that there has been a tipping point of consciousness about ecology and climate change, so it is timely to have these themes in my work.  We all want to improve society on some level, so it is positive if art can motivate societal change.