Image source: Somerset House
'Good Grief, Charlie Brown!'  exhibition brings together Charles M. Schulz original Peanuts cartoons with work from a wide range of acclaimed contemporary artists and designers who have been inspired by this highly influential and much-loved cartoon. Unique in its enduring appeal, this exhibition explores Peanuts' renewed agency in contemporary culture and society.
Peanuts creator Shulz's acute understanding of the workings of the human psyche, as well as his sense of humour, poking fun at the rise of 'shrink culture' in America, meant that Peanuts became both a balm to soothe and a tool to heal in a decade of social and political upheaval.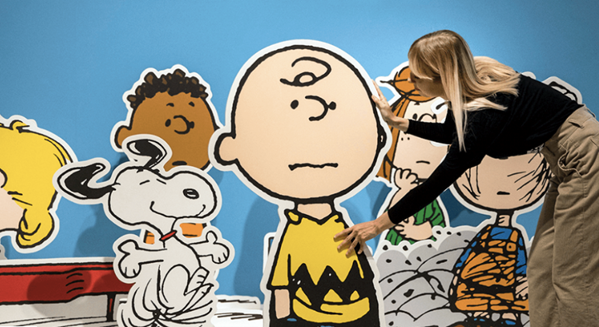 Image source: Somerset House
All the loves in Shulz's Peanuts strips are unrequited. For Schulz the idea that the greatest happiness was to be found in the simple sense of connection to others, in the strip itself the experience of happiness was a much more complex and elusive thing.
Explore the history of Charles M. Schulz' iconic strip and its influence on art, design, fashion and popular culture through the ages. 
Somerset House, London
Through 3 March 2019