Image: Sonja Ferlov Mancoba, Mask and figure, 1977-84. Courtesy: The Estate of Ferlov Mancoba. Photo: Magnus Ekstrøm
About exhibition
She was uncompromising, intensely self-critical and lived most of her life in poverty. But her message of community continues to inspire today. This spring's exhibition at SMK,  Sonja Ferlov Mancoba, focuses on one of the most important Danish artists of the modern age. Learn the whole story about this prominent  sculptor, and explore her poetic, warlike figures.
'Sonja Ferlov Mancoba is a key figure within Danish modernism. With this exhibition we wish to call attention to an artist who never got the recognition she deserves.' Mikkel Bogh, director of SMK
An upcoming artist
The exhibition follows Sonja Ferlov Mancoba (1911–84) throughout her career, beginning in the 1930s where she was affiliated with the artists' association Linien (The Line) and explored Surrealism alongside fellow artists such as Richard Mortensen and Ejler Bille. In 1936 she set out for Paris, where she rented a studio next to Alberto Giacometti, now a world-famous artist.
Sonja Ferlov Mancoba working on a sculpture, Gudhjem, 1951. Photo: Johnny Bonne / Ritzau Scanpix
Ferlov Mancoba created semi-abstract beings, warrior figures and masks out of clay and plaster. However, she was extremely critical of her own work, discarding many of her pieces. She even threw one of her most important works into a lake because it would not 'behave'. She never really got involved with the commercial art market – and as a result she lived in great poverty.
Fighting for fellowship
Sonja Ferlov Mancoba was keenly interested in African cultures. Here she found a kind of art that expressed the sense of fellowship between people for which she herself fought.
She believed in a sense of community that cut across different cultures. This vision runs through all of Ferlov Mancoba's art and life. She sought to create art that would forge new connections between people in the materialistic, selfish world she felt she lived in.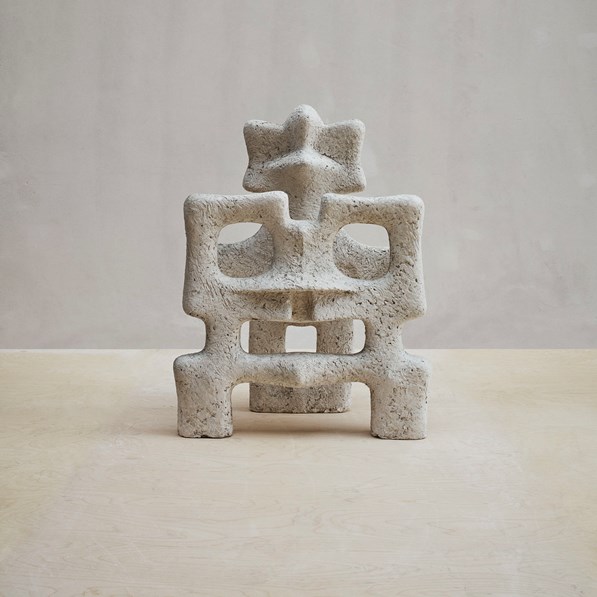 Sonja Ferlov Mancoba, Mask and figure, 1977-84. Courtesy: The Estate of Ferlov Mancoba. Photo: Magnus Ekstrøm
"… Only through each other can we live and breathe, and no-one creates alone". Sonja Ferlov Mancoba
The exhibition features 140 works by the artist, including several plaster and clay sculptures that have never before been on public display. The exhibition Sonja Ferlov Mancoba is arranged in collaboration with the internationally renowned museum Centre Pompidou, Musée National d'Art Moderne in Paris.