The star highlight of the night: Gustav Klimt's Insel im Attersee painted in c. 1901-02, on the cusp of the artist's acclaimed Golden period, sold to a Japanese private collector for $53.2m after a seven-minute bidding battle during the Modern Evening Auction (est. in the region of $45m).
Two timeless masterpieces by René Magritte set new benchmarks in their auction debuts during
The Mo Ostin Collection: 
Distinguished Collections Drive Demand

Sir Peter Paul Rubens' Portrait of a Man as Mars achieved $26.2m (est. $20-30m). The work comes from the esteemed Fisch Davidson Collection, from which 10 works achieved $49.6m in January 2023. 

Two works from the collection of Jan Shrem & Maria Manetti Shrem are sold for charitable purposes supporting the arts, music, educational and medical research, including Pablo Picasso's Femme nue couchée jouant avec un chat, which realized $21.2m (est. $20-30m).

Eight works from the "Impressionist Spirit Collection" achieved a combined $31.6m, led by Claude Monet's Cap au martin, which sold for $11.5m (est. $10-15m). 

Two works from the collection of Frances Wells Magee found buyers, including Mark Rothko's Untitled canvas which realized $4.7m. A further two works from the collection will be offered in the Contemporary Evening Auction.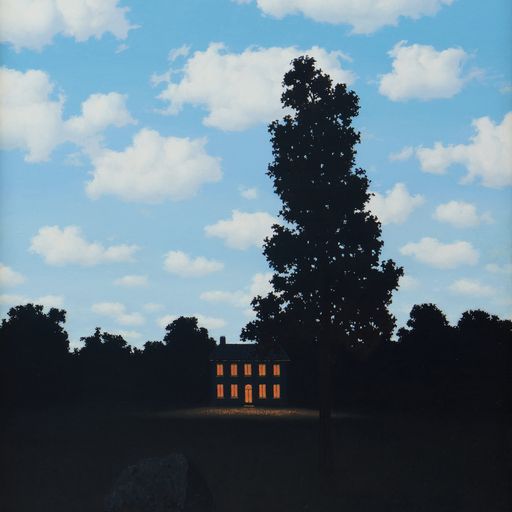 René Magritte, L'empire des lumières
Further Standout Results 
 From the Mo Ostin Collection Evening Auction:  
Five participants from across the globe vied for Cecily Brown's expressionist painting, Free Games for May, taking the final price to $6.7m (est. $3-5m). 

Once held in the collection of The Broad Art Foundation in Los Angeles, Jean-Michel Basquiat's Moon View surpassed its high estimate to sell for $10.8m (est. $7-10m). 
From the Modern Evening Auction:
Vincent van Gogh's 1887 work, Jardin devant le Mas Debray, a work showcasing the artist's early use of vivid color was acquired by a collector in Asia for $23.3m in its auction debut (est. $20-30m). 

Auction record set for Vilhelm Hammershøi after his Interior. The Music Room, Strandgade 30, almost doubled its high estimate to achieve $9.1m in its first appearance at auction in almost 80 years (est. $3-5m). Acquired by an American museum.

Isamu Noguchi's The Family sold to applause after a six-minute bidding battle for $12.3m - setting a new auction record for the artist (est. $6-8m). Tonight's sale marked the first time the work has appeared on the market since its creation 60 years ago. 

Six works by Pablo Picasso bring a combined $52.4m, led by Femme nue couchée jouant avec un chat ($21.2m). 

Alberto Giacometti's Femme Leoni sold for $28.5 million, a record for the artist's series.