Image: Courtesy of SP-Arte.  Photo: Jéssica Mangaba
The first edition of the SP-Arte Viewing Room will take place from the 24 – 30 August 2020, bringing 136 exhibitors together in a single digital space, including leading design and art galleries in the national and international markets, publishing houses, magazines, collectives and independent art projects. SP-Arte launches its first online edition following the global trend of art institutions and fairs moving their activities to the digital realm. SP-Arte Viewing Room is hosted on www.sp-arte.com, a web page which receives a monthly average of 40,000 visitors.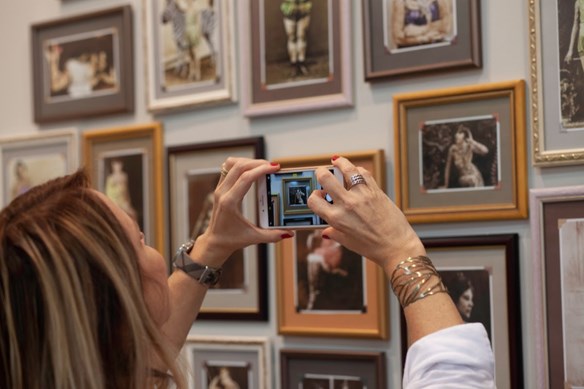 Image: Courtesy of SP-Arte.  Photo: Jéssica Mangaba
Over the week-long event, the public will be able to view photographs, videos, paintings and artworks of  other various media by artists represented by galleries such as 1 Mira Madrid (Madrid), Almeida e Dale(São Paulo), Carpenters Workshop Gallery (London), Galleria Continua (San Gimignano), ETEL (São Paulo), Fortes D'Aloia & Gabriel (São Paulo), Luciana Brito Galeria (São Paulo), Galeria Nara Roesler(São Paulo), Galeria Millan (São Paulo), Galeria Paulo Darzé (Salvador), Galeria Kogan Amaro (São Paulo) and Passado Composto Século XX (São Paulo), as well as collectives and art projects such as Levante Nacional Trovoa (São Paulo) and  01.01 Art Platform (São Paulo). 
"The SP-Arte Viewing Room was thought of as an immersive and democratic platform that brings together exhibitors of the most varied profiles and artworks in different media by thousands of artists, including well-established as well as young artists at the start of their careers. We have adapted our program of events to the online space, offering a wide range of activities through which art can live - this time, entering the homes of our visitors" – Fernanda Feitosa, director and founder of SP-Arte

On each gallery's page, the visitor can browse through an exhibition of up to 30 artworks – facilitated by a smart navigation system. A number of tools have been made available to exhibitors, including the option to add video and audio, thus supporting the creation of a unique narrative through their digital exhibition and enriching the visitor's experience. When interested in an artwork available, a simple click on "Contact Gallery" allows the visitor to start a conversation with the gallery, either via a chat platform, Whatsapp or email.
"Prospective buyers who may think that certain works of art are out of their reach may realize that some artworks could be closer to their budget than they imagine. In this project, we have chosen to encourage exhibitors to inform the prices of their works, either through the exact price or a price range. We are confident that this greater transparency and ease in accessing works of art can help demystify the market, transforming our sector and favoring both the collectors and the galleries", adds Feitosa.