Image: Albrecht Dürer | Wing of a Blue Roller, c. 1500 | © The Albertina Museum, Vienna
Spectacular Presentation of a Renaissance Genius
It has been decades since so many works by Albrecht Dürer (1471–1528) have been seen in one place: thanks to valuable international loans, Vienna's Albertina Museum—itself home to numerous world-famous icons of drawing by Dürer including the Hare, Praying Hands, and Large Piece of Turf – will be presenting over 200 examples of Dürer's drawings, printed graphics, and paintings in autumn 2019. Upon its reopening in 2003, it was with an exhibition of works by Albrecht Dürer that the Albertina Museum ended up welcoming a total of half a million visitors. And now, a selection of over 100 drawings, a dozen paintings, personal writings, and other rare documents will present the oeuvre of this Renaissance genius more comprehensively than ever before.
The Historical Collection of the Albertina Museum
The Albertina Museum holds the world's most important collection of Albrecht Dürer's drawings, a collection that numbers nearly 140 works.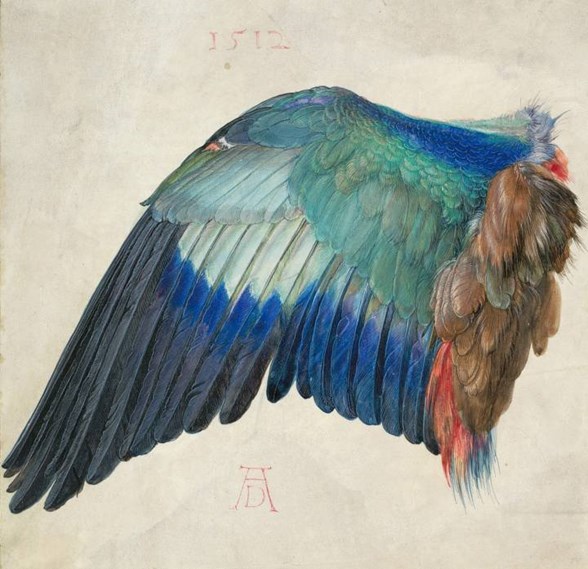 Albrecht Dürer | Wing of a Blue Roller, c. 1500 | © The Albertina Museum, Vienna
The historical background of the museum's Dürer holdings is likewise a matter of special significance: their provenance can be traced back to 1528 without any gaps, with this group of works from the artist's workshop having thus been together for nearly 500 years. The museum's holdings hence also offer a uniquely ideal starting point from which to learn about Dürer's personal, early-humanist concept of art.
International Loan Works Brought Together
For this once-in-a-century exhibition, the Albertina Museum has succeeded in uniting important works from international lenders: the Adoration of the Magi from the Uffizi, the unsettling and unsparing self-portrait of a naked Albrecht Dürer from Weimar, Martyrdom of the Ten Thousand from Vienna's Kunsthistorisches Museum, Christ among the Doctors from the Thyssen-Bornemisza Museum in Madrid, and what is possibly Dürer's most handsome male portrait from the neighboring Museo del Prado. Furthermore, the ALBERTINA Museum is also presenting the late paintings from the artist's final journey to the Netherlands with all of the studies on which they are known to be based.
Art-Historical Sensations
In recent years, curator and Dürer specialist Christof Metzger has been reevaluating the Albertina Museum's Dürer holdings, which embody the world's most important collections of both his drawings and his watercolors.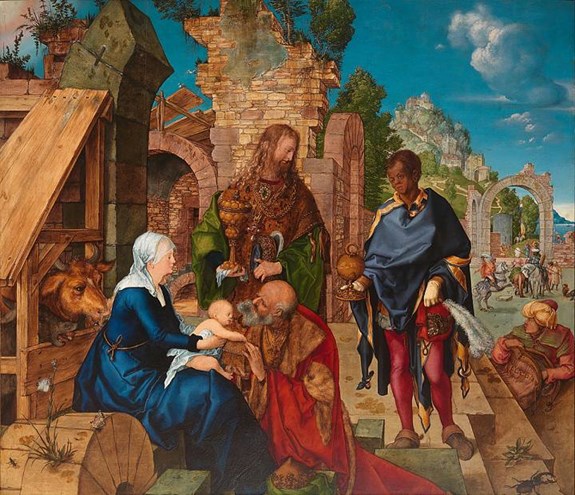 Albrecht Dürer | Anbetung der Könige, 1504 | Florenz, Gallerie degli Uffizi © Gabinetto Fotografico delle Gallerie degli Uffizi
The most surprising outcomes of this work are his assessments regarding the artist's great nature studies from the initial years of the 16th century—such as the Hare and the Large Piece of Turf —and his studies with strong light/dark contrasts on colored paper such as the famous Praying Hands, all of which probe the limits of what can be accomplished with pen and brush. These are demonstration pieces that proved Dürer's consummate drawing and painting abilities to anyone who visited the master's workshop. As such, they are not preliminary studies but autonomous visual tours de force that demonstrate Dürer's stupendous abilities as well as the intellectual depth with which he conceived of nature.
On view from 20 September 2019 until 6 January 2020.