Image: Johannes Vermeer, "Girl with a Pearl Earring," ca. 1665 (Photo: Mauritshuits via Wiki Art Public Domain)
Johannes Vermeer (1632 – 1675) died in poverty, his works relatively unknown outside of his hometown of Delft. This remained true until the French avant-garde generated new interest in this reclusive painter from the 17thcentury, shooting him into the limelight and making his works some of the most recognizable images in the art world today.
Vermeer was born in Delft, Holland. His family were protestants, although he later converted to Catholicisim, probably on the insistence of his mother in law. Vermeer's father, Reynier, was registered as an art dealer in the city – a career which may have influenced his young son.
At the time, Dutch painters were required to undergo a fixed period of training with a master painter from the Guild of Saint Like, but it is not known who Vermeer's tutor was. Some speculate that it could have been Carel Fabritius. There is a record of Vermeer joining the Guild in 1653, the same year he was married to Catherina Bolnes.
Relatively little is known about Vermeer's life. It appears that he was largely devoted to his artistic studies, although his wife was thought to give birth to fourteen children, four of whom died in infancy.
His early works appear to have been influenced by the style of Caravaggio and his followers. Vermeer is also thought to have been influenced by the Camera Obscura of Carel Fabritius, who was known to be in Delft from 1650 until 1654 and to have had considerable influence on Vermeer, whether he formally tutored him or not. Three of Fabritius' paintings were found in Vermeer's home after his death.  
There are only around 35 known paintings by Vermeer in existence today. It is thought that he took long periods of time to complete each individual work, laboring over the details. He was said to produce only around 3 paintings a year, most of them to order. It is also thought that he spent most of his life living and working in Delft, which limited his fame and reputation in the wider art world of the time.
Although Vermeer's work did attract some attention, he never sold enough works to make a stable income. He was living in a time of high Baroque art, in which his subtle, pain-staking approach did not gain much public recognition. By 1672, as an economic downturn hit the Dutch Republic, he found himself in financial difficulty. In 1675 he died suddenly, leaving his wife and children destitute. In a written document, his wife stated that the cause of death was financial stress. His wife sold several of his paintings and possessions in order to pay off the family debts.
Vermeer's work remained largely unknown for nearly two centuries, until 19thcentury bohemian Parisians began to re-examine his works, finding new appreciation for the light he shed on ordinary, simple lives and passing moments. In particular, critic Thoré-Bürger championed Vermeer, bringing his work into prominent public attention.
Vermeer's paintings focused on domestic interiors. He painted images of the wealthy and of the working class, ranging across society and capturing intimate moments in his precise, studious style.
In the 1930s, Vermeer became the unwitting victim of a widespread scandal, when Hans van Meegeren faked his works in what was to become one of the biggest forgeries in art history. His work had moved from virtual obscurity into the territory of cultural iconography, attracting with it the attention of fakers and cheats. 
One of Vermeer's most recognizable works is the Girl with a Pearl Earring, painted in 1665, ten years before Vermeer's untimely death. The piece has been known by several names over the centuries and was given its current title during the 20thcentury. It currently hangs in Mauritshuis in The Hague. In 2006 it was voted the most beautiful painting in the Netherlands. The image is unusual for Vermeer in that it is simply a female head and shoulders against a dark background (now believed to originally have been painted a green tone). The painting is a study of a female head, rather than a traditional portrait.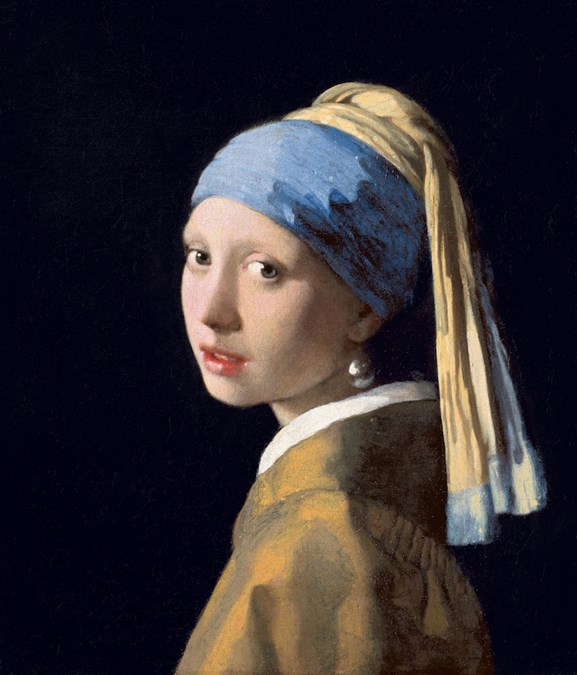 Johannes Vermeer, "Girl with a Pearl Earring," ca. 1665 (Photo: Mauritshuits via Wiki Art Public Domain)
The image has given rise to many literary and poetic interpretations, with much speculation over the identity of the girl and the reasons for her unusual dress. Whoever she is, she looks out through the canvas, lips slightly parted – a pose that feels intimate and knowing.
It is also worth noting that some critics have questioned whether the earring itself is actually a pearl, suggesting that due to its size and shine it is in fact more likely to be made of tin. Other critics argue that it is clearly an oversized pearl and is part of the exoticism of the clothing of the young woman.
Pearls are said to symbolize wisdom, purity, generosity and integrity. In many cultures, pearls have been prized for their rarity and natural beauty. In ancient Egypt, wealthy people were buried with their pearls. It is also reported that Cleopatra dissolved a part of her pearl into a glass of vinegar and drank it. Thanks to their association with jewelry, pearls are also closely associated with romance and love and are often present at weddings. In Ancient Greece, pearls were said to be tears of the Gods. In some Christian traditions it is thought that the tears Eve cried after she was banished from the Garden of Eden were turned to pearls.
As pearls are found under water, they are also often associated with exotic adventures and travel to far shores. They are also associated with feminine beauty and luxury, by association of being able to afford these rare and travelled items.
In the Girl with a Pearl Earring, Vermeer places the pearl on the earring of this young woman, who is looking directly out of the canvas, the yellow of her top contrasting gently with the blue of her turban. The pearl and her headdress tell us that there is something exotic in this image. Turbans were popular fashion accessories at the time, but this young woman feels international, as though the wider fashions of the world have touched her and encouraged her to look for adventures outside the confines of the frame she sits in. She looks innocent, demure, and yet somehow worldly-wise and intelligent, as though she is looking at the viewer with secrets to tell, with ideas to express and adventures to plan.
The feminine pearl shines out from the canvas - but it is not demure, not subtle. It is large, oversized and taking up space. It is at once representative of natural beauty, subtle elegance and wealth, and at the same time, thanks to its size and its pairing with the turban, of flamboyance, of great adventures lived out of sight.
As far as historical records show, Vermeer did not leave Delft for any significant amount of time. Could this girl with her pearl earring and far away stare represent Vermeer himself, confined by the canvas and by the art itself, but dreaming and longing for far distant lands and adventures?