Image courtesy to Standaard.be 
Tanguy Ottomer wants to offer visitors real insights into the hidden side of Belgium's biggest cities. Far from the fast and impersonal pit stop style of traditional city guides, dashing to each major landmark, offering a few facts and moving on, Ottomer's BeroepsBelgoffers the best ambassadors for each city to provide local insight, fascinating anecdotes and expert knowledge.
ArtDependence met up with Ottomer to find out more.
ArtDependence (AD): You are probably the best known tour guide in Antwerp.  How do you look at the city when you walk through Antwerp now compared to the era before corona?
Tangy Ottomer (TO): The city of Antwerp reveals a totally different side of her that I've never experienced before. The first thing I noticed were the birds singing. They are much more present than before. People are more friendly and everybody says hello.  
I always see a city as an open air museum. Now I feel like a VIP who is visiting the most beautiful museum in the world after hours.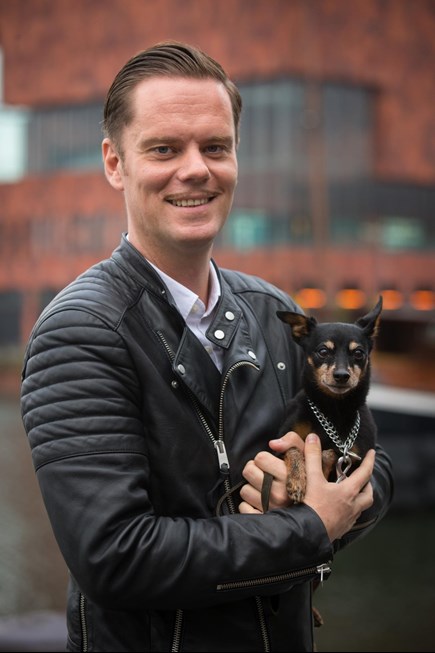 Image courtesy to Standaard.be 
AD: How do think the people from Antwerp will look at their city post corona? 
TO: I hope they will see that we don't always need to travel abroad to have a nice holiday. In Belgium, we have so many wonderful places to visit, so take the opportunity to get to know more about your own region. We have it all: history, architecture, beer, chocolate, diamonds and much more. I always say: be a tourist in your own country!

AD: Do you appreciate this moment in history?
TO: I have to say yes. If you are in good health and have no real financial troubles this is a really special time to be living. The rat race has stopped, we are going back to basics. Appreciate the little things in life: friends & family, food, drinks & freedom. We take everything for granted, but now we are all learning a valuable lesson (I hope).

AD: Antwerp is paying a lot of attention to its cultural heritage.  What buildings are your favourite?
TO: That is like asking a parent which child is their favorite. We have so many exquisite pieces of architecture from different centuries. Last year 'the mother of all stock exchanges' reopened after a much needed total renovation. The oldest parts of this city go back to the 16th century. I wrote a book about the history of it: I'm stunned by it all.
We are renovating our renaissance city hall & the Fashion Museum, but the one I'm really looking forward to seeing when it is fully renovated is our Royal Museum of Fine Arts. They have been renovating it for almost 10 years and we still don't have a confirmed date for the reopening. I'm sure it will be amazing.

AD: Not all buildings in a city are beautiful, but they always reflect a certain era. Do you think Covid-19 might change our attitudes about some of these less appreciated buildings and encourage us to preserve them?
TO: We have suffered during two World Wars, but still we managed to destroy more buildings in the 60's & 70's than were destroyed during those wars. That's one of the main reasons I started to guide, because I was not pleased with our history of heritage preservation. Normally after a war (I see Covid-19 as a war), people want new things. They want to get rid of the old. I'm wondering how we will capture this. I will always defend the heritage of our country.

AD: As a guide, you are hit hard by this crisis. How are you dealing with this?  What do you see as the future of your profession?
TO: From day one I was out of business. Luckily I have a lot of Belgian clients (families, friends, service clubs, companies) who have simply moved their bookings to later in the year.  More than 60% of my clients are from Belgium. I don't expect a lot of tourists this year to be honest. So I'm looking forward to a 'staycation-summer'.  
During the Covid-19 lockdown I've been writing all the time, so this year I will publish three books.  Being locked down in my house feeds my creativity!