Four photographers have been shortlisted for the Taylor Wessing Photographic Portrait Prize. The prize winners will be announced at an award ceremony at the National Portrait Gallery on Tuesday 16 October 2018.
The winner of the competition will receive £15,000. In addition the judges, at their discretion, will award cash prizes to the other shortlisted photographers.
The competition was judged on an equal and anonymous basis from original prints by:
Dr Nicholas Cullinan, Chair (Director, National Portrait Gallery, London)
Miles Aldridge (Photographer)
Shane Gleghorn, Managing Partner, Taylor Wessing LLP
Sabina Jaskot-Gill (Curator of Photographs, National Portrait Gallery, London) 
Renée Mussai Renée Mussai (Senior Curator, Autograph ABP) 
Sophie Wright (Global Cultural Director, Magnum Photos).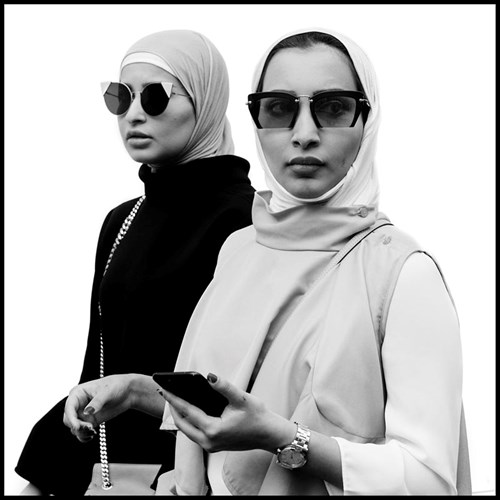 Untitled from the series Londoners by Max Barstow 2017 © Max Barstow
Max Barstow (25.05.1994) is a London-born photographer with an interest in images about city life, with his work inspired by a combination of studio and documentary photography. The photograph selected, a double portrait of two shoppers, has been taken from Barstow's series titled, Londoners. Barstow says, 'I began creating the series with the aim to make un-posed portraits with the intensity of images made by great studio portrait photographers such as Richard Avedon and Irving Penn. The photograph selected is a strongly composed and graphically-arresting image. It freezes a pair of friends shopping in the flow of a busy Summer Sunday afternoon in the centre of London. I believe the image is peculiarly interesting as a portrait in that it was taken swiftly in the middle of a crowd of passers-by – it is, unusually, both a formally successful portrait with a classic studio-aesthetic and a street photograph in the broad idiom of Henri Cartier-Bresson and Garry Winogrand.'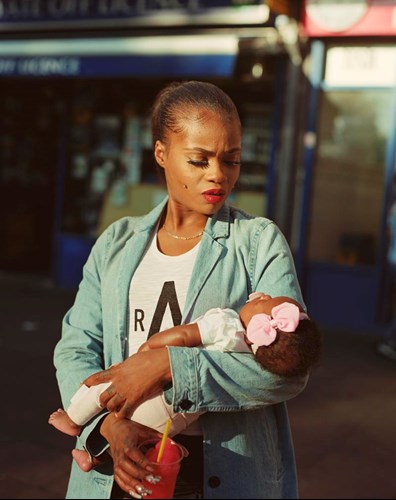 Cybil McAddy with daughter Lulu from the series Clapton Blossom by Enda Bowe 2018
Enda Bowe (21.05.1972) is an Irish photographer based in London. Bowe's work is concerned with storytelling and the search for light and beauty in the ordinary. He has had work exhibited at Red Hook Gallery, New York, The V&A Museum, London, Fotohof, Salzburg, Douglas Hyde Gallery, Dublin, and The Visual Centre Of Contemporary Art, Ireland. The photograph selected, a portrait of Cybil and Lulu, is from a series of portraits titled Clapton Blossom. Bowe says, 'the series focuses on finding the colour and beauty in the urban, the light in the grey. At the centre of the housing estate where this project was made stands a huge cherry blossom tree, the unifying heart of the estate. The beauty of the blossom, symbolising hope, optimism and new beginnings connects the people within the project together.'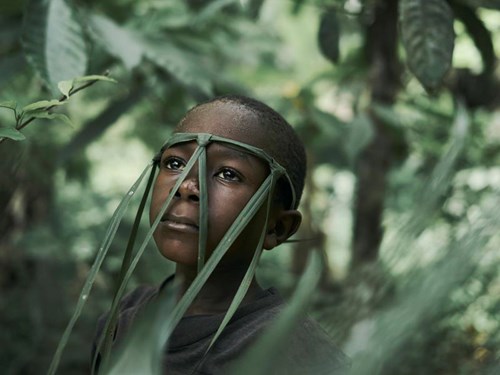 Portrait of 'Strong' Joe Smart from the series Tombo's Wound by Joey Lawrence 2017 © Joey Lawrence
Joey Lawrence (05.11.1989) is a Canadian-born photographer based in Brooklyn, New York celebrated for both his humanitarian projects and high-profile commissions. Lawrence has built his style by dedicating vast amount of time and resources to passion projects which emphasie the humanity in underserved communities. Commissioned by WaterAid, Lawrence's shortlisted portrait of Joe Smart is part of a series shot in Tombohuaun, translation 'Tombo's Wound,' a remote village tucked into the jungle of Sierra Leone's Eastern Province struggling with water-borne illnesses. 'Rather than just creating images that underscored Tombohuaun's plight', Lawrence says, 'WaterAid and I envisioned a portrait study of the community that would highlight its resilience, its fraternity, its highly organized structure, and its work ethic. These are all the traits that will enable the village to thrive and sustain its clean water resources and practices long after the NGO has completed its work.'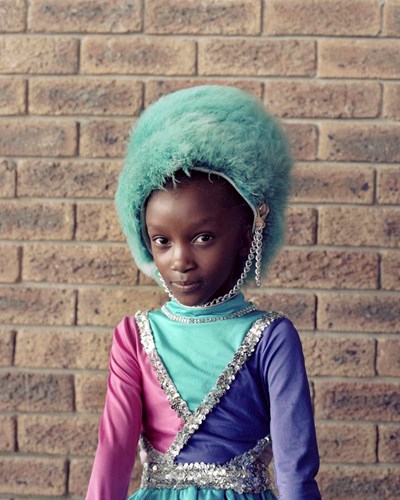 Keisha Ncube, Cape Town, South Africa, 2017 from the series Drummies by Alice Mann © Alice Mann
Alice Mann (05.09.1991) is a South African photographic artist based in London whose intimate portraiture essays explore notions of picture making as an act of collaboration. Her shortlisted series was shot in South Africa's Western Province, focusing on the all-female teams of drum majorettes. Alice Mann says, 'For these girls, involvement in 'drummies' becomes a vehicle for them to excel, and the distinctive uniforms serve as a visual marker of perceived success and represents emancipation from their surroundings. Continuing my consideration into notions of femininity and empowerment in modern society, it was my intent to create images that reflect the pride and confidence the girls achieve through identifying as 'drummies'.'