Image: Howard Terpning (born 1927), Coffee Coolers Meet the Hostiles 
Coffee Coolers Meet the Hostiles exemplifies the conflict of Westward expansion through a dramatic encounter of Sioux tribesmen with opposing ways of life. By the mid-1860s, the Great Sioux Nation faced increased land restrictions by the Federal Government, resulting in the establishment of the Great Sioux Reservation with the Fort Laramie Treaty of 1868. To incentivize and 'civilize' the Plains Indians, clothing, blankets, cloth and food rations of flour, lard, bacon, sugar, coffee and beef were distributed to those who would live on the Reservation. Many Plains Indians rejected this push toward agrarian life, and in the present work, the clash of cultures is marked. The 'Coffee Coolers' are depicted in Western tack and apparel, carrying rifles, and loosely assembled, whereas the 'Hostiles'—warriors who continued to hunt and live in the unceded territories—are shown in buckskin, with traditional hunting weapons, banding cohesively.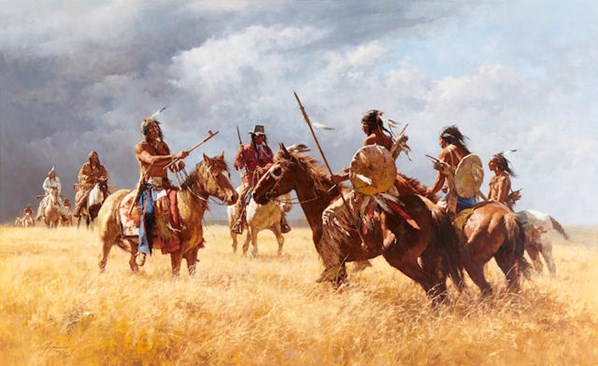 Howard Terpning (born 1927), Coffee Coolers Meet the Hostiles 


Terpning masterfully captures the crux of this conflict through formal composition in the triangulation of a peace pipe, rifle, and lance with their respective agents. Terpning is considered by many to be the finest 'modern-day storyteller' of the American West, and the present work is a superb example of the sensitive and historically-informed narrative for which he is best known. 
On a note written by the artist and attached to the reverse of the painting, the artist described the present work:

"The 'Coffee Coolers' was a name that the hostile Sioux from the north gave to their tribesmen who chose to live around the white man agency and seek their favor and presents, and scout for them. 

In the month of yellowing grass, some coffee coolers rode up to the north and met some of the hostile Sioux on the rolling plains and smoked the pipe and counciled [sic] with them and tried to convince them to bring their band down to the agency and live in peace. Two hostile Indians on the right are riding cavalry horses."

In a second letter to Lloyd Brinkman, the artist, elaborated on the subject of the work and added to his description the following: 

"Indians who would not live on reservations but resisted confinement were called hostiles. They in turn called the Indians who lived on reservations and around the white man "coffee coolers" because they liked the white man's coffee & sugar and all the warm blankets and other goods that the white man passed out. As long as they stayed on the reservation, they were called "good" Indians. From time to time they would be sent out to hostile territory to try and talk to the resisting people into coming back to the reservation. Many ranks remained independent until forced onto reservations at gunpoint. This scene shows some "good" Indians approaching some hostile and offering the pipe so they may sit down and smoke and perhaps be induced to return to the reservation with them."
Howard Terpning (born 1927)
Coffee Coolers Meet the Hostiles 

signed, dated and inscribed '© Terpning 1982 CA' (lower left) and signed again and inscribed with title (on the backing)
oil on canvas
32 x 52in
Painted in 1982
Estimate: USD 600,000 - USD 800,000
The L.D. "Brink" Brinkmann Collection Auction
Bonhams, Los Angeles, 8 February 2019