Image: Tarzan, wake up ! 2017, Acrylic and oil on linen, A. Krausser Collection, Dubai
Greek artist Nikos Moschos was born in 1979 in Heraklion, Crete. He studied at the Athens School of Fine Arts(1997-2003), lives and works in Athens. 
His works depict human limbs, mechanical components, architectural elements, animal and plant parts, ancient statues, and numerous unspecified elements combined in confusing as well as terrifying tableaux. Pop aesthetic, encounters realistic painting and combines psychedelic elements in images reminiscent of movie stills and sci-fi pulp comics. He has had seven solo exhibitions: in 2019 ''Marginally Human/Works 2012-2019'' at the Municipal Gallery of Heraklion (Crete), in 2016 at SWAB Art Fair (Barcelona) with ENA Contemporary Gallery, in 2014 at SWAB Art Fair (Barcelona) with ALMA Gallery, in 2013 at Art Athina fair with Penindaplinena Gallery, in 2012 at Xippas Gallery (Athens), in 2010 at Galerie Theorema (Brussels) and in 2007 at Ekfrasi - Gianna Grammatopoulou Gallery (Athens).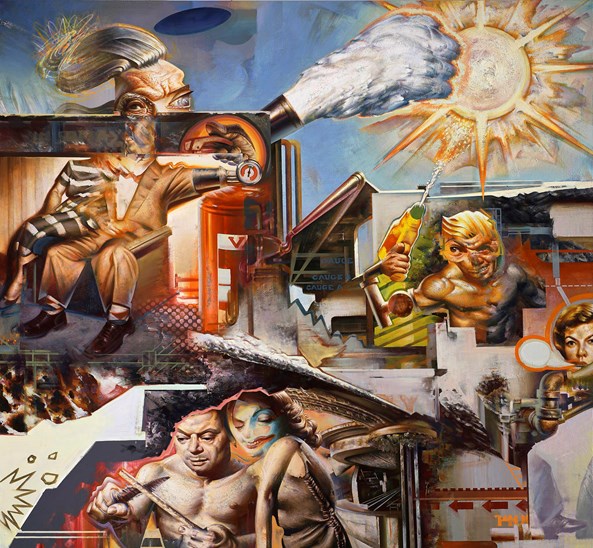 Tarzan, wake up ! 2017, Acrylic and oil on linen, A. Krausser Collection, Dubai
He has participated in numerous group exhibitions in Greece and abroad, such as Benaki Museum (2004, 2007, 2009), the State Museum of Contemporary Art of Thessaloniki (2007), Art Athina (2005-2015), as well as in Italy (Bologna 2003, Venice 2008, Rome 2009, Palermo/Museo Diocesano 2019, Genova/ Museo di Sant'Agostino 2019), Beijing (2008), Istanbul (2010), Brussels (2010, 2011), Vienna (2014), New York (2015), Berlin (2015), Scszecin (Pomeranian Duke ́s Castle 2019) etc. He has made numerous artworks for book covers, cd's, films, magazines, newspapers etc. His works have been acquired by the Benaki Museum (Athens), Sammlung-Schirm (Berlin), PTE Fine Arts (New York), Bernard Cheong Collection (Singapore), A. Krausser Collection (Dubai), and other private collections in Greece and abroad. 
ArtDependence (AD): Do you have any thoughts on whether that's a responsibility of artists, reflecting our time is important within the political context? 
Nikos Moschos (ΝΜ): Throughout the history of art, artists, who were considered almost until the fifteenth century as simple decorators, gradually transformed into purely spiritual personalities. This development, in my opinion, made the concept of subjective view even more notable. It is the artist's call to the viewer to see the world through the artist's eyes. This evolution has gained ground alongside with the evolution of science.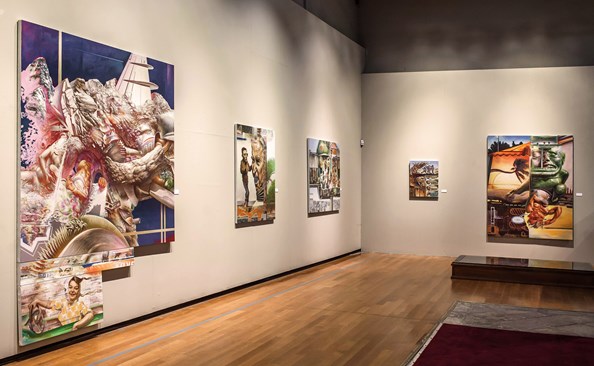 Installation view of "Marginally Human works 2012-2019" at the Municipal Gallery of Heraklion
Personal gaze always expresses the attitude of a person towards life and society, whether he intends it or not. This does not mean that the emergence of a political position through the work is a motive for someone to be considered as an artist. Even more when his vision is formed through rigid, old fashioned political models 
AD: What is your main interest as artist? What form of self-consciousness is applicable to the art-making? 
NM: My main purpose is to identify my thoughts and feelings through optical allegories. These are composed of associations that start from reality and through mental and expressive transcendences end up again in reality. 
The elements I use are initially unrelated to each other. Some are recognizable and some quite abstract. These elements decompose, and then mingle with each other. The situations I represent lie in a constant transition, a form of pictorial entropy of matter which eventually becomes recycled and evolves into something else .
AD: Do you feel that it's important to convey your own beliefs and opinions within your art? Is there a philosophical element in your work? 
NM: I think that when your work is directly connected to your life, eventually your views will reflect on your work. Even more when someone's work becomes the means to deepen and become better acquainted with yourself. 
My work functions as an allegorical calendar which records my relationship (and possibly the relationship of each one of us) with nature, technology, time and death. 
I am trying to determine the impact of the constant transition to and from these four elements. 
AD: What are you currently working on? Is there anything in particular that you'd like to get across through your work? 
NM: My work is gradually evolving. Everything new emerges through a need that is revealed over time. By watching my works again and again, as time goes by, the things that should be done become clearer. More precisely, for about a year, I have been feeling like there are new elements in my work that open up new issues. 
During the summer, I had the opportunity to see it even more by seeing most of my works from 2012 to 2019, hanging all together, in a show with a retrospective character at the Municipal Gallery of Heraklion, Crete. This show summarized all the matters that occupied my thoughts over the last seven years. 
As far as my future steps are concerned, it's a little bit difficult to pin down where exactly I want to go. I think I do not have the ability to predict my development and that fact actually motivates me even more to continue 
AD: What place does creativity have in education ? Do you view yourself as a creator? 
NM: The correlation of creativity with knowledge resembles, in a sense, the correlation of future with the past. Knowledge, in order to move forward, requires the transcendence of imagination. The gift of overcoming logic has led all leading scientist to unleash knowledge in order to take mankind one step further. To redefine reality. 
I think this has to be the goal of every creator and that's what I am trying to do. In my work all the action takes place in front of the viewer's eyes. Everything is evolving here and now. The past and the future are united to create a parallel, timeless reality.
AD: Do you think that by challenging conventional views, art can truly make a change in the public's perception? 
NM: I believe that art can open windows. It can create an internal dialogue with the viewer and make them feel that they are not alone. Make them even more humane, broaden their view and develop their empathic understanding. It can make them understand that beyond any of our differences we are equal to nature and its laws. 
AD: How has your work developed since you began and how do you see it evolving in the future? 
NM: As I said earlier, looking back, I find that I have made an allegorical recording of my past, something like a diary. I can recognize when steps were made towards progress and maturity. On the other hand, if someone had asked me in 2007 how I would be painting in 2019, I wouldn't have known what to say to him. The same thing would happen now. I have no idea how my work will form in a few years. There are plenty of things going through my mind. For example I'm feeling like I want to make some works more iconographic and some others more abstract. I have also made some studies on mixed media objects. 
AD: Is sophistication, aesthetic accomplishment in the eye of the beholder? 
NM: I think that a work of art is mostly evaluated by the eyes of the beholder. I want to make it clear that by saying this I have no intention of distinguishing viewers between relevant and less relevant. 
For example, a work by Rembrandt would have a different impact on a tribe of the Amazon than in the Netherlands or elsewhere in Western Europe. Similarly, the work of an Australian aboriginal in a Manhattan skyscraper would have been evaluated differently from the place where it was created. We are shaped by our experiences and they guide us on how to filter the world and its stimuli. 
Of course, dialogue between different cultures always has a particular interest in the process of recognizing common ground, meaning the points which will create a channel of communication and possibly new codes even more suited to modern reality. 
AD: What do you think is the social role of art? How would you like to be remembered? 
NM: Art has taken various roles through the centuries and according to the geographic position. Over the past centuries, its main role has been that of the carrier of religious messages and it has been bringing out religious or cosmic superiority. However, I think that the main characteristic of all the great art that has been produced and is being produced is the position of the man in the world. The artworks can be considered exercises towards self-awareness not only for the artist himself but for the viewer as well. Inside them, someone can recognize pieces of themselves and their recognition, identifies them not only with the work itself but also with the rest of the world. 
Art encloses joy, awe and tragedy of life. This is the kind of art I admire and through this perspective I try to give my personal imprint. Personally I would consider it a great achievement if someone told me that he had learned more about themselves through my work 
AD: How does art school form ideas about art? Does it shape people into being certain types of artists? 
NM: I strongly believe that personal responsibility and strength are fundamental parameters at someone's progress.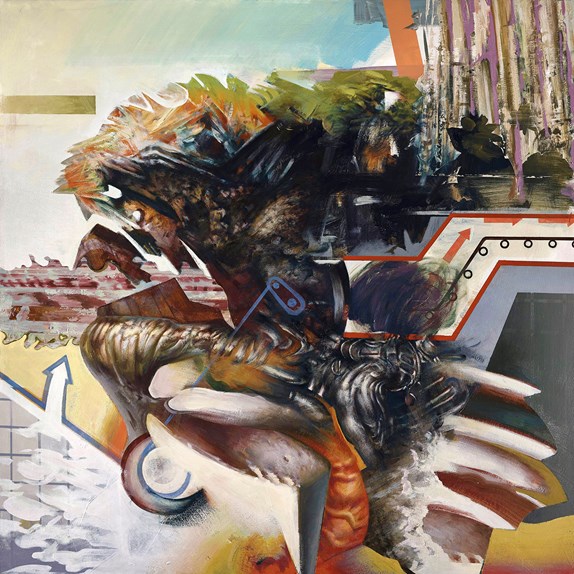 Spring, 2017, Acrylic on wood, Courtesy of the artist and Zoumboulakis Gallery
Earlier we talked about the relationship between education and creativity. When you combine them properly, you can achieve amazing results. It's exactly the same thing with art schools. 
However, in the last fifteen to twenty years, I've noticed that art schools tend to shape artists who can easily be absorbed by the contemporary models of the art market. While the same thing used to happen in the past, in lieu of the market, there were the predominant aesthetic, philosophical-political criteria. Obviously someone could say that the adoption of these criteria could also lead to their economic depreciation. Here, however, I separate the past with the present talking purely about terms of the market and more specifically about the speed and the intellectual flexibility that artists need to develop in order to respond to these conditions. There is no philosophical background in those kinds of cases. There is only an irresponsible exploitation of the post-modern narrative that ends up in superficial approaches of art. You see styles changing every three or four years in order to refresh the market and achieve an economic response. 
These speeds and quick turns create artists with a specific goal. Stay at the top at any personal and ideological cost. It's a pity to see so many talented people with discontinuity and ideological confusion along the way. 
AD: What do you think about the art world and art market? Do you accept that art is inherently an elitist activity? 
NM: I think the art market is necessarily elitist in order to survive. The selective distance that it takes brings the prestige. Without the distance, there is no myth. Without the myth, there is no money. 
AD: What's the last great book you read? Any other thoughts/projects to share? 
NM: Recently I have read books whose writers are shaking our deepest established beliefs. With some of them, I do not totally agree on an ideological level, but undoubtedly their way of thinking has opened up new social and existential perspectives. Currently I am reading ''The Imaginary Institution of Society'' by Cornelius Castoriadis. In this book Castoriadis focuses on the responsibility of society and the necessity to institutionalize and ultimately form itself out of any kind of traditional beliefs.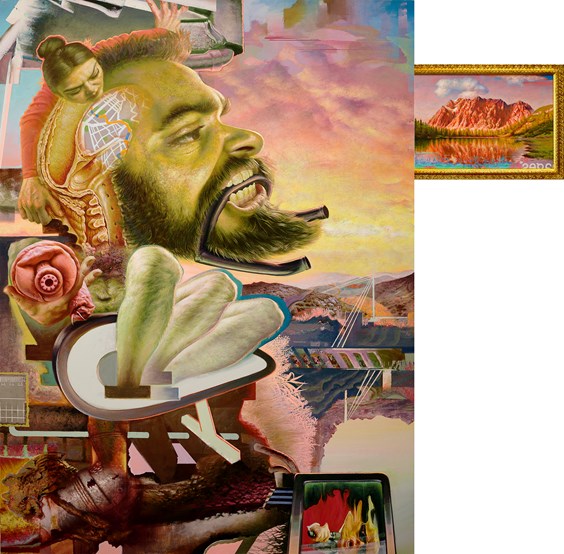 Say goodbye to her, the Zugspitze that is leaving, 2019, Acrylic on linen, Courtesy of the artist and Zoumboulakis Gallery
I've also recently read Stephen Hawking's ''The grand design/new answers to the ultimate questions of life'' in collaboration with Leonard Mlodinow. In this book Hawking analyzes the most recent discoveries on the beginning of the universe and the theories of the multidisciplinary. 
Regarding my shows, as I previously mentioned, during the summer I had a solo show with retrospective character at the Municipal Gallery of Heraklion, Crete, entitled "Marginally Human". The show included works created from 2012 until 2019 which are parts of both Greek and foreign collections, along with new works that were presented for the first time. Currently I'm working on my eighth solo show which will take place in February 2020 at Zoumboulakis Gallery, Athens. Mr. Assangni thank you very much!