The Art World will once again make its way to the Salon du Dessin at the Palais Brongniart in Paris from 21 – 26 March to take a fresh look at the subject of drawing, a sometimes overlooked aspect of art.
The Salon, an international art fair is dedicated to every aspect of drawing and includes Old Master drawings. It is attended by the world's leading specialists in works on paper. More than 1,000 drawings will be showcased in the prestigious Palais Brongniart. It has become a 'must-attend' event for art lovers. Many of the best galleries from Europe and further afield are represented providing wonderful discoveries for art lovers.
The Salon du Dessin is now firmly anchored, not only in Paris but worldwide, as it is theinternational reference in this field of drawing. Its success is measured by the number of events that flourish both on the market and in institutions as well as the presence of international dealerswho this year will occupy more than half the stands at the salon. Five new non-French dealers are joining a total of 39 exhibitors and two are returning after an absence of several years.
The Galerie de Bayser will show a rare preparatory drawing by Cesare da Sesto (1477-1523) one of Leonardo da Vinci's most famous pupils. This drawing was made for the painting of Salome, created around 1520 which is now in the collections of Vienna's Kunsthistorisches Museum. Very few preparatory drawings by him are known. One showing the hand holding the hair of St. John the Baptist's head, at Windsor Castle, another showing Salomé's arm at the Accademia in Venice. A third drawing attributed to him, showing Salome's foot, is at Berlin. This is an exceptional discovery.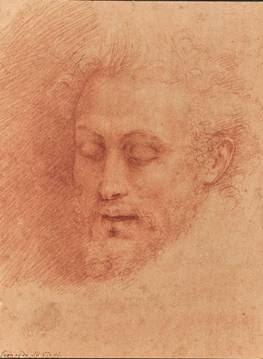 Cesare da Sesto (1477-1523), Head of Saint John the Baptist, ca. 1520. Sanguine on paper. 26 x 19.5cm
This india ink work presented by Helene Bailly Gallery is the only work in ink known by Claude Monet. In fact it was created to promote a painting that the artist exhibited for the first time at the Salon des Beaux-arts de Paris of 1865 entitled The Mouth of the River at Honfleur. This drawing corresponds to a key moment in the artist's career as it marks the start of his public recognition but also that of a promotion campaign for his work which he continued for his entire career.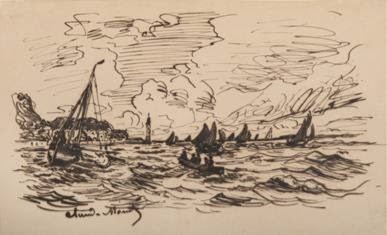 Claude Monet (1840-1926)
The Hospice Lighthouse at Honfleur, 1865. Ink on paper, signed lower left: Claude Monet. 17.5 x 28.5 cm 
Helene Bailly Gallery
One of David Hockney's favourite themes, for which he is recognized, is portraiture, which he has shown on several occasions in painting and in drawing. In 1974, he made this portrait of PierreRestany, one of the most brilliant art critics of post war France, founder and "inventor" of New Realism. This drawing, presented by the Galerie des Modernes, a true portrait as object, has usedcolour to highlight the emblematic accessories of this art critic: his cigar, his ashtray, a glass of red wine and his glasses. It is accompanied by the original manuscript of an interview of July 1974.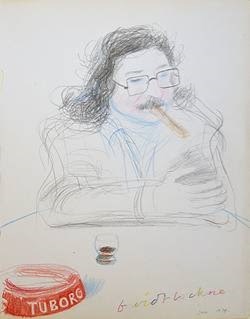 David Hockney (né en 1937), Pierre Restany, 1974. Colour crayons and pencil on paper, signed lower right, 26 x 20.5cm. Copyright Galerie des Modernes, Paris. Galerie des Modernes