Antwerp is a new museum richer, under the direction of Luk Lemmens, Deputy of Culture, Province of Antwerp, Belgium.  The world capital of diamonds, Antwerp has opened a new museum DIVA, a diamond and silver museum. This is not the only cultural development happening in the port city now.  A few weeks ago, there was a 65.000.000€ investment announced in the relocation of Antwerps' contemporary museum MuHka. The Fashion Museum is undergoing a spectacular renovation, Rubens' self-portrait is back in the RubenHuis and the Fotomuseum is organizing high profile exhibitions like Ai Weiwei. Recently, the list of cultural initiatives in Antwerp is almost endless. ArtDependence spoke with Luk Lemmens to explore the momentum behind the many recent cultural advancements in Antwerp.
ArtDependence: What does the name DIVA mean?
Luk Lemmens: DIVA is not an abbreviation. We have chosen this name because it best expresses our guiding principles and ambitions. On the one hand, the world of luxury and diamonds is connected with divas. But at the same time, the controlled, perfectionist and objective ideas are connected to divas.
AD: What will be shown in DIVA?
LL: DIVA is Antwerp's brand-new museum for silver, jewelry and diamonds. Two years of renovation work has culminated in a dazzling opening celebration the weekend of May 4-6, 2018. From May 7th, DIVA is open to visitors every day except Wednesdays. A themed exhibition trail will take them on a journey through Antwerp's diamond story, from the illustrious past to the awe-inspiring present. An ambitious program of special exhibitions, groundbreaking research, a library, an atelier, two museum shops and two multi-use spaces will put DIVA well and truly on Antwerp's 'must-visit' map. Some 600 objects from DIVA's collection are presented in such a way that the public can engage with them meaningfully. Exhibition sets, soundscapes, multimedia and interactive displays bring a different story to life in each of the six themed rooms, thereby involving visitors, sustaining their interest, challenging them to unlock the deeper layers and enriching their overall experience.
DIVA's Wunderkammer ©DIVA/ Sven Coubergs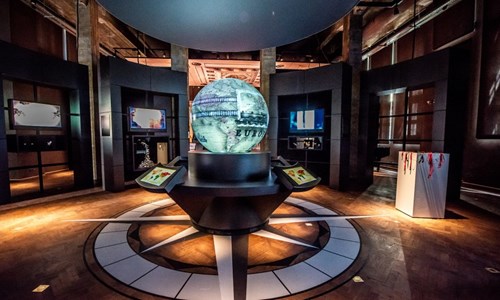 The international trading room ©DIVA/ Sven Coubergs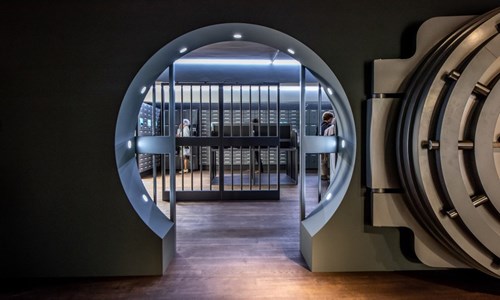 The Vault ©DIVA/ Sven Coubergs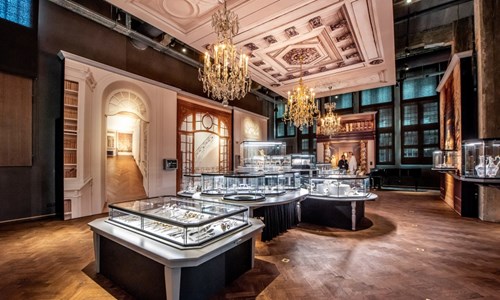 DIVA's dining room ©DIVA/ Sven Coubergs
AD: How did DIVA come together?
LL: A partnership between the Province and the City of Antwerp, DIVA tells the story of the clout Antwerp and Flanders have exercised nationally and internationally through the centuries in the production and assembly of highly accomplished and stylish objects and jewelry. To illustrate this story, DIVA has drawn on the collections of the former diamond and silver museums and on numerous lenders who are now all working with the museum. At DIVA, museum content meets museum experience.
AD: Why do you think these cultural developments are happening almost at once for so many institutions?
LL: Antwerp has always been a high culture city with its museums, historical architecture and international inhabitants. But in recent years, the strong cooperation between our wide range of museums has established a strong cultural brand with a broad international exposure. The success of any Antwerp museum always reflects on our other museums. Moreover, we have founded the 'Museumstichting', a foundation which includes the famous MoMu, FOMU and brand-new DIVA, all formerly governmental museums. Through the foundation, the museums gain more autonomy and artistic freedom.  We also want to encourage private initiatives, enabling the museums to push boundaries and to establish a broader international network and cooperation.
AD: How important is culture in your view?
LL: Culture is extremely important to me personally. It is the reflection of our society's values, blending heritage with contemporary ideas. As chairman of the Museumstitching and deputy of heritage, I have the pleasure and honor to promote both on a daily basis.
Image on top: DIVA's Wunderkammer ©DIVA/ Sven Coubergs