Image: Adjaye Associates' Blurring Boundaries, The Shortlist
The Illuminated River will transform the capital with a unified light installation across central London's bridges that will connect, celebrate and capture the spirit of the Thames and its diverse communities.
Incorporating up to 15 bridges, from Albert Bridge to Tower Bridge, once complete the Illuminated River will be the longest public art commission in the world at 2.5 miles in length, along 4.5 nautical miles of the River Thames. 
Following an international competition launched in June 2016, which attracted more than 105 submissions, the winning scheme, led by American light artist Leo Villareal (the artist responsible for lighting San Francisco's Bay Bridge) and London architects Lifschutz Davidson Sandilands, impressed the jury with their exciting kinetic artwork as well as their respect for the natural environment, local inhabitants and the architectural character and history of the bridges.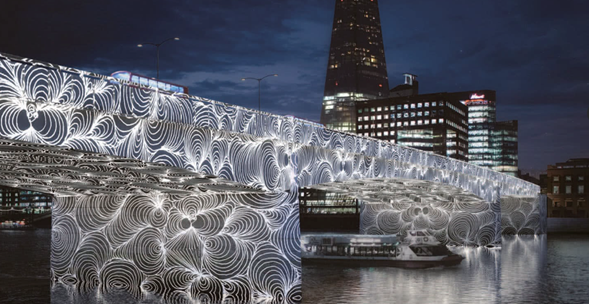 Adjaye Associates' Blurring Boundaries, The Shortlist
Villareal will use the latest LED technology to 'paint with light', taking influence from the natural and social activity of the river and producing sequenced patterns that play across the bridge structures. His lighting design will engage specifically with the site of each bridge, respecting and revealing their distinctive histories and architectural features, while the integrated motion across fifteen bridges will create a unified artwork that references the river as a continuous living system.
As Mayor of London Sadiq Khan said: "The Illuminated River will give London free art. The project also means that a wasted asset and wasted resource will now be used. The team had thought through how the project is sustainable, how it will be energy efficient and use less energy." 
The Illuminated River will act as a catalyst to improve lighting conditions, cultivate new opportunities for use of the riverscape, and define the bridges as renewed civic spaces for Londoners.