Image courtesy to The Met
Jacob Lawrence: The American Struggle features the little-seen series of paintings—"Struggle: From the History of the American People" (1954–56)—by the iconic American modernist. The exhibition reunites the multi-paneled work for the first time in more than half a century.
Lawrence's "Struggle" was originally conceived as sixty 12-by-16-inch tempera paintings, spanning subjects from European colonization to World War I. It was intended to depict, in the artist's words, "the struggles of a people to create a nation and their attempt to build a democracy." He ultimately completed thirty panels representing historical moments from 1775 through 1817—from Patrick Henry's famous "liberty" speech to westward expansion.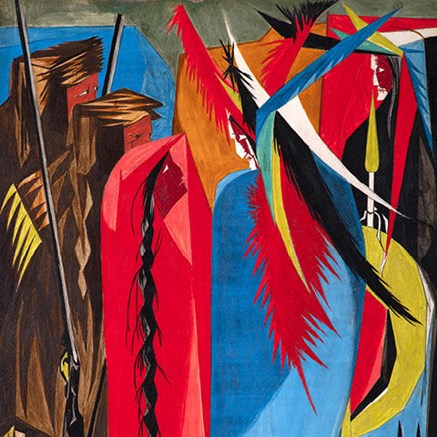 Image courtesy to The Met
Lawrence painted the series at the height of the Cold War and Joseph McCarthy's Red Scare, which also coincided with landmark Civil Rights actions, such as the 1954 Brown v. Board of Education Supreme Court ruling that called for the desegregation of public schools. These events deeply informed the artist's approach to the historical subjects.
In his ambitious portrayal of these episodes as inherently contested and diverse, Lawrence foregrounds the experiences of women and people of color. Most panels are accompanied by quotations from historical texts. This more inclusive representation of the nation's past is no less relevant today, and Lawrence's prescient visual reckoning with American history remains profoundly resonant with ongoing issues of racial justice and national identity.
Through the 1st November, 2020