Guillaume Piens, Fair director
Art Paris Art Fair – 5th/8th April 2018 – Grand Palais
Etienne Verbist: Who are you and why do you do what you do?
Guillaume Piens: My name is Guillaume Piens and I am the director of Art Paris Art Fair, a modern and contemporary spring art fair that will be taking place at the Grand Palais in Paris from April 5th – 8th. Art has always been a part of my life, in fact I'd even go so far as to say that it is as important to me as the air I breathe. I have been working at art fairs for 17 years, having started at the FIAC, before moving to Paris Photo. I took over the management of Art Paris in 2012, when the fair was renamed Art Paris Art Fair, with the objective of developing a new artistic and strategic direction at the request of the fair's owners, Julien and Valentine Lecêtre.
I am particularly fond of art fairs because they are extremely dynamic and in phase with what is happening today in the art world and its future evolution. Each edition is a gamble and no two are the same. Running an art fair is a complex affair. You need to be a good organiser, have artistic vision and know the art market and its different players (galleries, artists, collectors, curators and museum directors, etc). On a more personal level, I am an explorer at heart: when you manage an art fair, you get to travel around the world, looking for new things, meeting people along the way and broadening your horizons.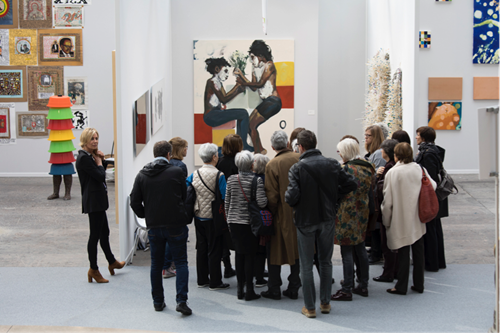 EVB: How do you position Art Paris Art Fair versus your competitors?
GP: When I took over Art Paris Art Fair in 2012, I was faced with a double challenge: I had to reposition the fair as regards the FIAC autumn art fair and in terms of our international competitors. Although Art Paris Art Fair is a generalist, international fair with 142 galleries from 22 countries, it does focus in part on the regional exploration of European art scenes from the post-war period to the present day. This year for example, we are putting the French scene in the spotlight and our guest of honour is Switzerland. At the same time, we are showcasing the new horizons of contemporary creation, whether from Asia, Russia, Africa or the Middle East.
I would say that Art Paris Art Fair is an international fair with a regional vocation that gives pride of place to discovery and rediscovery. In my opinion, it belongs to the category of regional fairs alongside Arco, Vienna Contemporary and Art Brussels, fairs that foster a local identity, whilst enjoying a worldwide presence and influence.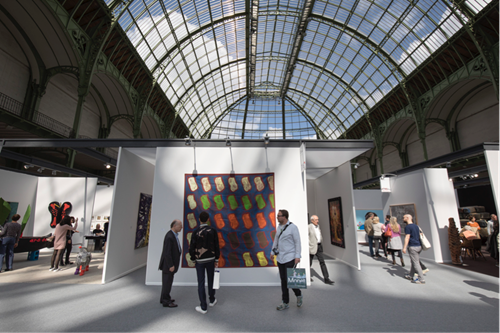 EVB: In terms of Art Paris Art Fair's objective to present and promote new voices in the visual arts, what are the highlights of the 2018 edition?
GP: Art Paris is organised around a theme-based approach with sectors such as Promesses, which is dedicated to young galleries and emerging artists and Solo Show. In addition we invite a country or a region of the world every year to be the fair's guest of honour, which is another way of encouraging the discovery or rediscovery of artists. The fair is also a springboard for a lot of young galleries.
At the 2018 edition, the 142 participating galleries will be presenting some 1,000 artists from 73 different countries. As it is the fair's 20th anniversary, we are recentering this edition on France and Europe with two complementary themes, an overview of the French art scene, placed in the capable hands of curator and art critic François Piron and an invitation to Switzerland, entrusted to art historian and exhibition curator Karine Tissot.
This invitation to Switzerland contrasts with the previous editions that were devoted to extra-European art scenes such as China, South-East Asia and Korea. The 2017 guest of honour was Africa, a choice that made a big impact.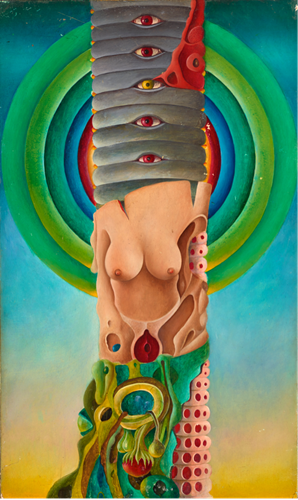 Frédéric Pardo, Totem et tabou, 1962. LOEVENBRUCK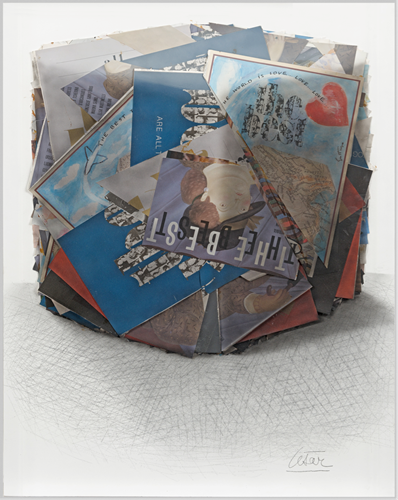 César Baldaccini, The Best, 1983. Galerie Najuma (Fabrice Miliani)
EVB: What about the French art scene? 
GP: It is a well-known fact that French artists suffer from a lack of visibility on the international stage because they don't receive enough support in comparison to artists from other countries, whether from their own collectors or institutions. For example, César didn't get a retrospective until the one at the Centre Pompidou some twenty years after he died.
For its 20th anniversary and in reference to its initial vocation of supporting the French art market, Art Paris Art Fair asked exhibition curator and art critic François Piron to take a subjective look at the French art scene. The idea was to select 20 artists from among the projects presented by participating galleries. We chose François Piron for his independent mindset, his analytical pertinence and his interest in maverick artists, or those on the fringes of mainstream movements, which is in keeping with the spirit of discovery and rediscovery that reigns at Art Paris Art Fair.
We asked him to write an in-depth analytical text on the 20 selected artists, with the idea of producing a more complex and diverse overview of the French scene than that provided by established narratives.
The selection began with research into those singular and unclassifiable artists on the fringes of the dominant art movements form the 1960s to the present day. We are very pleased with the result which highlights artists who deserve to be rediscovered, such as the dandy of 1970s psychedelic Paris, Frédéric Pardo (Galerie Loevenbruck) and Hessie (Galerie Arnaud Lefebvre), an immigrant and a black artist, who was the forerunner in the 1970s of a feminist art form, or such discoveries as Vincent Gicquel, a young artist who has a solo show at Galerie Thomas Bernard - Cortex Athletico.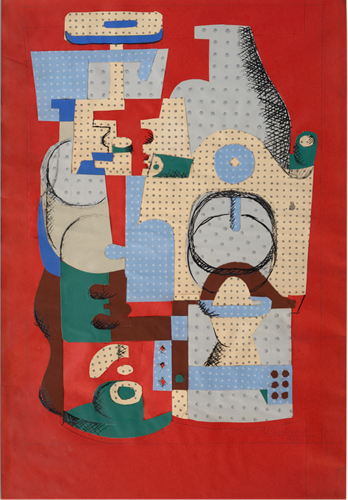 Le Corbusier Nature Morte au coquetier 1936 Galerie Eric Mouchet
And finally, seeing as Switzerland is the European country that counts the highest density of art collections and foundations, Karine Tissot invited the Collection d'Art Helvetia, which boasts more than 1,700 works and focuses exclusively on Swiss artists. Her exhibition entitled "Panorama" focuses on the collection's latest acquisitions and forty or so artists who are relatively unknown in France. It addresses three important elements in Swiss art: the line, drawing and the artist's relationship with the landscape.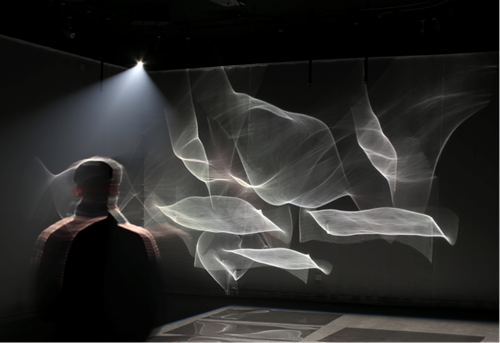 Caroline Tapernoux, Luminance #6 Caroline tapernoux, 2016. Point to Point Galerie
EVB: Are there going to be any solo shows?
GP: In 2015, we created the Solo Show sector with a special subsided tariff to encourage galleries to present monographic exhibitions. These are dotted around the fair and are a way for visitors to discover or rediscover an artist's work in detail. This year a record number of 36 solo shows are paying tribute to French and international artists: Geneviève Asse, the grand dame of abstract art famous for her blue monochromes, has pride of place at Galerie Oniris. The Belgian poet, painter and filmmaker Jean Raine (1924-1986), presented by Galerie Michel Descours, was involved in every French and Belgian post-war avant-garde movement. His large acrylics on paper are gestural intrications in which eyes are omnipresent. Jean Pierre Raynaud returns to the no entry sign, one of his fundamentals, which is featured in an original exhibition design on the stand of Galerie Caroline Smulders.
As for Swiss artists, Grob Gallery is devoting its stand to Grégoire Müller and his portraits of artists and Point to Point is presenting Caroline Tapernoux's installations and sculptures. There are also many young talents from different horizons, such as Palestinian artist Steve Sabella (Contemporary Art Platform), Serbian artist Nemanja Nikolic (Dix9 - Hélène Lacharmoise), Chinese artist Yuping Wang (Wooson Gallery) and the Irish artist Brian Harte (GNYP).
EVB: Who comprises the selection committee?  
GP: The selection committee is made up of gallery owners such as Diane Lahumière, Carina Andres Thalman, Alain Chiglien and Ernst Hilger, as well as collectors like Marie-Ange Moulonguet and Jean François Keller. The committee is helped in its task by the Art Paris Art Fair team's prospective work (the team is doing some twenty trips a year to visit galleries both in Europe and further afield).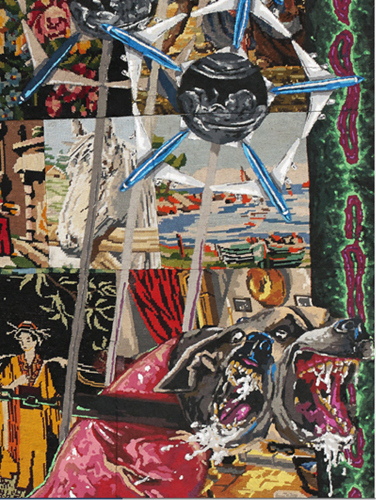 LKFF ART & SCULPTURE PROJECTS. LUCIEN MURAT
EVB: What are the selection criteria?
GP: The main elements the committee considers are consistency, quality and the originality of the project presented by the gallery applying to exhibit.
EVB: How do you reach out to collectors?
GP: When I arrived at the head of the fair we created a VIP Manager position. The role of this person, today Béatrice Guesnet, is to travel around the world and meet with collectors, friends of the museum societies and foundations to encourage them to come and discover the fair. These actions are supported by the fair's "À Paris au Printemps" VIP programme that is devised with Paris' cultural institutions and which invites collectors to special preview visits and provides the opportunity to discover the very best of the capital's current artistic events.
Each of the participating galleries may invite up to 10 of their most valued collectors to take part in the VIP programme. Guests receive the VIP schedule in January and are regularly contacted by the fair so that they can organise their trip well in advance and be sure to be present in Paris in April.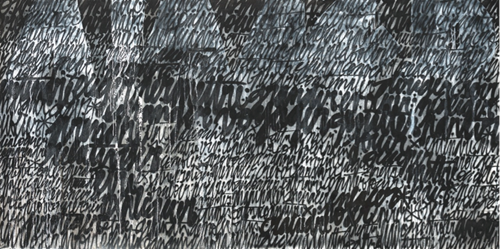 Denis Meyers – Belgian Gallery
EVB: What is the role of an art fair in the new art economy?
GP: Fairs play a leading role. They provide a focus for media attention and the interest of collectors and key stakeholders. The fair's unity of time, place and action contributes to its effectiveness in a world that is obsessed with speed. Another important factor is that fairs are now part of the cities touristic attractiveness.
EVB: Which social media, art related apps or platforms do you use to support the visitors, collectors and galleries?
GP: We work with different platforms such as Artsy and Artsper. For advertising and communication purposes, we run digital campaigns on Twitter, Instagram and Facebook. 
EVB: How do you support young galleries?
GP: The Promesses sector is subsided by the fair and this allows 12 international young galleries to exhibit at the Grand Palais, which is a decidedly prestigious venue. The Promesses / L'Art est vivant prize, which was created in 2017, is supported by a collective of art enthusiasts and collectors and is an additional initiative that promotes the recognition of an emerging talent at a key moment in his/her career.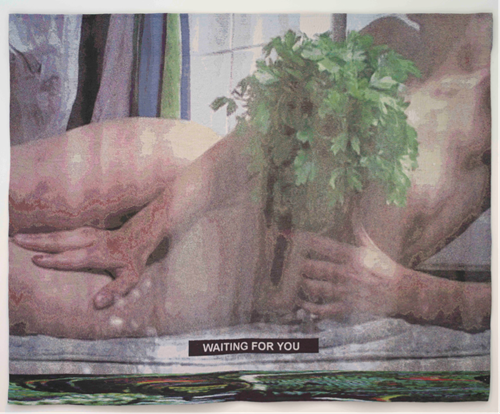 Laure Provost, GALERIE NATHALIE OBADIA, BRUXELLES
EVB: What is your goal? 
GP: To encourage the discovery of art and artists.
EVB: What will be the impact of what you do?
GP: I hope that I can contribute to the emergence of new talents in an art world that is more and more concentrated on speculation and investment, in other words financial concerns that are the very opposite of discovery.
EVB: What is your dream project?
GP: Organising the first art fair on the moon.
EVB: What is the artist's role in society?
GP: For me, artists are like seismographs; they reveal what is visible in the invisible. They create new imaginary worlds and anticipate major changes in the world.
EVB: What do you dislike about the art world? 
GP: Vanity - when art becomes a mere status symbol or a lifestyle.
EVB: What role does art funding have?
GP: It should help artists to bring their projects to fruition.
EVB: What research do you do to position the fair?
GP: I travel a lot and meet a lot of people. This provides food for thought and helps me decide on the directions to take in the future.