Last week the names of the five new Praemium Imperiale Laureates were announced in London, New York, Paris, Rome, Berlin and Tokyo. The 5 recipients are as follows:
Pierre Alechinsky            Painting
Fujiko Nakaya                Sculpture
Christian Portzamparc    Architecture
Riccardo Muti                  Music
Catherine Deneuve        Theatre/Film
The artists are recognized and awarded for their achievements, for the impact they have had internationally on the arts, and for their role in enriching the global community. Each laureate receives an honorarium of 15 million yen and a testimonial letter. A medal will be presented by Prince Hitachi, honorary patron of the Japan Art Association, in an awards ceremony held in Tokyo on October 23, 2018.
The Grant for Young Artists was announced on July 11 in London, and 2018 recipient of the Grant is Shakespeare Schools Foundation (U.K.). The foundation received 5 million yen to assist its efforts to help young artists.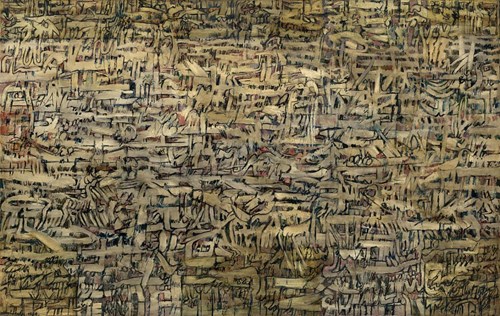 Pierre Alechinsky, The Ant Hill (La Fourmilière), 1954, Photo credits: Solomon R. Guggenheim Museum, New York
Pierre Alechinsky is an international contemporary artist, born in Brussels in 1927. He studied illustration techniques and typography at La Cambre school, Brussels. He joined in 1949 the avant-garde art group "CoBrA" (1948-1951) and then moved to Paris. He had a close relationship with Shiryu Morita, the leader of the Bokubi group of calligraphers (Kyoto). He visited Japan for the first time in 1955 and made a documentary film: Japanese Calligraphy. Influenced by Walasse Ting, met in Paris in 1954, he started to use india ink and chinese pinsels. In 1965 he began working with acrylic painting with marginalia, on paper mounted on canvas. In 1977 he received the Andrew W. Mellon Prize at the Carnegie Institute, Pittsburg. Since the 50's he has developed a remarkable and considerable print work (etchings, lithographs…). Many museum shows around the world have demonstrated the richness and the variety of his work. Recently he received the French citizenship. During 2016−17, he held his first large-scaled retrospective exhibitions in Tokyo and Osaka, commemorating the 150th anniversary of the establishment of diplomatic relations between Belgium and Japan. He is the first Belgian and French recipient of the Praemium Imperiale.