The new website was developed in conjunction with Fabrique, Q42 and Irma Boom Office. For photography, the Rijksmuseum has recently entered into a partnership Studio Polat.
Rijksmuseum.nl is connected by KPN.
Hendrikje Crebolder, director of Media & Development: There's such an incredible amount going on in the Rijksmuseum: from researching The Night Watch to dusting The Battle of Waterloo; from preparing the Slavery exhibition to restoring a 23-metre-long cyclorama. Stories is the platform where all these stories come together. It means we can offer in-depth knowledge to the six million unique annual visitors to the Rijksmuseum website.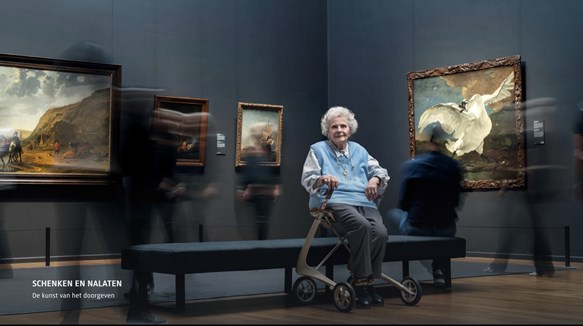 Image courtesy to The Rijksmuseum
Stories
The Stories platform brings lots of new elements to the Rijksmuseum's online environment: as well as now having our own streaming player, there are developments in the areas of live events and interactive formats such as articles in 'scrollytelling' form. Stories is for everyone: for young and old; for the curious and the connoisseur. As well as hosting existing series such as Rijksmuseum Unlocked and RijksCreative, Stories is the place for three new interactive series highlighting masterpieces in the Rijksmuseum: 100 Masterpieces, Dutch Masters and In Detail. Each series focuses on a central question, such as: Why did Vermeer paint a nail in the wall next to woman reading a letter? Or: Why is Rembrandt seen as rebellious? The Stories platform will be expanded on a weekly basis.
Website
Apart from the addition of Stories, the biggest upgrade to the website is the visual metamorphosis, with its distinctive use of big images, and its simplicity. The Rijksmuseum has also enhanced the website for specific user groups. Professionals and art enthusiasts can visit the new landing page to find information about all the ongoing research, while families and children can find out about all the activities, events, videos and more.
Accessibility has been given priority, too. The Rijksmuseum wants to make sure everyone feels welcome, off-line and online. All texts and interactive items on the website – including clickable buttons and selection menus – are now clearly detectable by screen readers and other assistive technologies. Website content will also be supplied with audio description and subtitles.
Inspired by Rijksstudio
The Rijksmuseum launched its pioneering, award-winning platform Rijksstudio in 2012. Millions of visitors get inspired here by the 700,000+ works that are now online. The design of Rijksstudio also inspired the look and feel of the new website. Like Rijksstudio, the new website places visuals centre stage. In Rijksstudio, users can zoom in on and collect all manner of famous, unexpected, and surprising images, all of them in high-resolution and free to download.