Image: Caroline Monnet, Gyproglyph 01, 2019, Print on Gypsum board, 48" * 48"
The pandemic has prevented the Montreal Museum of Fine Arts (MMFA) Foundation from organizing its traditional charity events that secure the MMFA's viability. In face of this obstacle, the Foundation has decided to launch This is Not a Ball, its first-ever online philanthropic auction.
Presented by RBC Royal Bank, the event will raise funds to enable the Museum to pursue its artistic and social mission. Artworks and exclusive experiences will be put on the virtual auction block from November 5 to 12, 2020, under the direction of Co-Chairs Sandra Chartrand, President of the Sandra and Alain Bouchard Foundation, and Nadine Renaud-Tinker, President of RBC, Quebec Region, RBC Royal Bank. This is Not a Ball but a unique opportunity to support your beloved Museum.
 
An original auction crafted by the MMFA Foundation
Three categories of auction items promise to excite the art lover in everyone. The first category will consist of artworks by Quebec and Canadian contemporary artists that will be specially chosen by Sylvie Lacerte, Curator of Quebec and Canadian Contemporary Art, MMFA. It will give the public an opportunity to acquire works prized by collectors by such artists as Pierre Dorion, Stéphane La Rue, Caroline Monnet and Nadia Myre, to name a few. Note that the participating creators and gallery owners will receive payment for their artwork at fair market value. Only the surplus amount will be given to the MMFA Foundation.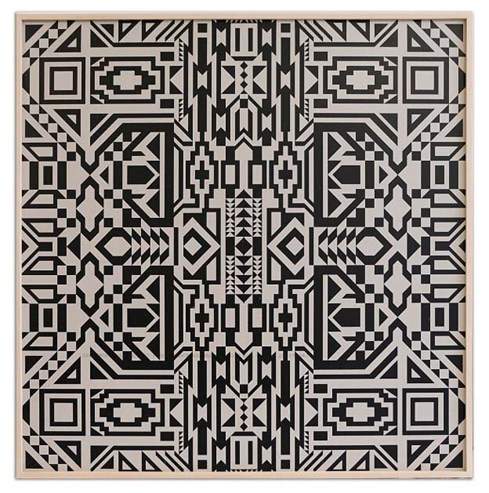 Caroline Monnet, Gyproglyph 01, 2019, Print on Gypsum board, 48" * 48"
The second category will feature unique and exciting experiences. Those seeking something new can bid on such items as a luxurious night for two with gourmet dinner in the heart of the Museum's galleries, an unforgettable fishing expedition at a private fishing lodge on Lac Mabille, with transportation by hydroplane, or a VIP getaway – by helicopter – to Quebec City's Château Frontenac.
Finally, the third category will comprise symbolic items, the proceeds from which will be given entirely to the Museum to support the institution in its mission and ensure its longevity. For example, a bidder could sponsor the restoration of an important work in the MFMA's encyclopaedic collection or an activity offered by the Education and Wellness Division, like a workshop for elementary school students or a lecture led by a guest speaker at the Maxwell Cummings Auditorium.