When one enters the space of Aurel Scheibler in Berlin, where Stefan Löffelhardt will host his next solo show, one is confronted with a world of contrasts, hybrid aesthetics and hidden emotions. Sculptures that are hanging from above the ceiling, abstract drawings on the walls and an installation that wants to break the boundaries of the gallery walls and continue its way beyond.
And there it is, the fugitive world of the artist, in a thin balance between pastness and now-ness, existence and extinction. The work of Löffelhardt composes a dreamy world of fantasy and escapism; a world that tries to encapsulate the fugitive moments of clouds on the sky and feelings in the soul and uses art as a self-reflective way to connect reality with memory. Drawing a parallel between the temporariness of cloud formations and inner situations, Löffelhardt's work manages to capture and crystallize a world which is in constant change, evolution and 'Fluss' (EN: flow/flux). 
Löffelhardt's work has traditionally involved staged landscape photography, sculptures and installations. In this solo show, his work has shifted the attention from staged landscape photography to abstract drawing; and from grandiose installations to smaller, varied sculptural objects, each holding its own consistency and – self. The work co-exists in the gallery space but at the same time each piece compounds composes its own unique history.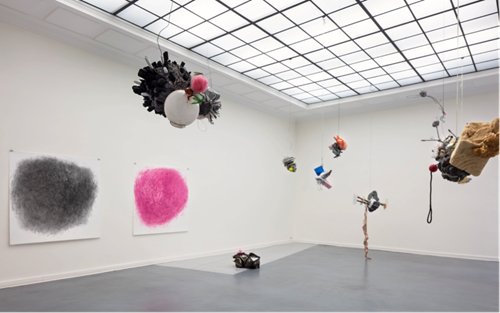 ArtDependence Magazine: How do you come up with these works?
Stefan Löffelhardt: For me it's always interesting to observe and recreate the feelings of fugitiveness I have when I look at the sky and the clouds. Clouds are for me an infinite and profound source of inspiration. Clouds are the occasion on which I get the first impression of what I want to create; they function as the starting point of a self-reflection process and the result is my drawings or the object sculptures that you see hanging from the ceiling. And the more I draw, the more I discover about myself. It's an endless process, a dark and mysterious one which can be reflected on the formations of the work. I leave my pen free to guide me and I use abstract shapes because I try to abstain from the refined geometrical routines. Although the works remain something very intimate and personal, one can still see so many figures that I cannot see and this is always interesting for me.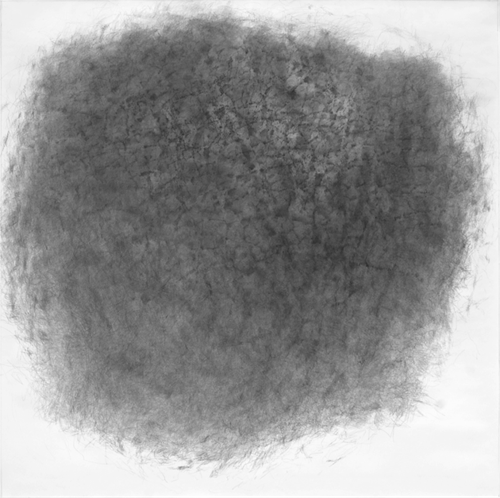 AD: What are the hanging 'sculptures' about?
SL: My sculptures come to compose an image of what I can imagine would be a possible representation of the fugitive moments of when clouds change shapes and forms, transform and finally get lost - like emotions and life itself. I use materials I find on the street because this gives a more industrial, original and 'temporary' character to the work, because these are materials one would normally throw away. I like it when I let the materials speak for themselves and show this unpredictability of form. I don't like interfering so much with the natural movement and structure of the material. I and a voice in them and I put them together in a way that matches my aesthetic. They are intuitive compositions that look like clouds and explore the temporariness of our world.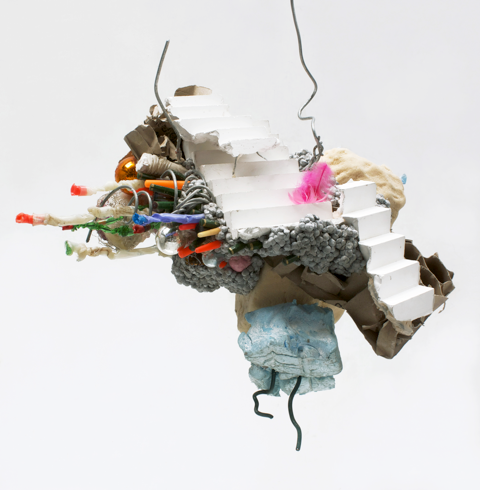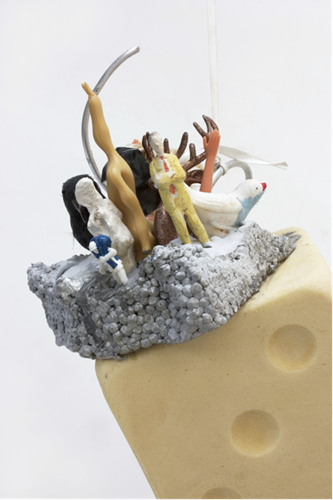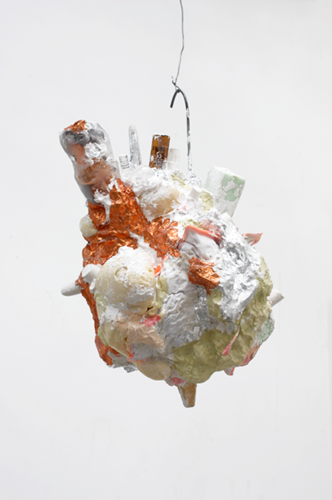 AD: How long have you been working on this thematic?
SL: It has been more than a decade now. My works keep evolving though. I keep experimenting with my techniques, colors, materials and aesthetics. However, the subject of fugitiveness and ephemerality has always been present in my work. If you see previous work of mine [going through older catalogues together], I have been interested in creating big installations on this theme, and also staged photography. In my previous work, I filled up my studio floor with various materials lying everywhere just because I didn't want to feel that this is a stable, fixed sterile place but rather a place that keeps evolving and moving; like myself. This idea and this need is still present in my work.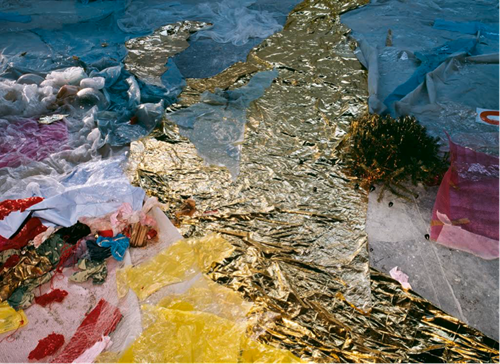 The Valley Floor. Installation Taxis Palais Innsbruck. 2009. Courtesy of the artist
AD: I saw that you have a pink drawing that comes in great contrast with the others around. What is the reason for this?
SL: The pink drawing is a kind of experiment for me; it's an unnatural color, a color that one cannot retrieve like this in nature. As mentioned, these drawings in this series are for me a way to explore my inner self and by using this color, I came to the realization that life is not always dark and gray but can also be –pink.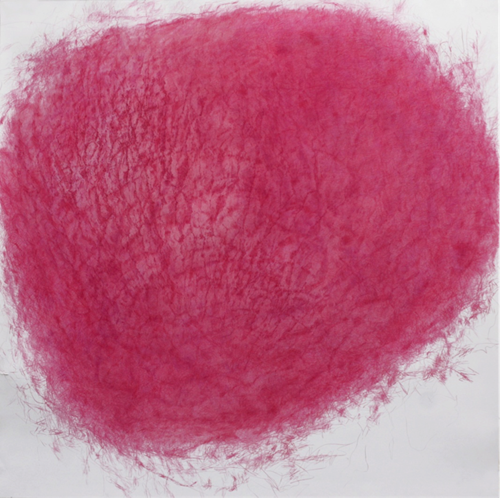 AD: To me, it seems like those drawings here [image below] look like not only experiments with form, but also like efforts to break through the limits and any kind of boundaries. Would you agree with this comment? 
SL: That's an interesting observation. Yes, to a certain extent. But this is not a conscious decision. I start drawing intuitively from my heart on the paper and then I put the square into size and position. It is thought to be like a 'window' on the paper. Then, I just let the drawing break its own limits. Again in my rectangular drawings, I have tried to break sterile geometrical patterns and make them 'escape the box'. I try to find a universal structure in the most personal interior, through an intuitive, fluid way of working.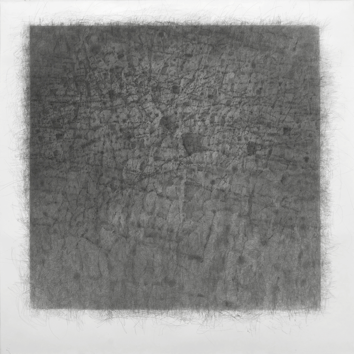 AD: Would you relate this approach to Malevich's 'The Black Square'?
SL:The 'Black Square' is indeed something which is very ideologically charged. I would avoid making parallels between the Square and my work since my work is more about intuition and change rather than about establishing ideological relations. I consciously see the shape of the square as an alternative to the ideological universality of Malevich's Black Square.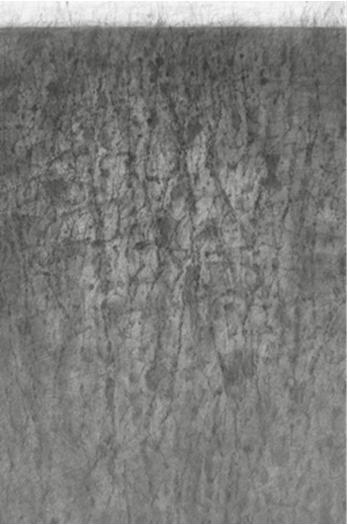 AD: On your website, you refer to your sculptures as 'objects'. Is there a reason for this?
SL: Yes, this is on purpose. I tend to find that the world 'sculpture' is a little bit too limiting and restrictive. I'd rather look at the clouds I create as 'sculptural objects' or objects that look like clouds instead of calling them 'sculptures'. Additionally, the word 'sculpere' that comes from Latin used to mean 'to carve' and I do not think that this reflects my practice. I prefer to let the materials speak for themselves instead of refining them into formal structures.
AD: And this is how we come to the title 'The Fluss'.
Note: the interview was transcribed out of memory.
All Photo credits (unless otherwise mentioned): Ausstellung / Exhibition: Stefan Löffelhardt - Fluss 2018 at Aurel Scheibler, Berlin. Installationsansichten / Installation views: Photo © Markus Löffelhardt