Image: John Nash, R.A. (1893-1977) , Tuscan Landscape
The inspiration for this early masterpiece dates from the 1914 trip Nash made to Florence after the success of his joint exhibition with his brother Paul at the Dorien Leigh Gallery in London (November 1913). Although he managed to get to the Uffizi and admired its great collection of Old Masters, he contracted flu and was confined to bed for a week. He described the countryside in a letter as 'one colossal piece of garden work, terrace above terrace with row upon row of olive trees, fig trees, pear trees, all short and pollarded…' He painted three Italian landscapes in 1914 and a fourth, this one, in 1915.
A superb piece of pictorial design, Nash typically uses trees to articulate space and unify the painting in an overall pattern. Clarity of drawing and controlled use of colour add to the image's authenticity and appeal. Allen Freer wrote that this winter view 'distils the very essence of Tuscany'.

A.L.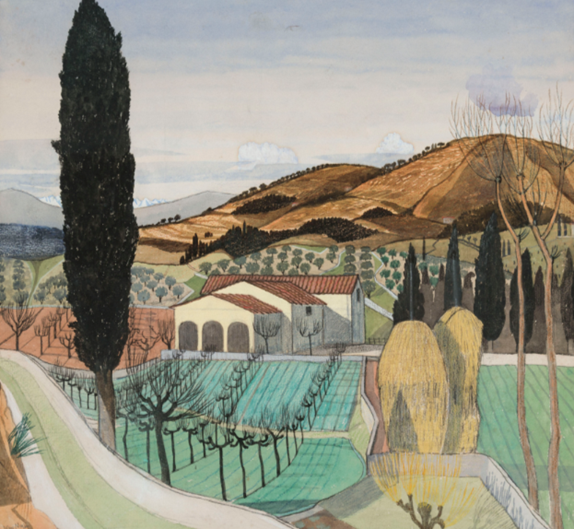 John Nash, R.A. (1893-1977) , Tuscan Landscape
The Delighted Eye: Works from the Collection of Allen and Beryl Freer
Christie's, London, 23 January, 2020
Lot 330
John Nash, R.A. (1893-1977)
Tuscan Landscape
signed and dated 'John Nash/1915' (lower left), inscribed 'by John Nash/Property of/Paul Nash/176/...Minories' (by Paul Nash on the reverse)
pencil, watercolour, gouache and coloured crayon on paper
14 1/8 x 14 7/8 in. (35.8 x 37.8 cm.)
Executed in 1915.
Estimate: GBR 25,000 - GBR 35,000