Image: Sun & Sea, Lithuania's contribution to the 2019 Venice Biennale. Photo: Neon Realism
An opera performance on an artificial beach, in which swimsuited performers break from sunbathing to sing warnings of ecological disaster, won Lithuania the top prize on Saturday at the Venice Art Biennale, the world's oldest and most high-profile international exhibition of contemporary art.
"Sun & Sea (Marina)" — presented by the artists Lina Lapelyte, Vaiva Grainyte and Rugile Barzdziukaite — took the Golden Lion for best national participation at the Biennale, beating 89 other national pavilions.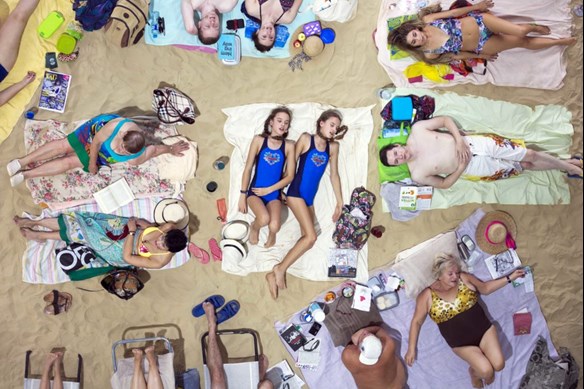 Sun & Sea, Lithuania's contribution to the 2019 Venice Biennale. Photo: Neon Realism
This was the second successive time the prize has gone to a performance piece: In 2017, the winner was the German pavilion, for Anne Imhof's haunting "Faust."
Saturday's other big prize, the Golden Lion for best participant in the Biennale's central exhibition, was won by the American artist and filmmaker Arthur Jafa. He showed a stirring 50-minute film, "The White Album," in which he juxtaposes manifestations of white supremacy with portraits of white people he cares for and is close to. Mr. Jafa also showed a set of monumental sculptures of truck tires in chains.
"If I could have picked a list, I would've picked the same list," said Catherine Wood, a senior curator specializing in performance at the Tate in London.
Ms. Wood said the Lithuanian pavilion had "this very clever way of framing people's everyday activities and leisure" — lying on towels, playing board games, applying suntan lotion, chatting, reading — with a "quite powerful activist dimension" of warnings against ecological disaster and species extinction.
"It's pedestrian movement meeting this overarching framework of a story that was joyful and melancholic at the same time," she said.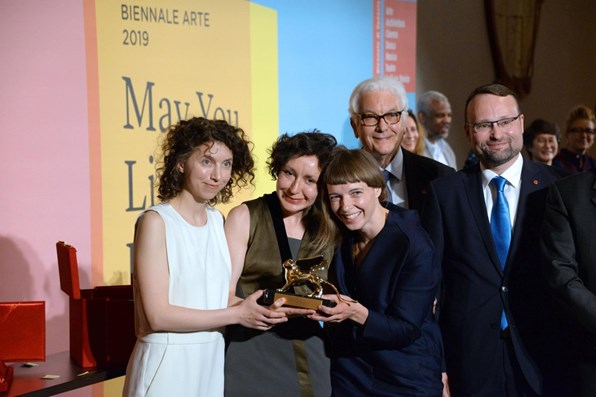 The Lithuanian artists, from left to right, Rugile Barzdziukaite, Vaiva Grainyte and Lina Lapelyte holding the Golden Lion award for best National Pavilion in Venice on Saturday.CreditCreditAndrea Merola/EPA, via Shutterstock
The Lithuanian pavilion's curator, Lucia Pietroiusti — who is curator of general ecology and live programs at the Serpentine Galleries in London — said the piece had started out as a slightly longer theater performance in Lithuanian. She encouraged museums to start thinking outside the box.
"The exhibition format is begging for a certain kind of opening up of possibilities," she said. "We specialize so much, create these niches of specialism. Then we encounter these huge catastrophic situations like climate change or species extinction, and we need to find more ways to connect."
The fusion of theater, music, literature and visual arts in "Sun & Sea" was "exactly the kind of interdisciplinary collaboration that resonates in the present time," she added.
The Biennale was established in 1895 as an exhibition of new art from around the world. As ever more artists took part, the idea came up to have countries build pavilions.
Belgium's was the first to open, in 1907. This year, there were a total of 90 national pavilions. They are usually government-funded. But in recent years, pavilions have had to find alternative backers. Part of the money for the Lithuanian pavilion, for instance, came from crowdfunding, its curator said. Other national pavilions rely on private donors.
This year's central exhibition was curated by Ralph Rugoff, the American-born director of the Hayward Gallery in London, and was titled "May You Live in Interesting Times."
In a departure from previous Biennales, Mr. Rugoff showed the same 79 artists or artist partnerships in the exhibition's twin venues, the Giardini, a public park, and the Arsenale, a former shipbuilding complex. Mr. Jafa showed his film in the Giardini and his sculptures in the Arsenale.
The Biennale can be daunting for those who are not art cognoscenti or participants in the art world. There's a lot of art to see, and some of it can be forbidding. Performance art's growing appeal may be down to the fact that "it's actually very accessible," said RoseLee Goldberg, founding director of Performa, a multidisciplinary arts center in New York.
"Everyone feels entitled to comment, and feels comfortable commenting," she said. "You don't feel intimidated — that there's a need to have a background in art history to respond to something."
The Silver Lion for promising young participant in the central exhibition went to Haris Epaminonda, who was born in Cyprus and lives and works in Berlin.
The five-member jury — led by Stephanie Rosenthal, director of the Gropius Bau contemporary-art museum in Berlin — also gave a special mention to two artists: Teresa Margolles, whose work focuses on Mexican women victimized by drug-related violence; and Otobong Nkanga.
A special mention went to the Belgian pavilion for "Mondo Cane," a comic, mannequin-based installation by the artists Jos de Gruyter and Harald Thys.
Earlier, a Golden Lion for lifetime achievement was awarded to the American artist Jimmie Durham.
The Venice Biennale runs through Nov. 24.
NY Times