Image: Johannes Vermeer's The Milkmaid
Johannes Vermeer's The Milkmaid is travelling in style: not in an ordinary wooden box, rather in a bespoke trunk designed by Louis Vuitton. The painted case of lacquered canvas, decorated with copper edgings, was crafted in the studios of Vuitton in Asnières-sur-Seine near Paris.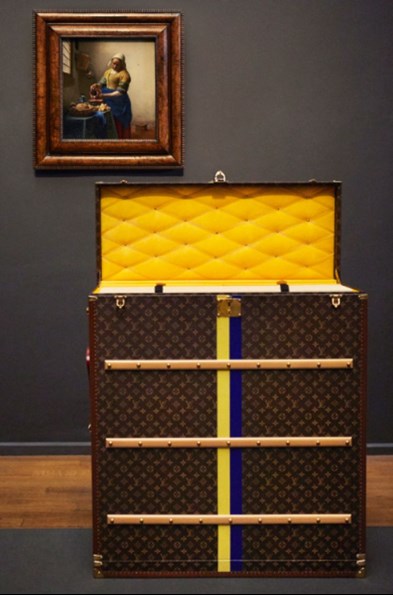 Johannes Vermeer's The Milkmaid
The Milkmaid will embark on her voyage to be presented as part of the "Making the Difference: Vermeer and Dutch Art" exhibition at the Ueno Royal Museum in Tokyo. Taco Dibbits, art historian and director of the Rijksmueseum in Amsterdam, calls The Milkmaid "one of the most special women in our collection. She deserves to travel safely and in style from Amsterdam to Japan."  The collaboration between the Rijksmuseum and Vuitton is based on a mutual appreciation for craftsmanship and art. Louis Vuitton, patriarch and name giver of the luxury brand, began producing custom-made travel cases in 1854, and since then has serviced the needs of an extensive client list including actresses Sarah Bernhardt and Greta Garbo, art dealer René Gimpel and violinist Pierre Sechiari, who had a chest created for his Stradivarius violin in Asnières.