Image: Jean Dubuffet, 1901 - 1985, Conjectures
"The mystical jubilations of the physical world are over and done with: I have become nauseated by it and no longer wish to work except against it. What enchants me now is the unreal." 
Jean Dubuffet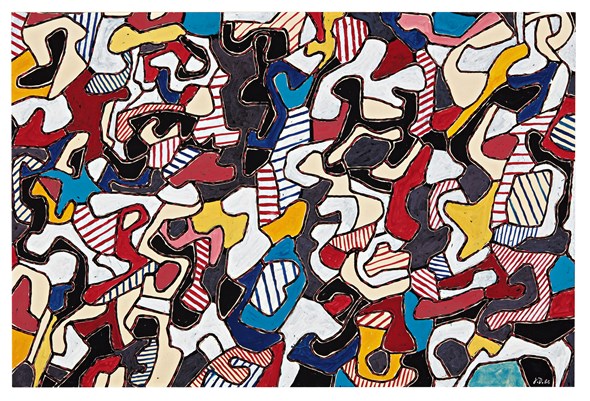 Jean Dubuffet, 1901 - 1985, Conjectures
A jubilant fusion of form and motion, Conjectures, brilliantly exemplifies the visual complexity, vibrancy and creativity which characterizes the very best of Jean Dubuffet's celebrated oeuvre, made possible by his deliberate rejection of cultural pretensions and unique Art Brut aesthetic. Conjectures, from 1964, executed at the very peak of Dubuffet's artistic prowess, is rare for its extraordinary kaleidoscopic celebration of color and is from the artist's most highly esteemed series, titled L'Hourloupe. Conjectures is brimming with energy and is an electrifying, technicolor vision of Dubuffet's most famous cellular chaos, which he would go on to expand into a vast multi-media universe over the course of the next twelve years. Remarking upon the L'Hourloupe series, Dubuffet explained, "This cycle of work was characterized by a much more seriously arbitrary and irrational mood than anything I had done before. This was a plunge into fantasy, into a phantom parallel universe. My renewed interest in outsider art was no doubt not unconnected with this sudden new development" (the artist quoted in Exh. Cat., Salzburg, Museum de Moderne (and traveling), Jean Dubuffet: Trace of an Adventure, 2003, p. 174).
Dubuffet left Paris in 1955, abandoning the war-torn city to find solace in the small town of Vence in the South of France. During this period, Dubuffet rejected the presence of human form from his work and turned to nature as the primary source of his investigations through the Texturologies and Materiologies series. Upon his return to Paris in 1961, Dubuffet's work explored an entirely new world and departure drastically from his explorations of the tactile qualities of organic material so familiar to him in the remoteness of his former rural life. The Paris that Dubuffet returned to was revitalized to a point where optimism and cosmopolitan bustle had replaced the gloom and despondency that had formerly prevailed in the post-war years. Paris's new joie de vivre atmosphere left Dubuffet creatively intoxicated, which played an immediate, explosive effect on his work, culminating in the exuberant Paris Circus pictures of 1961-1962. The bustling streets, busy restaurants, window displays, and advertising boards of city life came to dominate Dubuffet's paintings in a way he never before imagined. Where Dubuffet once celebrated the quaintness of life in the countryside, he now celebrated humanity on a grand scale, transforming its energetic spirit into the subject of his art while laying the foundation for his greatest series of works: L'Hourloupe. Dubuffet himself said that, "My art does not seek to include festivities as a distraction from everyday life, but to reveal that everyday life is a much more interesting celebration than the pseudo-celebrations created to distract from it" (The artist quoted in Exh. Cat., Paris, Musée National d'art Moderne, Centre Georges Pompidou, Jean Dubuffet, 2001).
Dubuffet first embarked on the L'Hourloupe series in 1962 while on long telephone conversations where he would find himself creating mindless doodles made of up forms free of all representation, tightly fitted together in an unbroken web, which he would then mechanically fill with careful striped lines in blue or red ballpoint pen. The result of a simple occupation of the artist's free hand while the other held the receiver developed into a form of graffiti that soon came to possess an evocative power that captivated the artist for the next twelve years as he continued explored these energetic, cellular forms. For the first time, he felt he had arrived at a mode of representation that was purely neuronal—a way of seeing unfettered by the physical world. The early paintings of L'Hourloupe, such as Conjectures executed in JUNE/MAY 1964, engaged much of the same subject matter as the Paris Circus street scenes, but represented a shift in Dubuffet's aesthetic dialogue; with increasing simplification, elements and experiences of the real world are eventually transformed into ciphers of the artist's imagining. Dubuffet's works from the L'Hourloupe series including Conjectures define themselves as a kind of organic phenomenon, a cellular agitation where the gaze perceives fugitive images in a vast puzzle of ephemeral combinations, suggesting presences, figure or people that fall apart as soon as the gaze fixes them, only adding to the canvas's palpable energy.
Bursting with vital energy and frenetic pace, the composition of Conjectures melds together years of Dubuffet's experiences into an unparalleled amalgamation of form, color, and line which can be traced throughout this expansive oeuvre. In his own words, "Art should always make us laugh and frighten us a little, but never bore us," which is exactly what Conjectures embodies (Jean Dubuffet, Propsctus aux amateurs de tout genre, Paris 1946, p. 43). Conjectures is a vibrant example from Dubuffet's artistic output from 1962 to 1974 in which he produced some of the most visually captivating and richly imaginative paintings of his career.
Contemporary Art Day Auction
Sotheby's, New York, 17 May 2019
Lot 201
Jean Dubuffet
1901 - 1985
CONJECTURES
Estimate: USD 600,000 - USD 800,000
signed with the artist's initials and dated 64
acrylic on paper mounted to canvas
26 1/4  by 39 3/8  in. 66.7 by 100 cm.