Image source: VOLTA NY
VOLTA New York returns to Pier 90 for its twelfth edition in New York City, from March 6 – 10, 2019, concurrent with Armory Arts Week and the 25th anniversary of its neighbor, The Armory Show. VOLTA promotes its mandate of "global vision – solo focus" by welcoming 70 international exhibitors across North America and the Caribbean, Africa, Europe, and Asia, and presenting established and emerging artists from 37 nations.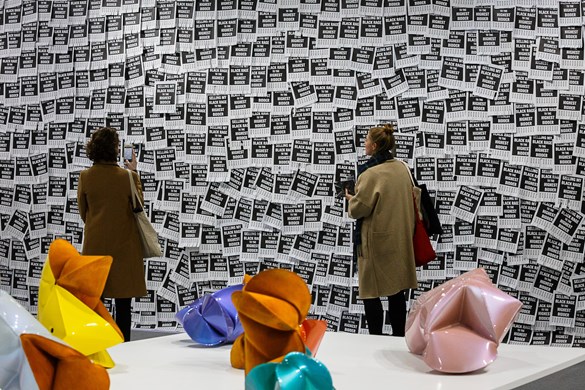 Image source: VOLTA NY
"My goal when transporting VOLTA from its Basel foundation to New York 12 years ago was to make a boutique, solo-focused destination art fair, and concentrating our number of booths to mirror our Basel fair is a part of this plan," comments Amanda Coulson, VOLTA Artistic Director. "We operate in a changed calendar — NADA and Collective Design have both paused on their New York fairs — and now is as prescient a time as ever to bolster our brand across both locations.
In this way, we do our best for our galleries, providing that hands-on and personal treatment longtime exhibitors have come to expect and appreciate, as well as for our collector patrons and invited guests.
VOLTA has always strived to position itself as a socially conscious, eminently navigable, and visually refreshing experience — and with our revamped floor-plan and key programming from the National Academy of Design, plus our soon-to-be-announced 2019 Curator and VOLTA Cares initiatives, in concert with 70 strong solo positions in the Main Section, we have achieved this balance."
To see the full list of artists: ny.voltashow.com
 VOLTA New York, March 6 – March 10, 2019