Image: WANG XIAOBO, SEARCHING FOR LIGHT, fragment, courtesy to Sotheby's
Wang Xiaobo spent nearly two months creating this painting. By incorporating several well-known characters from his recent artworks, the artist jointed the skateboards with various colour blocks and shadings. Among the vivid colour and distinctive layers, we can see the continuity of the Searching for Light and Sinking & Floating series, which form a remarkable perspective to motivate people to stay positive as the artist wishes. 
Born in 1974 in Beijing, Wang Xiaobo is one of the most celebrated post-70s Chinese contemporary artists in the international art world. Following the indoctrination of leading figures in Chinese oil painting like JIN Shang Yi, ZHU Nai Zheng and YANG Fei Yun, Wang graduated from the Department of Oil Painting, China Central Academy of Fine Arts in 2000. His critically acclaimed works have been shown globally in venues including the "15th Biennale of Sydney" in 2005, the "Art Hamptons" in New York and "LA Art Show" in Los Angeles during 2013 to 2015, "NordArt 2016" in Hamburg, and "Art Stage Singapore 2016", etc.
TWGHs 150th Anniversary: Skateboard Deck Art Online Exhibition cum Charity Auction, 28 August, Sotheby's
Lot 3
WANG XIAOBO
SEARCHING FOR LIGHT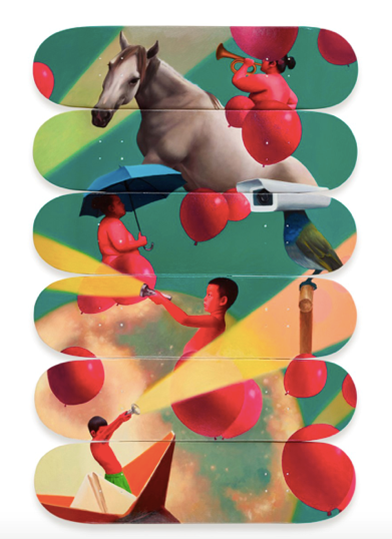 oil on skate deck, set of six
each signed, dated 2020 and numbered 1/6, 2/6, 3/6, 4/6, 5/6, 6/6, respectively
Executed in 2020.
each: 20.3 by 80 cm. 8 by 31½ in.
Estimate:
HKD 45,000 - HKD 65,000
EUR 4903,07  -  EUR 7082,21