Image: Alex Katz (b. 1927), White Sneaker
'I like to make an image that is so simple you can't avoid it, and so complicated you can't figure it out.' - Alex Katz

Alex Katz's White Sneaker is a gentle tribute to a summer afternoon. Nestled amongst the thick grass is a graceful, outstretched leg sporting the titular white sneaker, which gleams against the vivid green. The painting is warm and breezy, a sensation mirrored in the summery strip of yellow trousers and the play of light amongst the greenery. Painted in 1986, the year of his acclaimed retrospective at the Whitney Museum of American Art, New York, White Sneaker showcases Katz's striking and original visual idiom, which renders figurative imagery in graphic simplicity. While studying in New York City, Katz often travelled to Maine where he began to paint en plein air, recording the dazzling outdoor light in fluid brushwork. This method was to become central to his practice; as the artist himself said, 'So the thing I've found is that the subject matter is the outside light. This is the thing that got me inside myself and that's the thing I've been holding on to' (A. Katz interviewed by D. Sylvester, 15-16 March 1997). While Katz has long made light a central theme, early on he focused his depictions in portraits. By the late-1980s, however, he turned his attention towards landscape painting with the hope of enveloping the viewer within his vibrant panoramas, and White Sneaker represents this development. Neither a landscape nor a portrait, the crisp lines and snappy colour of White Sneaker are nevertheless pure Katz, whose paintings present the world as bright, cool and always elegant.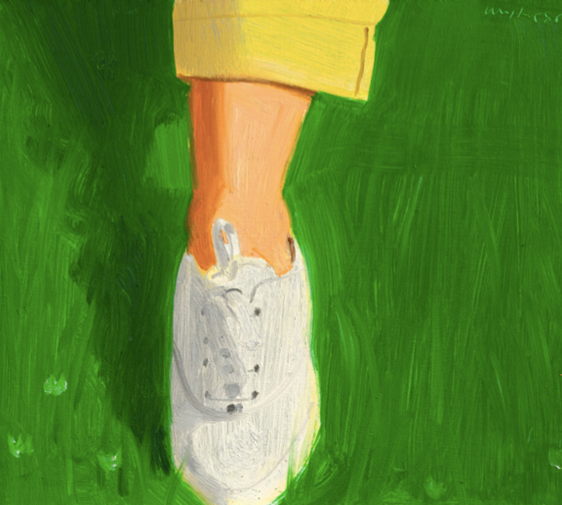 Christie's First Open-Online
Lot 4 will start on 11 September
Alex Katz (b. 1927)
White Sneaker
signed and dated 'Alex Katz 1986' (upper right); titled and dated 'White Sneaker 1986' (on the reverse)
oil on board
12 x 13.3/4in. (30.4 x 35cm.)
Painted in 1986\
Estimate: GBR 25,000 - GBR 35,000