Image: Record-Breaking 'Haystacks' Painting by Claude Monet Leads Sotheby's $350 Million Evening Sale of Impressionist & Modern Art, 14 May, courtesy to Sotheby's 
August Uribe, Sotheby's Head of Impressionist & Modern Art in New York, commented: "It was a fantastic night for classic Impressionist art, highlighted of course by the extraordinary work by Claude Monet that made auction history both for the artist and for any Impressionist work of art. One of the most recognizable images in art history, Monet's Haystacks series has long served as an inspiration to countless artists since its creation in the early 1890s. It was a true honor to present Meules among a remarkable group of Impressionist pictures emerging from the same distinguished private collection – one of several important collections offered tonight that propelled our results."
Helena Newman, Sotheby's Worldwide Head of Impressionist & Modern Art, said: "Tonight we saw a great depth of impassioned bidding from around the globe, fueled by works long-cherished in private collections.  Nearly two-thirds of the lots offered tonight had never before appeared at auction, and the market responded enthusiastically – helping us to achieve our highest total since 2015, and our second consecutive evening sale with a sell-through rate over 90%. With the record-breaking Monet leading the charge, the Impressionist and Modern market is as strong as it has ever been in my more than 30 years in this business."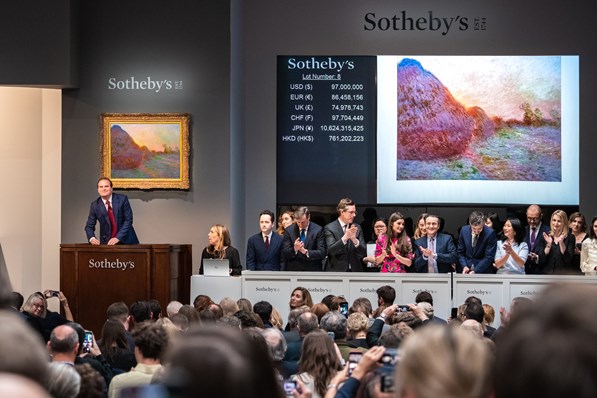 Record-Breaking 'Haystacks' Painting by Claude Monet Leads Sotheby's $350 Million Evening Sale of Impressionist & Modern Art, 14 May, courtesy to Sotheby's 
Julian Dawes, Head of Sotheby's Impressionist & Modern Art Evening Sales in New York, commented: "Picasso dedicated an entire month in 1962 to painting Femme au chien, a portrait of his new wife Jacqueline and his beloved Afghan hound – a sign that the work was of great personal value to him. The spectacular canvas demonstrates the artist's full creative force in the later years of his life, and tonight the market affirmed that the greatest works produced in the 1960s are considered equal to the finest created throughout his career. From a fantastic work on paper from 1906 to our two 1960s canvases, Picasso proved a driving force throughout our sale tonight and reaffirmed the enduring strength of his market."
Tonight's sale was led by Claude Monet's Meules from 1890 – an icon of Impressionism from the artist's acclaimed Haystacks series, which sold for an astounding $110.7 million: a new world auction record for any work by Monet, and the first Impressionist work to cross the $100 million threshold at auction. Underscoring the importance of this masterpiece, Meules also became the 9th most expensive work ever sold at auction.
Regarded as the finest example from this celebrated series, the radiant canvas was one of only four Haystacks pictures to come to auction this century, and one of only eight remaining in private hands. Of the 25 canvases that the artist created in the early 1890s, the other 17 works reside in museum collections, including six in the collection of the Art Institute of Chicago. The work is further distinguished by its illustrious provenance, having been acquired by wealthy Chicago socialites and fervent collectors of Impressionist works, Mr. and Mrs. Potter Palmer, directly from the artist's dealer in the 1890s.
Meules led a group of eight outstanding Impressionist works on offer from an Important Private Collection, all of which were sold for a combined total of $129.5 million. A portion of the proceeds from the sale of the collection will significantly benefit two world-renowned, not-for-profit institutions in the fields of science and music.
Across the full auction, 13 works of classic Impressionism together achieved $160 million – nearly half of the overall auction total. Further highlights included Gustave Caillebotte's La Rue Halévy, vue du sixième étage from 1878, which well-exceeded its $8 million high estimate to sell for $13.9 million. On offer from the Levy Family Collection, the expansive urban view epitomizes the way in which the Impressionists brought the French capital to life in the middle of the 19th century, rendered in Caillebotte's own innovative pictorial style. 
Works emerging from distinguished private collections performed well throughout the sale: four works from the Levy Family Collection totaled $26.1 million; three works from the Blema & H. Arnold Steinberg Collection realized $6.9 million; and four works from the Bakwin Collection brought $22.5 million. Additional works from both the Levy Family and Steinberg collections will be offered throughout Sotheby's marquee sales this week.
The seven works by Pablo Picasso on offer in tonight's sale totaled an impressive $93.5 million, led by Femme au chien, which sold for $54.9 million in its auction debut – a new world auction record for any 1960s work by Picasso. Completed over the course of nearly a month at the end of 1962, the magnificent large-scale canvas depicts Jacqueline Roque enthroned in an armchair and petting Picasso's Afghan hound, Kaboul. Roque was Picasso's beloved second wife who remained with him until his death in 1973, and his renderings of her constitute the largest group of images of any woman in his life. Kaboul is rendered with clear affection and humor and is a nod to Picasso's adoration of these creatures – canines of various sorts are present in Picasso's works throughout his oeuvre.
Another highlight from the selection of works by Picasso was Mousquetaire à la pipe from 1968, which brought $20.8 million. One of the greatest subjects of the artist's late oeuvre, the musketeer was one of a cast of psychological avatars that were a means of projecting different aspects of his identity.
The successful integration of Latin American Art into Sotheby's global Impressionist & Modern Art sales was underscored by tonight's sale of Joaquín Torres García's Construcción en blanco, which surpassed the artist's previous auction record when it sold for $3.4 million. The arresting work was painted in 1931, at the apex of Torres-García's artistic output and embodies his philosophical theory of Universal Constructivism – his most original contribution to the development of abstraction and an idea he first conceptualized during his years in Paris from 1926 - 1932.
In addition, Rufino Tamayo's Sandías from 1980 – one of the last canvases that he painted of the fruitful subject, as well as among the last works that the artist created before he ceased production in 1990 – sold for $4.9 million.