Image: Art Nocturne Knocke logo & 'Beach Castle' - Jean-François Fourtou
Art Nocturne Knocke takes place on the originally announced dates from 8 till 16 August in the familiar CC Scharpoord in Knokke-Heist. This also means that the art fair is one of the only fairs organized in these difficult times. With a certain humility we may call Art Nocturne Knocke a world premiere.

A coronaproof edition.
This also means that the measures imposed or suggested by the authorities will be carefully respected. There will be a separate entrance and the booth construction will ensure a large openness. The number of visitors will be strictly regulated according to time slots.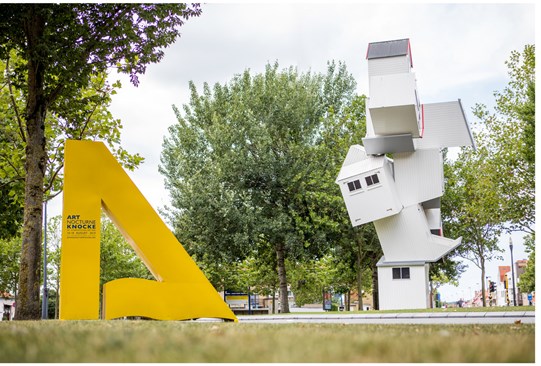 Art Nocturne Knocke logo & 'Beach Castle' - Jean-François Fourtou


Augmented Reality.
This is the first art fair ever with a complete online experience, where visitors will be able to see all the works on the fair website in 2D and 3D. In addition, the fair offers an Augmented Reality experience, allowing visitors to see an artwork directly in their interior through an app.

Thanks to an important interest from both the traditional galleries and the individual artists in the 'Discoveries Pavilion', we can say that the 45th edition of Art Nocturne Knocke will be a very distinguished and above all an original and innovative edition with more than 50 exhibitors. The diversity guarantees a fascinating visit to this festive happening on different aspects. In the traditional part of the fair, you will discover paintings in various styles and trends combined with sculptures in a multitude of materials alongside older and more recent objects, jewellery and silverware, design with an often surprising form, ceramics and photography... Established values that are familiar and that nevertheless always surprise you as well as a number of new exhibitors with an impressive offer. 

The 'Discoveries Pavillion', which focuses on one-(wo)man-shows, also looks particularly attractive because of the diversity of the disciplines in visual art, the quality of what is shown and the inventiveness of the artists. A visit to the 'Discoveries Pavilion' guarantees surprise and creates admiration. 
A surprising 45th edition.
Let us have a closer look at some of the presentations that will undoubtedly arouse your attention and interest.  The main department of Art Nocturne Knocke in which galleries show their highlighted works can be described as a sequence of emotions in which one or more artists, a theme, a leading collection, a gracefully elaborated find or a rather unusual object, are each presented in an attractive and often original way. Antoine Leclercq (Gallery Ysebaert) will be exhibiting the powerful rhythm of his corten steel sculptures, which are also monumentally shown during Sculpture Link this year. Frederik Tanghe once again impresses with his elegant objects in stainless steel, which are as functional as they are examples of precision and elegance. Nestor & Rotsen is also present again with its remarkable design objects, furniture and lamps in an original presentation using natural and colourful materials. This year ArtAssistant focusses on sculptures in various forms and materials with the concept of 'animalier' put central. As always, The Old Treasury is a treasure trove of precious jewels and silverware. Baskania is a loyal attendee that shows impressive jewels and a multitude of colourful precarious gemstones. For more than twenty years, Galleria Immaginaria has been active in Florence. They are specialized in promoting classical abstraction and contemporary art and combine the work of famous artists with lesser known but promising names.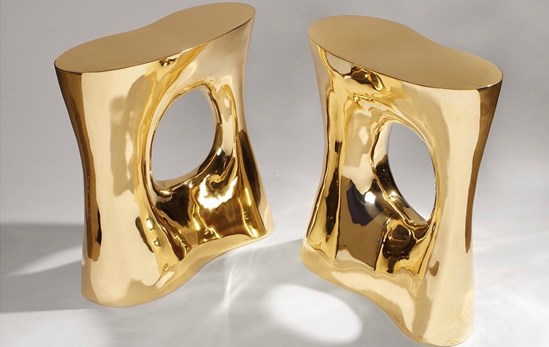 'Osselet' - J.M. Lelouch, Galerie Lelouch
The Parisian Gallery Lelouch shows furniture objects that stand out for their refined functionality. Galeria de las Misiones is known for its Latin American avant-garde in which constructivism and abstraction dominate. The gallery represents, among others, Pablo Atchugarry whose works were presented at Art Nocturne Knocke more than 20 years ago and which has been greatly appreciated and acquired here for quite some time now. The Bruges museums also have a monumental work by the artist in their collection. A striking stand is the one from Altan Khaan Gallery, in which contemporary Mongolian paintings, ceramics and porcelain are presented. All Arts exhibits, in an astonishing diversity of objects and artworks, everything that refers to hunting and animals. The German Kunsthaus Kende stands out for its collection of exquisite silver objects spread over three centuries. Gloria Gallery presents contemporary art in a playful diversity of disciplines, including works by Niki de Saint-Phalle, César and Bernar Venet. The diversity of painting techniques, figuration and rhythmic is convincingly presented by Goodwin Gallery, Nationale 8 Gallery and Cogalerie. Rings and brooches in a contemporary atmosphere of inventiveness and elegance are displayed at de Haulleville. Sculptures and objects with a surprising design are offered by Love Wood Gallery and Had Gallery. Diversity, quality and surprise characterize the distinguished main department of Art Nocturne Knocke 2020.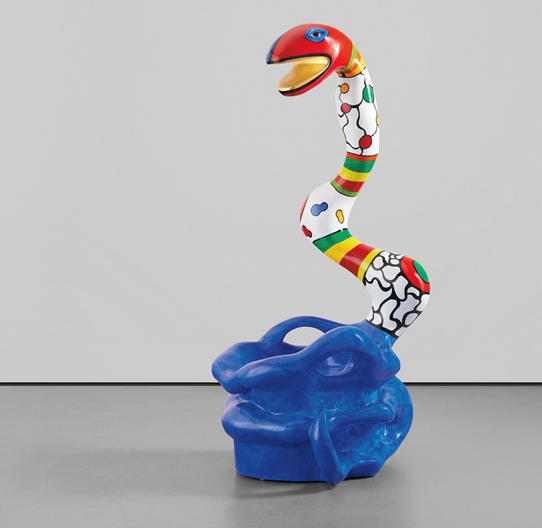 'Pouf serpent blue' - Niki de Saint-Phalle, Gloria Gallery
The appreciation that the 'Discoveries Pavilion' received last year, will undoubtedly be continued and expanded this year. Here individual artists will appear who have received insufficient attention so far, despite their visual qualities and their often innovative attitude. The offer is wide and extremely diverse. We evoke the work of some of them. Ann Dierckx casts her clay-modelled sculptures in bronze or marble resin and strives to give her creations an eloquent expressiveness. Image and density go hand in hand harmoniously throughout her entire oeuvre. Matter is a fundamental fact in the canvases of Christian De Wulf. Colour and form go hand in hand and thus acquire a special aura. Dirk Santens initially was a painter, but later developed into an exceptionally talented animalist with its own sensibility and an expression that deserves our appreciation and admiration. Jeroen Beirens has a technical architectural background and is inventive and driven as a designer. He combines the digital and the analog in striking works that are meticulously executed and show an eloquent rhythm and an alienating appearance. Kati Borré resided in the United States for quite some time and shows a broad American view of cities and urban landscapes. Her metier and her choices guarantee an original and striking photographic imagery.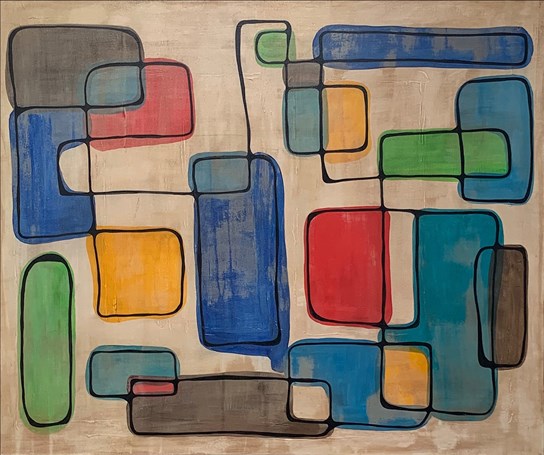 'Colour mood' - Jacques Deneef
Kinetura's light objects represent a visual experience due to the combination of technical knowledge and aesthetics. The ceramics of Patrick Van Craenenbroeck show a rich imagination and a thorough metier. He describes them as 'travelers in time'. Rita Craeynest is known for her bronze sculptures in which a child is depicted in a multitude of moving postures that betray a thorough metier and a positive attitude. The sculptures and canvases of Els Thienpondt, alias Tex, cannot be walked past unseen. They are original and striking works that amaze and portray a strange atmosphere. The abstract sculptures of Samuel Nef in delicate shining colours stand out because of their geometric spaciousness. François-Loïc Fège creates contemporary objects in a geometric atmosphere and a contemporary often somewhat ironic view of the glass blowing technique. Kris Vercruysse initially painted rhythm in multicoloured paint, canvases that were attractive because of the depth of the scene and the charm of the material. Now he creates figurative canvases that refer to familiar characters or urban landscapes. Remarkable is his technique in which the canvas shows depth because of subtile material applied at the back.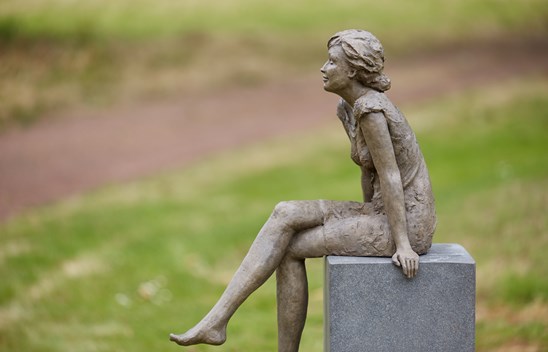 'Sous le soleil' - Caroline Moxhon
ANK 2020 takes place in CC Scharpoord, Meerlaan 32, Knokke-Heist Belgium, from 8 to 16 August, daily from 4 to 9 pm with free parking nearby CC Scharpoord and free shuttle service from the minigolf, Albert square and the Tourist Office.