Image: Zhou Li, Wind and Thunder No.5, 2018, Mixed media on canvas, 78 3/4 x 78 3/4 in.(200 x 200 cm) © Zhou Li Studio. Courtesy White Cube
White Cube Bermondsey is hosting a solo exhibition of the Chinese abstract artist Zhou Li, running until 30th June. Nine paintings are on display from three of her 2018 series: The Peach Garden, Wind and Thunder, and Blue. ArtDependence spoke to Professor Zhou at the gallery.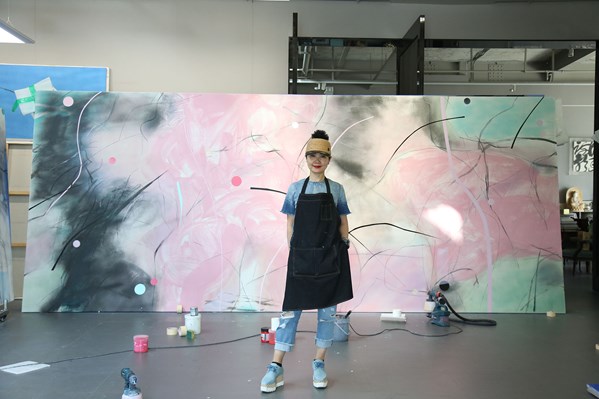 Zhou Li in her studio, Shenzhen 2018 © Zhou Li Studio. Courtesy White Cube
Tucked away among the gourmet coffee houses and vegan delis of Bermondsey Street, White Cube's brick-and-steel east London branch is a suitably trendy spot for a gallery of commercial contemporary art. One of its cuboid rooms is currently hosting the UK's first solo exhibition by the Chinese artist Zhou Li (pronounced, approximately, 'Joe Lee'). On display are eight large-scale mixed media canvases from three series that she produced in 2018: five from The Peach Garden, two from Wind and Thunder, and one from Blue. After these poetic titles, the initial impression which the exhibition gives to the viewer is of a bewildering series of pink, blue, black and green expanses overlaid with twisting lines and multicoloured spots.
I was puzzling over the lines when the artist arrived. Zhou Li was wearing loose black trousers, metallic shoes with thick rubber soles, a black jacket over a white silk shirt with a high collar, a pair of spectacles on a chain, and long tear-drop earrings. She was accompanied by an interpreter, but, even so, conducted most of the interview in English herself.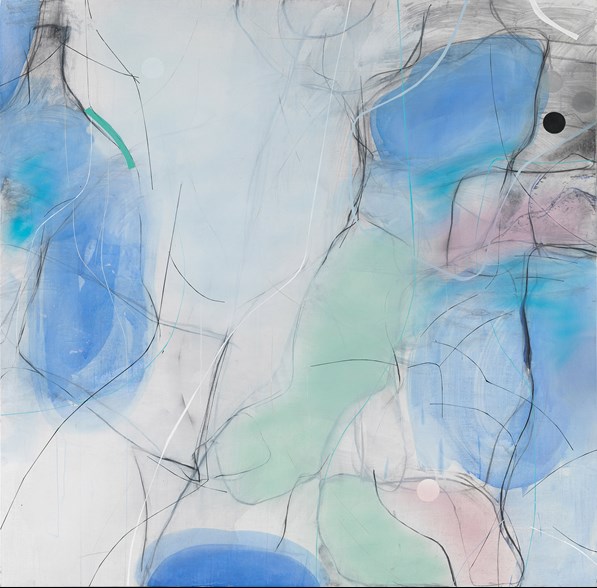 Zhou Li, Wind and Thunder No.5, 2018, Mixed media on canvas, 78 3/4 x 78 3/4 in.(200 x 200 cm) © Zhou Li Studio. Courtesy White Cube
These days, no self-respecting artist, Eastern or Western, would dream of creating a work of art without a philosophy to go with it. Our discussion began with the metaphysical title of the exhibition, Original State of Mind. After a consultation, Zhou and the interpreter between them explained to me that this refers to her claim to see things from a 'neutral' perspective – as it were, a window between the external world and internal experience. This idea originates in the identity in Chinese philosophy between mind and the universe. To seek clarification afterwards, I turned to the exhibition catalogue, which states that Zhou 'neither judges anything subjectively nor responds to any perceived objective qualities. Using a phenomenological method she attempts to break such dualities, as well as that of 'sensibility' and 'rationality', in order to suspend life – and the experience of it – and suppress existing concepts or constructs.' This is all rather mystifying –– at least to someone unfamiliar with Chinese philosophy.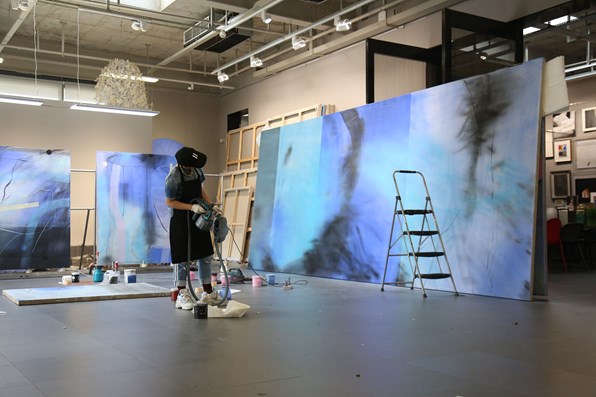 Zhou Li in her studio, Shenzhen 2018 © Zhou Li Studio. Courtesy White Cube
We then walked across to the most striking work on display, The Peach Garden No. 18. Over six metres long, its dominant colour is a bright pink which might remind an unsophisticated viewer of bubblegum. However, taken with the swirls of black and green which together form the background surface of the canvas, the overall effect is clearly of a garden of peach trees in bloom in a garden; a similar combination is used in the smaller scale The Peach Garden No. 16. Zhou tells me that pink has historically been undervalued by artists; it is 'difficult to choose … it is so easy to be shallow'. But she wants to rehabilitate it. To her it represents not only the colour of peach blossom, but, on a symbolic level, desire and the female; it's 'kind of sexy'. The connotation of desire is appropriate to the series' title, which refers to a Chinese play from the early Song Dynasty (960-1279 AD) about a love affair.
Assemblages of lines are a trademark of Zhou's style. In her Peach Garden and Wind and Thunder series, some of the lines are soft, thin and black, and have been painted quickly onto the canvas with a brush, and are partially smudged into the background masses of colour. Others, in white, pink and blue as well as black, consist of strips of tape carefully cut out, applied to the surface and painted over thickly and slowly, their edges sharply defined. The aim, Zhou says, was to create a sense of contrast and balance between the thick and thin lines; this seems effective, with the thick ones standing out and the thinner ones melting into the background. There are also small circles, again cut out and stuck over the top, in white, black, and various shades of pink and blue.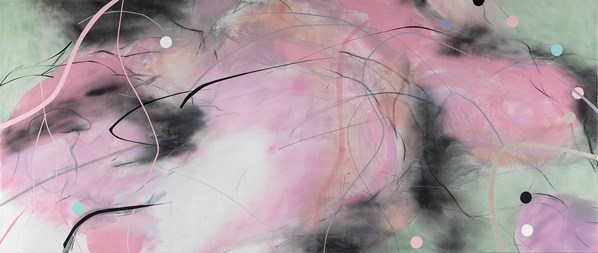 Zhou Li, The Peach, Garden No.18, 2018, Mixed media on canvas, 987/16x236 1/4 in. (250 x 600 cm)© Zhou Li Studio. Courtesy White Cube
Some of the lines suggest concrete objects, such as hills in Wind and Thunder No. 3 or tree branches and paths in The Peach Garden No. 15, while others appear to be free-floating abstractions. According to Zhou, the circles are intended to represent patches of light – almost as though viewed through an out-of-focus camera. The paintings thus fluctuate between the abstract and the representational.
The black lines may owe a debt to Cy Twombly, whom Zhou acknowledges as an influence. They also allude to traditional Chinese calligraphy, which lies at the boundary between art and writing. In particular, the heavy, sharp-edged lines evoke the precision with which a calligrapher would use his or her brush to produce a stroke that, while carefully controlled, appears natural and free-flowing. The blurred contours of the landscape in the background suggest the rough texture of a watercolour, such as often accompanies calligraphic texts. The paintings, she tells me, are arranged around the gallery so as to be capable of being viewed like the scenes on an unwinding scroll – simultaneously as separate pieces and a continuous narrative.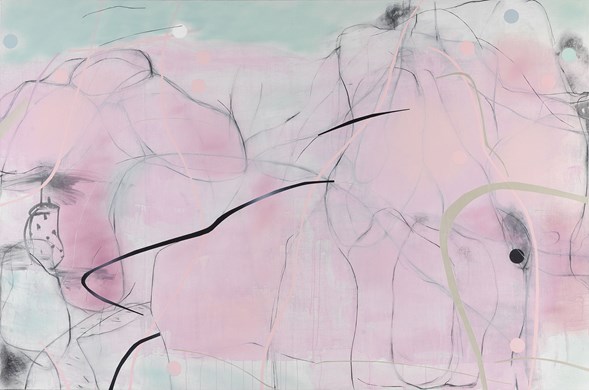 Zhou Li, The Peach Garden No.19, 2018, Mixed media on canvas, 78 3/4x1181/8 in. (200 x 300 cm) © Zhou Li Studio. Courtesy White 
Cube
While Zhou practises calligraphy as a form of meditation, she characterises large-scale painting as 'action'. The catalogue contains pictures of her at work in her studio, where she is dressed in chunky fashion trainers and a baseball cap, and adds the final touches to an enormous canvas with a paint blower.
Zhou is based in Shenzhen, a modest conurbation of twenty million inhabitants located on the southern tip of the Chinese mainland, just north of Hong Kong. In addition to being a practising artist, she has held various professorships in Shenzhen and nearby Guangzhou, and is currently Director of the Institute of Abstraction and Contemporary Arts at the Centre of Research on Artistic and Cultural Innovation and Development at Sun Yat-sen University. She studied at the Guangzhou Academy of Fine Arts and then lived in France for eight years before returning to China.
Her father was an artist in the traditional Chinese style, but when I ask her if he taught her to paint, she dismisses the idea. Did she study in France? No, she visited the galleries and museums. 'I don't believe in studying'. What about her training at Guangzhou Academy – was that helpful? 'No.' She laughs. 'A little bit.' Now she is a professor, she encourages her students to formulate their own responses to the world. 'I always tell them: we learn how to think, we learn how to watch.' She once hung an apple in the middle of an empty studio. 'Some of the students ask me, What do you want me to do, teacher? And I say, I ask you!'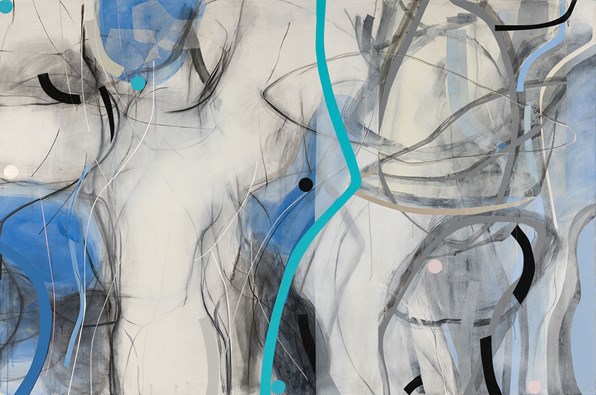 Zhou Li, Blue No.5, 2018, Mixed media on canvas, 78 3/4 x 118 1/8 in.(200 x300 cm) © Zhou Li Studio. Courtesy White Cube.
As for the meaning of her paintings, her response is typical of the artist not wishing to narrow her options: 'I paint what is in my mind – you see what you will see'. She does emphasise that the overall purpose is to convey a sense of tranquillity amid the bustle, chaos and over-stimulation of modern life. Her energetic use of lines and spots feels at times more dynamic than soothing, particularly in Nos. 16, 15 and 18 of the Peach Garden series, against the vibrant pink background. The two Wind and Thunder paintings, however, feel more contemplative: with blue and black as the dominant tones, they evoke respectively a landscape in the evening (No. 3) and at night (No. 1), the wind rushing in black streaks over the hills and among the trees. In No. 1, a white circle suggests the moon and a white line, perhaps, a flash of lightning.  
Regardless of metaphysics, Zhou's paintings are both decorative and interesting – especially with the artist as their interpreter.