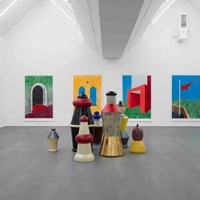 Article date: Friday, April 28, 2017
Gallery Weekend Berlin 2017 - What Not to Miss
Ever since it was founded as a private initiative in 2005, the Gallery Weekend Berlin has attracted numerous visitors around the first weekend of May. Every spring, galerists open their doors to invite those interested in the arts to get to see their latest artistic representations. Approximately 1.200 international collectors, curators and representatives of museums as well as other cultural institutions and 20.000 visitors at total are welcomed in Berlin every year.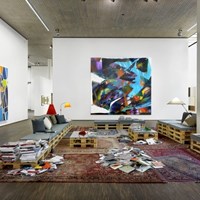 Article date: Tuesday, February 14, 2017
My Abstract World
As soon as we enter the current exhibtion of the me Collectors Room, we immediately find ourselves inside of a picturesque comfort zone. Sofas and seats made of pallets and cushions as well as floor lamps adorn the exhibition space. Between the furniture, piles of catalogues have been draped on Persian rugs. Even catering seems to be provided since retro telephones to order drinks can be found on every sofa table. Art collector Thomas Olbricht creates a domestic atmosphere of a living room, which invites visitors to linger, to inform themselves about art history and to take a break surrounded by art works.