Articles
(11)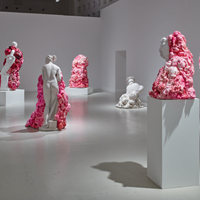 Article date: Tuesday, July 12, 2016
Gods and Monsters - An interview with Marina Vargas
For Spanish artist Marina Vargas, Bourgeois' creative candidness has proved a heady elixir for the manner in which the French artist treated the greatest torment of all, death itself. By which Vargas appears devotionally driven to critique the industries of our energy whilst we are alive. Beauty, instinct, violence and faith, as well as "the symbolic, the mythological, the sacred, and the religious, belong to that visible, invisible world."
---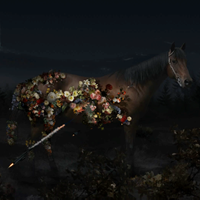 Article date: Wednesday, June 15, 2016
Moving Masterpieces. An interview with Lee Lee Nam.
South Korean artist Lee Lee Nam applies animation to art history in a manner befitting a master gardener turning and tailoring the natural beauty of the land, in order to enhance the view. Nam sees art as an open invitation, in which even those works from the classical period that appear hermetically sealed by time are ripe for recasting as the living breathing set for a tender technological intervention, or 'reinvention' as is more in keeping with the artist's intentions.
---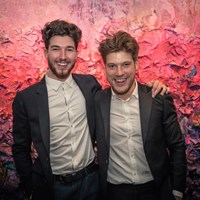 Article date: Wednesday, January 13, 2016
Instant Art
Redefining art as cultural product, the two front men of Unit London, Jonny Burt and Joe Kennedy appear driven by a desire to see aesthetics as a consumable item, and to give their technologically tapped in audience the opportunity to experience everything as is happens in real-time. Carried by the social energy of instagram and twitter, art delivered by Unit London appears as appealing as music television, in which a constant feed of coloured images, muted messages, artists lead actions, and advertising styled sound-bites, have created an inclusive brand that has successfully taken them from a small space in West London, to a centrally located gallery.
---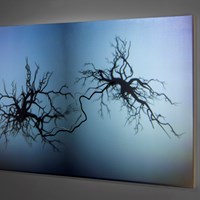 Article date: Wednesday, November 18, 2015
Aesthetic Algorithms
Born in Paris in 1968 Pascal Haudressy is distinguished among his contemporaries for his inventive artistic approach. For which he has pioneered a new image format that forensically focuses on the nature of movement, materiality and immateriality. Exploring transformative mutations of our world in which biological entities coexist with virtual life-forms, Haudressy is inspired by his ancestral ties to Uzbekistan. Which forms an engaging link in his work between the distant past and the unforeseeable future.
---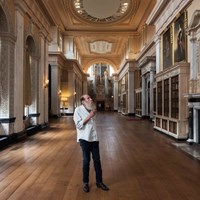 Article date: Thursday, November 5, 2015
The Materialist
Politely punkish in appearance, Lawrence Weiner's brittle beard and rasping utterances have him carry the crowd for the time it takes the aging American artist to introduce his evanescent adventure, to a press and palace audience intended to be positively perplexed by the imposition of contemporary works upon classical artefacts. Siting his artistic presence as a presentation and not a provocation of one moment of history over another.
---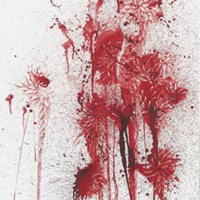 Article date: Tuesday, October 6, 2015
A History of Violence
Reintroducing the body into his works, Imran Qureshi applies paint to the pain of a region under seize. As Rajesh Punj scrutinises the grief and grandeur of his inaugural show at ROPAC, Paris.
---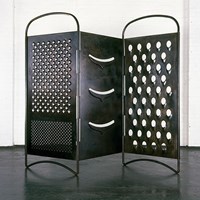 Article date: Sunday, July 26, 2015
Conflict as Culture
Beyond the canvas posters of Swiss-French designer and architect Le Corbusier, the Pompidou's idiosyncratic building in central Paris also plays host to a retrospective styled exhibition of Beirut born, London and Berlin based artist Mona Hatoum. Whose work has since the early 1980's been concerned with the trappings of control; as it proved the invasive ingredient for her Palestinian up-bringing. Leaving Lebanon for London in 1975 as a consequence of civil war, Hatoum's work draws attention to the lives and landscapes of those permanently under seize and out of place.
---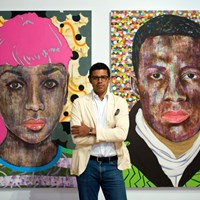 Article date: Monday, June 22, 2015
Collecting Culture - Sindika Dokolo interview
As an orator and ambassador for contemporary African art, Sindika Dokolo eases into the role with such accomplished ease, that his ability to win you over is second only to the strength of the works in his collection. Eloquent in three languages, and tirelessly ambitious for the future of what he holds in his hands; Dokolo describes his intentions for the artworks he has as being very different from other blue-chip collectors. Geared by his own determination to re-write African history, he sees the collection as a vehicle for cultivating cultural upheaval. As he says "I like the fact that we don't institutionalise ourselves. We don't see ourselves as an important institution, because somehow we lose some freshness, and sharpness (if we were to do that). I like us to always to be at the limit, at the edge, and outside of our comfort zone."
---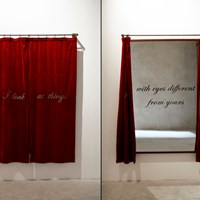 Article date: Thursday, February 19, 2015
Under the Same Sky | Shilpa Gupta interview
In an era where intimacy has become a new technology, Gupta counters such franchised interests, by contextualising the lives of the individual, as they manage less to strive but to survive the altering condition of modernity.
---
Article date: Wednesday, October 15, 2014
Behold the Future | Katie Paterson interview
Born in Glasgow in 1981, and educated at Edinburgh College of Art, and the Slade School of Art, respectively. Paterson belongs to a successful crop of Scottish artists who have broken onto the international art scene in recent times.