Reflections: Van Eyck and the Pre-Raphaelites
Until 2 April 2018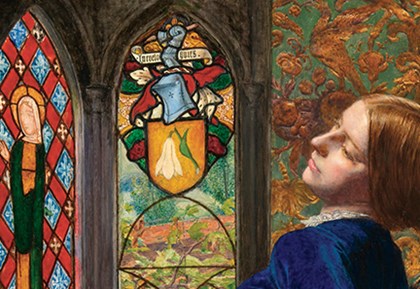 "The finest picture in the world" – Edward Burne-Jones in 1897 about 'The Arnolfini Portrait'
This autumn, one of the most celebrated paintings in the National Gallery, Jan van Eyck's The Arnolfini Portrait, will be exhibited for the first time alongside works by the Pre-Raphaelite Brotherhood and its successors. Focusing on the profound influence this 15th-century masterpiece had on the Pre-Raphaelite Brotherhood, Reflections will shed light on the different ways these young British artists of the 19th century responded to the painting and one of its most distinctive features, the convex mirror.
Featuring key loans from Tate's Pre-Raphaelite collection, including Sir John Everett Millais's 'Mariana' (1851), Dante Gabriel Rossetti's 'The Girlhood of Mary Virgin' (1848–9), William Holman Hunt's 'The Awakening Conscience' (1853), and William Morris's 'La Belle Iseult' (1858), the only completed easel painting he produced, this landmark exhibition provides a unique opportunity to view these paintings next to the work that inspired them.
Co-curated by Susan Foister, Deputy Director and Curator of Early Netherlandish, German, and British Paintings at the National Gallery and Alison Smith, Lead Curator of British Art to 1900 at Tate, the exhibition will show a wide range of exhibits from public and private collections, including one of the convex mirrors owned by Rossetti (Kelmscott Manor, Gloucestershire, UK), another used by William Orpen (Private Collection), as well as early photographs (Wilson Centre for Photography), drawings, archival exhibits surrounding the acquisition of 'The Arnolfini Portrait', works on paper, and a Victorian reproduction of van Eyck's masterwork 'The Ghent Altarpiece' by the Arundel Society (1868–71, The Maas Gallery, London).
Image above: Detail from John Everett Millais, 'Mariana', 1851 © Tate, London 2015