This is a project about dreamers who wanted to change the world. This project is about the reformers of art, who abandoned the traditional format. This project is about the creators of Utopia, who themselves became its victims …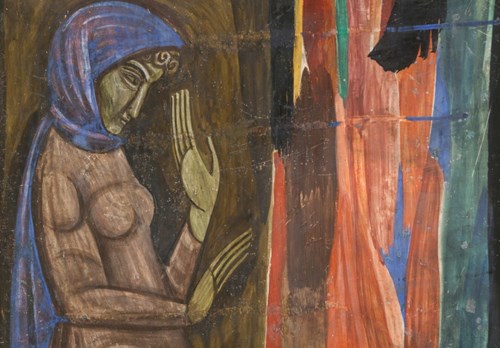 Mykhailo Boychuk is a Ukrainian painter, known as a monumentalist, who in 1910 surprised the demanding Paris at the "Salon des Indépendants". He used tempera instead of oil, returned to historical heritage, chose collective creativity instead of individual one and brevity of art form instead of realistic reproduction. The French called these innovations "Renovation Byzantine", among scholars it is known as the school of Ukrainian monumentalism or boychukism. This was the last attempt to implement the great style in Ukraine. The rebel by nature, Mykhailo Boychuk set himself a clearly defined goal – to reform the Ukrainian art. The new Ukrainian style was to become truly national and had to deeply enter the everyday life of people.
In the 1920s, the Boychuk followers at the Kyiv Art Institute formed something like medieval workshop, where all the process of artwork creation was collective – from the manufacture of paints and brushes to finished works. Boychukists sincerely believed that their art served the development of an ideal society. In their works they transformed everyday life of Ukrainian village into something sacred. However, the Bolshevik ideologists quickly put an end to various artistic searches, following the universal method of socialist realism, great terror reigned in Ukraine.
The monumental works of the Boychukists were destroyed right after their authors. Until now, only a few sketches or chamber works of their "great style" have survived. From these fragments, we tried to assemble a puzzle that would give a comprehensive idea of Ukrainian monumentalism as an artistic movement that reflected the essence of its era. 
More than 300 paintings, graphic and mosaic works by Mikhail and Timothy Boychuk, Vasyl Sedlyar, Ivan Padalka, Sofia Nalepinsky, Oksana Pavlenko, Antonina Ivanova, Mykola Rykytsky, Sergey Kolos, Okhrim Kravchenko will be exhibited. Among them, a unique icon painting of the early Boichuk, the so-called secular icon "Two Under the Tree" will be presented. Also the exhibition will feature some unique works of students of the 1920s monumental painting workshop, pottery created according to the sketches of the Boychukists, the first edition of the "Kobzar" by Taras Shevchenko with illustrations by Vasily Sedlyar and much more.
The curators of the project: Olga Melnik, Victoria Velichko, Igor Oksametny.
The exhibition will be held at the Mystetskyi arsenal from December 7, 2017 to January 28, 2018.
Image on top: Boychuk M.L, "The girl near a tree, night", the beginning of 1910-th. Сarton, tempera, watercolor. Lviv National Art Gallery.