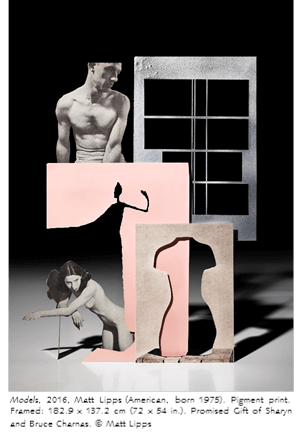 For most people, a photograph is fairly straightforward – an image on a piece of paper with four straight edges and four corners. But for some photographers, paper is not merely the end result of developing a photograph – it is a material that can be activated in a number of ways. Cut! Paper Play in Contemporary Photography, on view February 27-May 27, 2018, at the J. Paul Getty Museum, Getty Center, looks at the work of six contemporary artists who expand the role of paper in photography. Many of the works in the exhibition have been borrowed from Los Angeles-based collectors, institutions, or galleries, while others are from the Getty Museum's permanent collection.
"Within the Getty's very extensive collection of photographs from the birth of the medium to the present day, are a number of works that blur the line between photography and other mediums," says Timothy Potts, director of the J. Paul Getty Museum. "Cutting and otherwise manipulating the printed photograph, artists from the first half of the twentieth century on have created works in which the cutting, shaping and combining of images take the medium in radically new directions. Exhibitions like this provide a context and historical perspective on the experimentations of many contemporary photographers today."
"The works in this exhibition demonstrate a variety of approaches used by artists to transform paper into objects with greater sculptural presence," says Virginia Heckert, curator of the exhibition and head of the Department of Photographs at the Getty Museum. "Photography may be the starting point, with camera-made images altered by acts of cutting and modeling to introduce layered narratives and the passage of time, or it may put the finishing touch on a collage or construction that has been carefully conceived based on existing images. This toggling back and forth between two and three dimensions and between existing and constructed images reminds us of the magical transformation that occurs in every photograph."
Cut! Paper Play in Contemporary Photography is on view February 27-May 27, 2018, at the J. Paul Getty Museum, Getty Center. The exhibition is curated by Virginia Heckert, head of the Getty Museum's Department of Photographs. On view concurrently in the Center for Photographs will be the exhibition Paper Promises: Early American Photography.