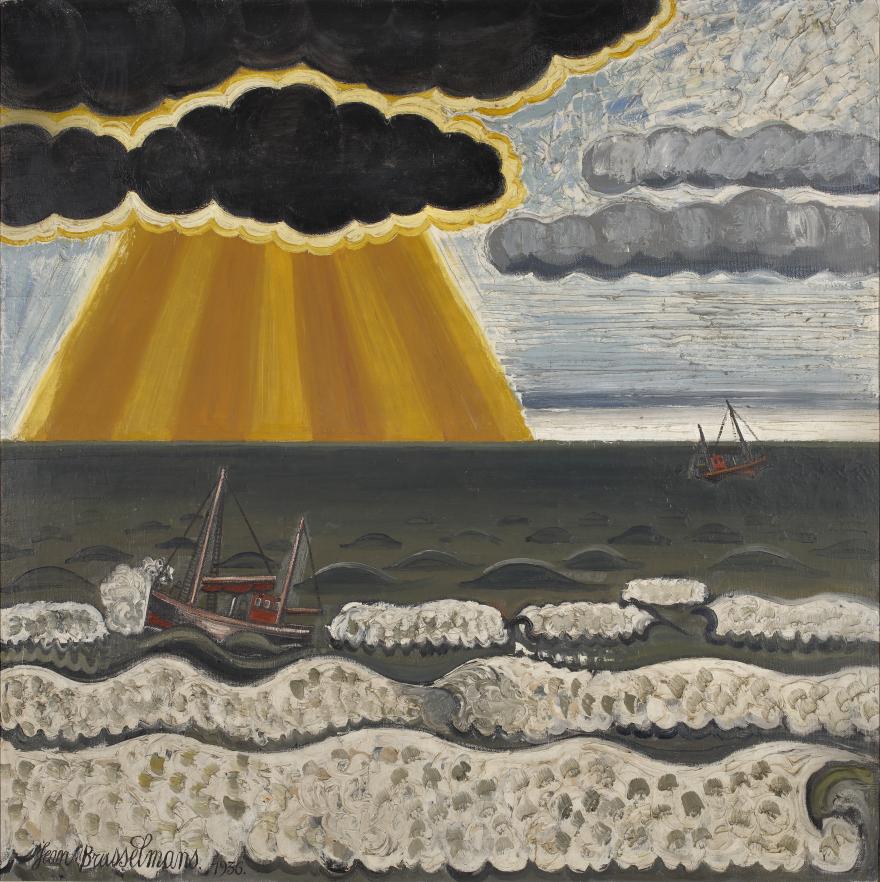 Jean Brusselmans: My Flemish Fatherland
17.02.18 - 10.06.18
In the face of every movement that swept the art world during the first half of the twentieth century, Belgian artist Jean Brusselmans (1884 - 1953) constructed an obstinately idiosyncratic oeuvre starring the rolling landscape and village life of Belgian Brabant. The Gemeentemuseum is now mounting the first full-scale exhibition of this major artist's work to be held outside Belgium for many years. Around forty paintings will be on show, mainly dating from the 1930s and '40s and including a number of previously undiscovered gems from private collections.
While his immediate contemporaries – artists like Rik Wouters, Constant Permeke and Gustave De Smet – made their names as leaders of a new avant-garde in Belgian painting following the First World War, Brusselmans went unnoticed. He spent almost all his life in Dilbeek, a country village to the west of Brussels, and his surly character and geographical remoteness from the art world were barriers to success. On the sidelines – and in great poverty – Brusselmans developed his own style.  It was only in the 1940s that his work gained a degree of cautious recognition, although it still remained relatively unknown to the general public.
On the sidelines – and in great poverty – Brusselmans developed his own style Brusselmans depicts his subjects almost two-dimensionally, placing a clear emphasis on colour and form.
Everyday subjects
In 1904, at the age of twenty, Brusselmans decided to devote his life to painting. He resigned from his job as a lithographer and dropped out of classes at the Brussels art academy. Together with former fellow-student Rik Wouters, he hired an attic studio in Brussels. The years that followed were dominated by an artistic voyage of discovery during which Brusselmans developed a sharp eye for rhythmical patterns, designs and geometrical motifs in everyday subjects: his wife's dress, a storm at sea, plates on a dresser, a winter landscape… Brusselmans structured and stylised the image without ever arriving at complete abstraction.
Much to his displeasure, he quickly came to be viewed as a Flemish Expressionist. He never intended to express emotion through his art. To Brusselmans, his subjects were the point of departure for experimentation with lines, planes, colours and patterns. The sea, a snow-covered field, a shell or a vase of flowers offered him the excuse to play with colours, patterns and composition to his heart's content. In this respect, his work has more in common with that of Henri Matisse and Paul Cézanne than with the tradition of Belgian Expressionism.