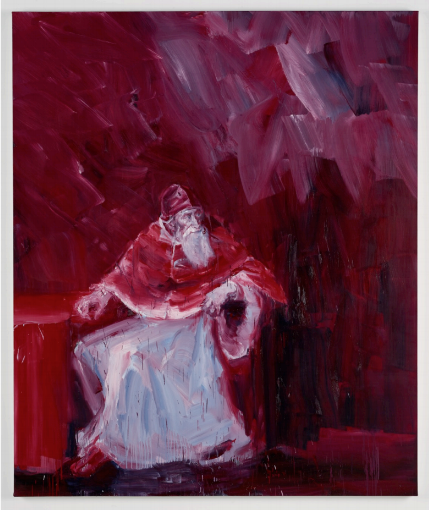 Galerie Thaddaeus Ropac Paris is pleased to present Dating, a new exhibition by Yan Pei-Ming. For this new exhibition Yan Pei-Ming audaciously brings together new oil paintings of Popes, Female nudes and erotic scenes, along with a series of gouaches.
Yan Pei Ming has long been fascinated by pope portraiture, and its role in the representation of power and authority. With his signature monochromatic palette and energetic brushstrokes, the artist revisits canons that have marked the history of this unique genre by referring to Titian, Giorgione, and Velazquez. His fascination also extends to how our knowledge of these canonical images comes from being reproduced and circulated to the point that they have their own place in our imaginary museum. In the catalogue accompanying the exhibition, the curator of the Sprengel Museum Reinhard Spieler states: 'Yan Pei-Ming thus brings together the historical reality and personality of the great papal figures, the artistic giants Titian and Velázquez, and the level of commercial mass reproduction, which he transfers into a painterly reality, however, giving it an individual, artistic quality of its own. The various pictorial aspects aren't subject to hierarchical value judgements, and appear on equal footing.'
Each painting is transfigured by being rendered in velvety hues of deep red and blue, giving them an intensity and rawness that is further emphasised by the energetic brushwork. There is a gestural quality to Yan Pei-Ming's painting as revealed by the drips of paint, a recent development of his technique. For Yan Pei-Ming the physical act of painting itself is an essential aspect of the finished work.
The subtle gradations from red to blue allow for a sensorial and emotional impact as if Yan Pei-Ming was capturing the transition from cold to hot. The use of blue is preponderant in the exhibition, in the portraits of popes but also in his nudes. The artist refers to this specific colour as a 'Paris Blue'. This designation brings to mind Picasso's famous blue period. While some of the works translate the sense of might, typical of the genre, others convey a more melancholic mood as in Le Titien, 2017.
In the exhibition space the portraits of popes will converse with paintings of a completely divergent genre: female nudes and erotic scenes. As referred by the exhibition title, this is a date between power, women and painting. A dialogue of sorts to restore a balance between the archetype of papal portraiture–considered a
noble subject, and the female nude–a reputedly minor subject because of its links with genre painting.
Image on top: Yan Pei-Ming, Pape Paul III, 2017.Oil on canvas, 300 x 250 x 6 cm (118,11 x 98,43 x 2,36 in)
Photo : André Morain © Yan Pei-Ming / Adagp Paris, 2018