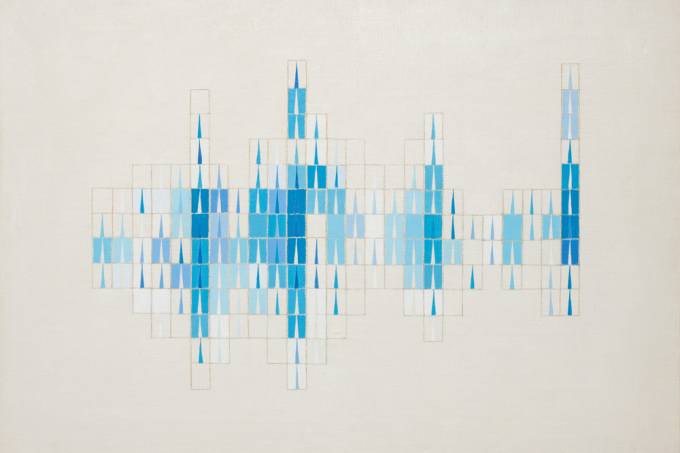 Ione Saldanha is a pioneering though overlooked figure in the history of twentieth-century Brazilian art. Born in Alegrete, Rio Grande do Sul, she emigrated with her family at age 11 to Rio de Janeiro, where she worked as an artist for the rest of her life. This is the largest retrospective exhibition dedicated to Saldanha, including over 200 works, and it is her first solo presentation in São Paulo since 1985.

Although working in intuitively, Saldanha developed a rigorous, poetic, and strikingly coherent oeuvre.One series unfolds and progresses into the next one—from the early figurative paintings to the abstract three-dimensional ones. In this sense, the exhibition is divided into nine sections spanning her entire career, from the 1940s to the 1990s, calling attention to the coherence of her trajectory. The exhibition architecture was conceived to evoke the idea of the city, referenced in the show's title, as well as the artist's subtle use of colors and unique exploration of geometry.

There are several remarkable frameworks through which we can envision Saldanha's work. One could think of "painting in the expanded field," or the limits between painting and sculpture: she painted on canvas, paper, long strips of wood, bamboos, spools, and at last on stacked objects, always with an extraordinary painterly and chromatic investment—in terms of color, brushwork, and the materiality of paint. One may also think of color and constructivism or geometric abstraction: on the one hand, Saldanha's many different color palettes used over the years are quite astonishing; on the other hand, geometry and verticality are clear concerns of her work. Yet there is also her interest in a certain representation of the city, real or imagined, that can be seen over the years: from her early figurative cityscapes, to progressively abstract architectural constructions represented in a fluid, subtle and organic manner, culminating in her most radical works, the Ripas [Slats] and the Bambus [Bamboos], which unfold into the Bobinas[Spools] and, at last, the Empilhados [Stacks].

The subtitle of the exhibition, The Invented City, is borrowed from the title of Saldanha's show at Galeria Relevo in Rio de Janeiro in 1962.