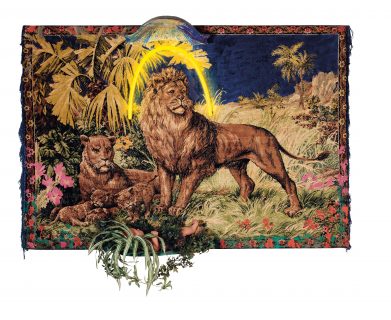 For the first time, the MAMAC dedicates a great exhibition to the artist Daniel Spoerri, member of the Nouveau Réalisme [New Realism], close to Fluxus, initiator of the Eat Art.
Avoiding the retrospective, this astonishing gives an account of how the artist rubs himself to the laws of chance, the values of anecdote and derision, with as a starting point: emotion. It articulates the artist's research into a new form of art that aims to go beyond the field of representation in favour of an enlarged, participatory and collaborative sensory experience.
The exhibition is like a tour as surprising and fascinating as that of a fairground theatre with its traps and catches, its cabinets of curiosities and its banquets. With nearly 300 works and documents, it offers a labyrinthine journey through the art of appropriation, from his first snare pictures to the creation of unusual museums, including the art of the table and the kitchen.
If snare pictures have become popular, the exhibition unveils an astonishing and fascinating perspective of the artist's work. The exhibition thus presents major historical works and archives from an original angle and works that are perhaps less well known but just as innovative and fascinating.
The project brings together over 1 200 m² outstanding loans from the great French public institutions (Centre Pompidou-Musée national d'art moderne – Centre de création industrielle, Centre National des Arts Plastiques, Musée d'Art Moderne de Paris, MAC/VAL-Musée d'art contemporain du Val-de-Marne) and from the Swiss National Library where are kept the artist's archives; join major loans agreed by galleries, foundations and collectors from France and Europe