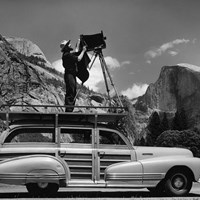 Article date: Saturday, January 12, 2019
Ansel Adams Through a Contemporary Lens at The Museum of Fine Arts, Boston
"Ansel Adams in Our Time" traces the iconic visual legacy of Ansel Adams (1902–1984). The exhibition looks both backward and forward in time: his black-and-white photographs are displayed alongside prints by several of the 19th-century government survey photographers who greatly influenced Adams, as well as work by contemporary artists whose modern-day concerns centered on the environment, land rights, and the use and misuse of natural resources point directly to Adams' legacy.
---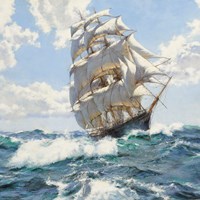 Article date: Saturday, January 12, 2019
Fresh Winds, High Seas by Montague Dawson at Sotheby's
Montague Dawson R.S.M.A., F.R.S.A. 1895-1973 British, Fresh Winds, High Seas signed MONTAGUE DAWSON (lower left) oil on canvas 39 3/4 by 49 7/8 in. 101 by 126.7 cm
---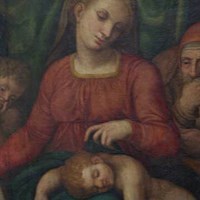 Article date: Saturday, January 12, 2019
Possible Painting by Michelangelo, or one of his Pupils, Stolen in Belgium
On Friday morning between 5.00 and 6.00 in the morning, a burglar stole a painting from the St. Ludgerus Church in Zele. It concerns the work 'Holy Family' - 145 by 99 centimeters - from the sixteenth century that might be a painting by Michelangelo or one of his pupils.
---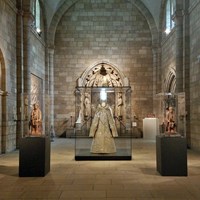 Article date: Friday, January 11, 2019
Met Welcomes Nearly 7.4 Million Visitors in 2018
The Metropolitan Museum of Art announced that it welcomed 7.36 million visitors to its three locations—The Met Fifth Avenue, The Met Cloisters, and The Met Breuer—in 2018, an increase over the 7 million it reported for 2017.
---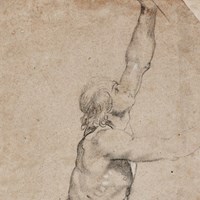 Article date: Wednesday, January 9, 2019
Sale of Rubens by Dutch Royal Family 'Not Right Royal Way', Says Museum Director
The auction of a drawing of the flamenco painter Rubens (1577-1640) belonging to the private collection of the Dutch Royal Family, has revived the debate on the disappearance of artistic heritage behind the backs of museums. With an estimated price between 2.5 and 3.5 million dollars (from 2 to 3 million euros), will go on sale next January 30 at the Sotheby's house in New York, along with 12 sketches and Studies of Ancient Masters.
---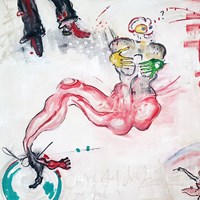 Article date: Wednesday, January 9, 2019
Gallery List Announced for the Second Addition of 1-54 Marrakech
1-54 Contemporary African Art Fair is looking forward to return to La Mamounia in Marrakech for its second edition, 23 – 24 February 2019. Bringing together 18 international galleries and the works of over 65 established and emerging artists, 1-54 Marrakech aims to broaden its programme with bespoke events and exhibitions across the city and showcase Marrakech's creative energy.
---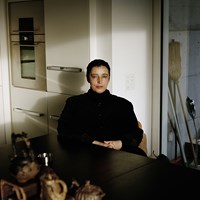 Article date: Tuesday, January 8, 2019
Beatrix Ruf Will Not Return to the Museum in the Role of Adviser or Director of Stedelijk Museum Amsterdam
After close consultation, the Stedelijk Museum Amsterdam and its former director, Beatrix Ruf, have agreed to leave the past behind. As previously reported, Ruf will not return to the Museum in the role of adviser or director.
---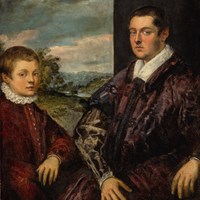 Article date: Tuesday, January 8, 2019
Tintoretto's Nobleman and a Boy on Sotheby's Master Paintings
The identities of the sitters here remain unknown, and it is a matter of speculation as to whether the portrait represents father and son, or a pair of brothers. In any case, the double portrait reflects on youth, adulthood and the passing of time, themes explored in the works of Domenico's Venetian forebears, such as Titian and Jacopo Bassano, not to mention his father Jacopo Tintoretto, in paintings such as Portrait of an old man and a boy, in the Kunsthistorisches Museum, Vienna.1
---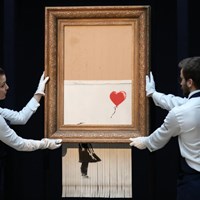 Article date: Tuesday, January 8, 2019
Shredded Banksy to Be Seen in Museum in German Baden-Baden
Museum Frieder Burda in Baden-Baden in Germany exhibits the artwork Girl with a balloon by Brit Banksy next month, which he had shredded at Sotheby's in London immediately after the auction.
---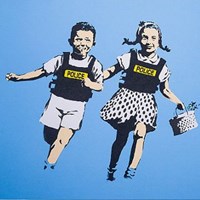 Article date: Monday, January 7, 2019
Banksy: Genius or Vandal? in Madrid
A unique journey through more than 70 original works of one of the most influential creators at the moment. On loan by international private collectors, the exhibition includes original paintings by the mysterious author, his sculptures, installations, videos and photographs. The pieces are on display, for the first time in Spain, at Espacio 5.1 of IFEMA.