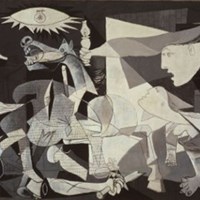 Article date: Thursday, July 6, 2017
Is the Insurance Value of Picasso's Guernica Close to 3 bln USD?
Every now and then an arts publication will release a top 10 ranking of some form: 10 best booths at an art fair, 10 best paintings at an art fair, 10 best museums, and so on. All of these lists are extremely subjective. They will vary widely according to who is writing them. You can only achieve an objective ranking by using pure data as your listing criteria. Artdependence reached out to Christies and Sothebys to gather information on the most expensive auction lots from September 2016 to June 2017. We used the data to create a list, ranking the top 10 most valuable pieces of art according to pure market value.
---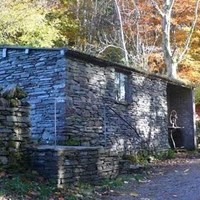 Article date: Tuesday, July 4, 2017
Kurt Schwitters' Final Merz Barn Under Threat
"It is a priceless part of Europe's modernist cultural and artistic legacy. We are doing our best not to let it be devalued or disrespected, but we need help." Ian Hunter. Sometimes, as an arts journalist, you read something in the newspapers that fascinates you and compels you to find out more. The Guardian article "Kurt Schwitters' Merz Barn under threat from property developers" by Hannah Ellis-Petersen was one of those articles for me. How is it possible that Schwitters' Merz Bern, such an important piece of art history, could be under threat?
---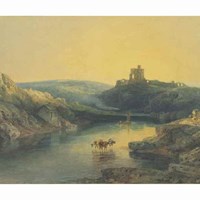 Article date: Monday, July 3, 2017
Old Master & British Drawings & Watercolours Sale on 5 July
Christie's The Old Master & British Drawings & Watercolours Sale will be highlighted by three important works by Joseph Mallord William Turner.
---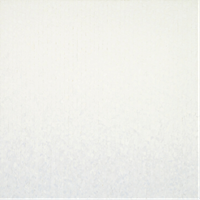 Article date: Monday, July 3, 2017
How much do you know about Dansaekhwa? Hint: It is Korea's most famous (and profitable) art movement.
If you are not particularly interested in contemporary Asian art the term "Dansaekhwa" (a.k.a Korean Monochrome Paintings or Korean Abstract Paintings) may have well gone under your radar. The popularity (and sales) of Dansaekhwa artist have enjoyed remarkable success in the past few years and in 2016 South Korea became the 10th largest art auction market in the world.
---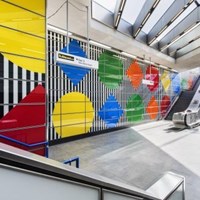 Article date: Saturday, July 1, 2017
Diamonds and Circles, works in situ, by Daniel Buren
A new permanent commission for Tottenham Court Road station in London to open 3 July 2017.
---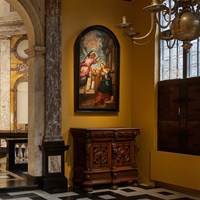 Article date: Friday, June 30, 2017
Rubens House presents David Bowie's Tintoretto
The Rubens House has the privilege of unveiling David Bowie's Tintoretto. The British rock star owned St Catherine by the Venetian painter Jacopo Tintoretto (1518–1594) for over 30 years. Following Bowie's death in 2016, his exceptional art collection was auctioned on 10 November that same year at Sotheby's in London.
---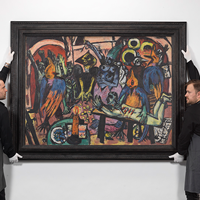 Article date: Thursday, June 29, 2017
Max Beckmann's Birds' Hell Achieved New World Artist Record
The highlight of CHRISTIE'S IMPRESSIONIST AND MODERN ART EVENING SALE - Max Beckmann, Hölle der Vögel (Birds' Hell) sold for a world record price of £36,005,000
---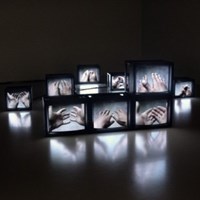 Article date: Thursday, June 22, 2017
The Philadelphia Museum of Art Announces Recent Acquisitions
The Philadelphia Museum of Art has announced a number of new acquisitions that will significantly enrich its collection. Among the works that have been recently acquired are: a group of contemporary films and videos and Japanese ink paintings mounted as handscrolls, hanging scrolls, and folding screens.
---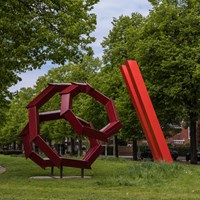 Article date: Wednesday, June 21, 2017
ARTZUID 2017 international sculpture biennial AMSTERDAM
Curator Rudi Fuchs: Mondriaan's influence on Dutch sculpture! Fifty monumental abstract sculptures by Dutch artists are positioned in Berlage's Art Deco district in Amsterdam South. The sculpture biennial follows the theme year 'Mondriaan to Dutch Design – 100 Years of De Stijl' and shows the influence of the Dutch art movement De Stijl (The Style) on sculpture.
---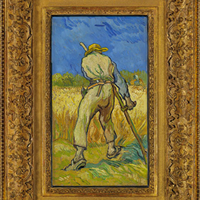 Article date: Sunday, June 18, 2017
'A light of pure gold' — Vincent van Gogh's Le moissonneur (d'après Millet)
Barely appreciated in his own time, positively lionised in ours, Vincent van Gogh led a life as familiar to us as that of any artist in history.