OUTDOOR SCULPTURE is hardly an over-reported area of the Art Market so, when I heard that an international selling-show was taking place this Summer on top of a Normandy cliff, I set off to investigate.
Not just any old cliff: the cliff in Etretat where Claude Monet painted his famous Impressionist seascapes in the 1880s.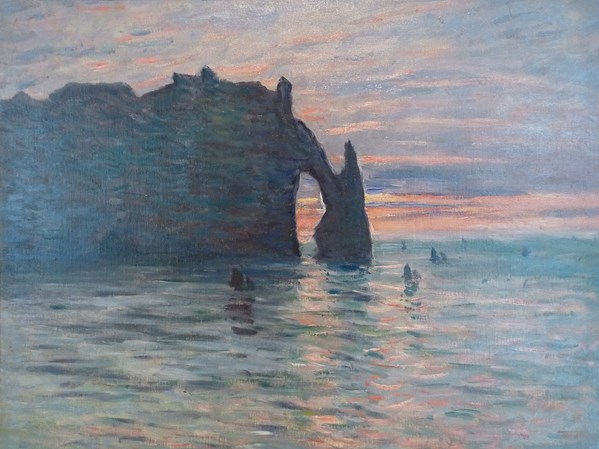 The sculpture show is being held in Les Jardins d'Etretat, which began life in 1905 as a holiday homefor a wealthy Parisian couple. In those days Etretat had the appeal of Sorrento or St-Tropez, and you could get there from Paris by train. Times change. The last train arrived in 1951. These days the train leaves you in Le Havre, 30km away – facing a 75-minute bus-ride or a 75-euro taxi. The nearest airport is Gatwick.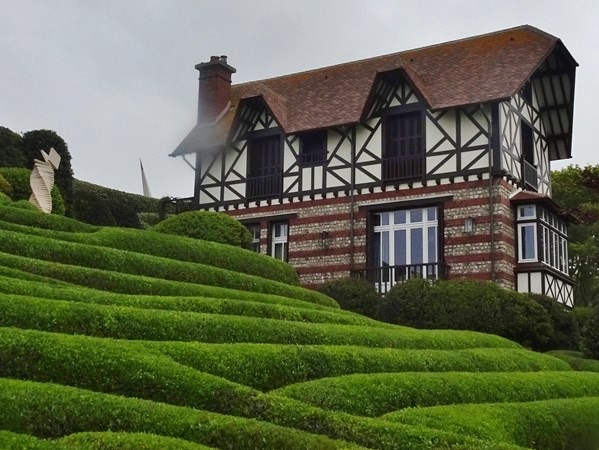 When Moscow landscape architect Sasha Grivko and his partner Mark Dumas (below) bought Villa Roxelane (above) in 2015, its three-acre garden lay in ruins. It occupies a plot of land like an isosceles triangle, 250 metres long by 50 metres deep, on a slope so steep it would be hors catégorie in the Tour de France. The slope 'demands technology', reveals Dumas,before claiming mysteriously that 'the plants are fed by artificial soil.'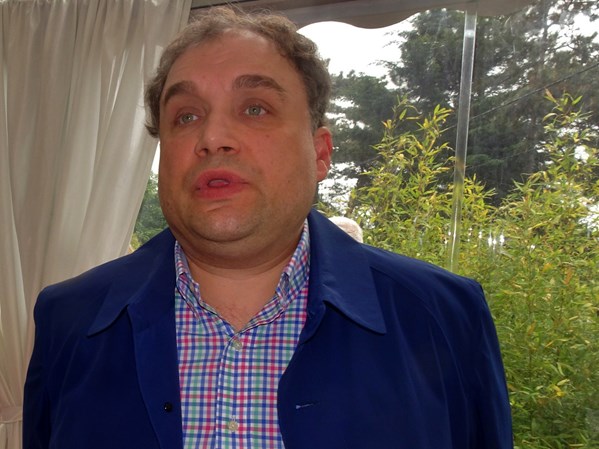 The Villa's newlook 'experimental garden' – described by Dumas as a 'conceptualized living sculpture' – opened to the public in 2017. Although it contains trees, bamboo and the odd flower, its salient feature is a labyrinthine array of severely trimmed hedges, snaking their way down the hillside like inflated intestines – 'nursed' as Dumas puts it 'by six full-time gardeners.'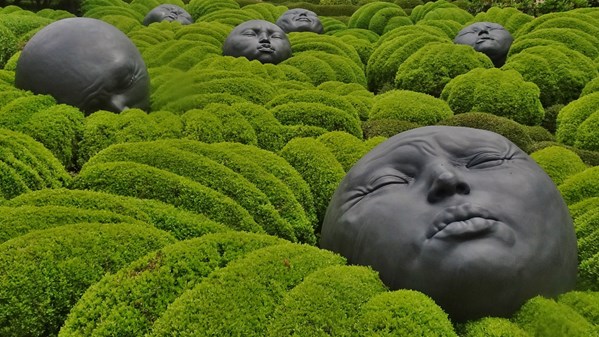 The hedges are interspersed with contemporary sculptures, some of them installed on a permanent basis – like Raindrops, a series of outsize resin heads by whimsical Catalan sculptor Samuel Salcedo (above), or Until The Word Is Gone, a terracotta sound installation by Russian duo Sergei Katran and Willi Melnikov.
Dumas, who trained as an opera singer, believes 'gardens are a sort of music' and calls sculptures 'an accessory – an aid to the gardens,' noting artfully that 'both sculpture and gardens are created by Man.'
This year, as a promotional ploy, Les Jardins d'Etretat have launched an International Sculpture Prize with the title Man and Nature: Double Game.There is a Jury Prize of €10,000 and a Visitors' Award of €5,000. Results will be announced at the end of October when the Gardens close for Winter. Dumas also promises that Les Jardins will purchase the work with the 'most original concept.' That could be the most lucrative prize of all. All 24 works on show are for sale, for prices ranging from €10,000 up to the €50,000 Rome's Paola Grizi is asking for Into The Future, a giant bronze book incorporating a human face, and one of the few sculptures to descend into kitsch.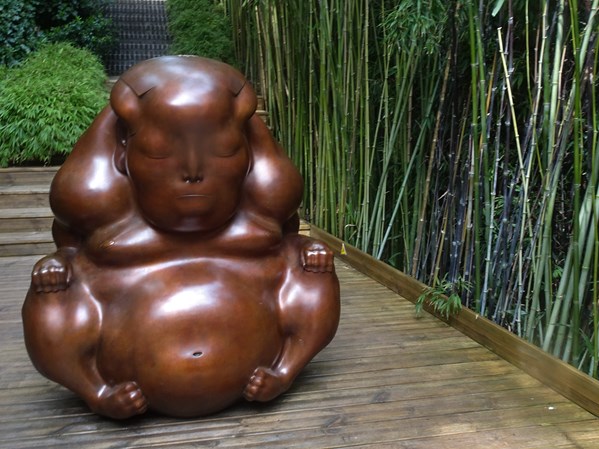 Half of the sculptors are from France, as you might expect given the transport logistics. Reflecting the owners' Russian nationality, there is also a significant presence from the former Soviet Union, also including Buryat sculptor Dasha Namdakov, with a giant Buddha in Meditation (above); Kiev's Nazar Bilyk with a resin, glass and fibre-glass figure entitled Rain; and Moscow-born, Paris-based Dasha Surovtseva, with an Untitled porcelain creation from her series Archives of Vegetation (below).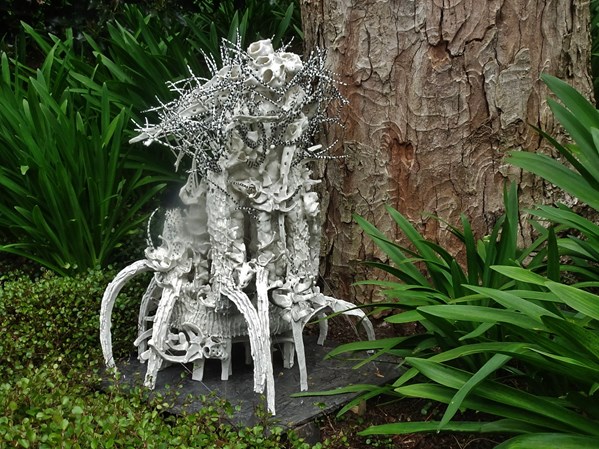 Armenia's Gevorg Tadevosyan is represented by two works, notably Summer, with two bronze figures walking in opposite directions – one within an iron circle, the other on top of it (see top). According to Angelina Cebotari, the glamorous Moldovan dealer who represents Tadevosyan, his works are priced in London at around £30,000. Les Jardins provided a loan to cover his production and shipping costs from Yerevan (by plane to Paris, then lorry to Etretat).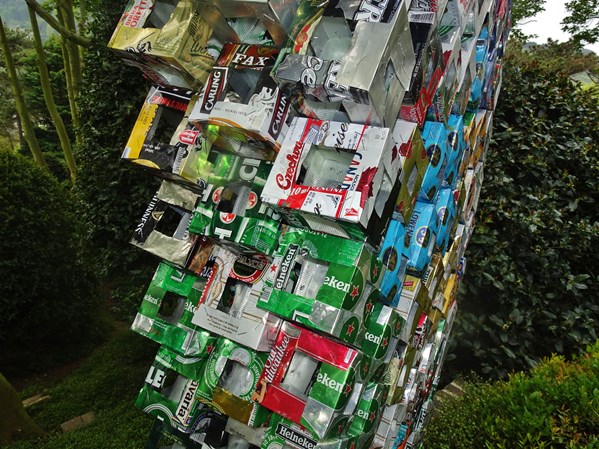 A colourful beer-carton sculpture by Hong Kong's Shuengit Chow, quirkily known as MobileMusic 10% (above), was reportedly acquired by Dumas & Grivko at the exhibition opening. A spokeswoman for Les Jardins says they also intend to buy Gianna Dispenza's steel figure The Space Between – having already covered its £7,500 production and shipment costs.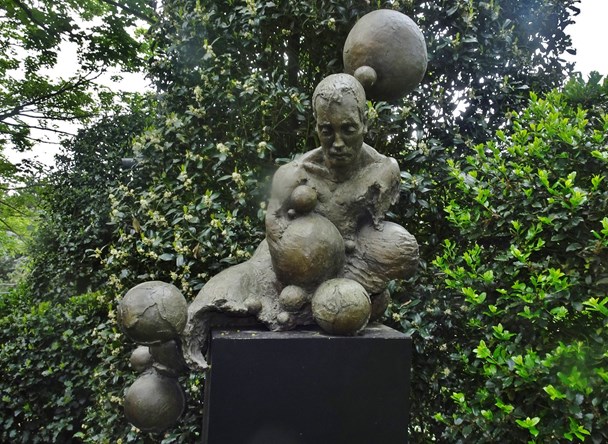 London's Hywel Pratleyset many visitors talking (if not singing) with his bronze half-figure Disperse/Dissipate (above) – an unexpected blend of Nigel Farage and Peter Gabriel's 'Slipperman' figure from The Lamb Lies Down On Broadway (below).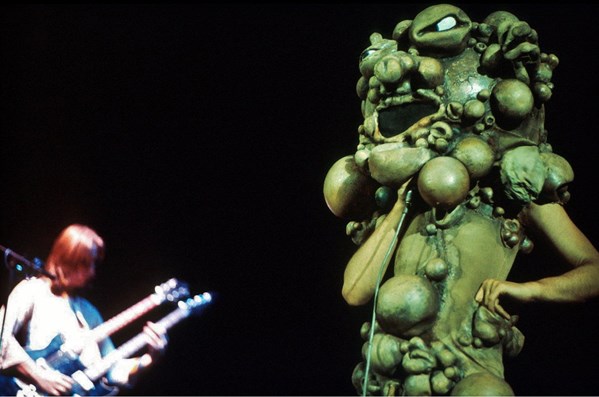 The works displayed in Double Game were imaginatively chosen by a jury that includes Pauline de Laboulaye (from the Fondation Antoine de Galbert in Paris) and maverick British arts impresario Anthony Fawcett (one time assistant to Yoko Ono). But the selection procedure seemed a bit ad hoc and in need of organizational refinement – as cerebral Croatian minimalist Deša Vlahutin found out. She was asked by Les Jardins curator Irene Kukota to provide Double Game with a 2 x 2 metre version of her Fibonacci Fragment, a sculpture that already exists in a smaller, fibre board indoor version. Vlahutin advised Kukota she would need to use metal and wood to make a new outdoor version, but the proposal came to nothing due to a misunderstanding about costs and deadlines.
The official opening of Double Jeu saw a brass band at the top of the Gardens and a seafood buffet down at the bottom, on a wooden stage that also hosted a spectacular choreographic performance starring seven spritely female 'knights' clad in gleaming armour made from silver-mirror polysterene (below) and clutching spades, shears and watering-cans to embody 'protective garden spirits.'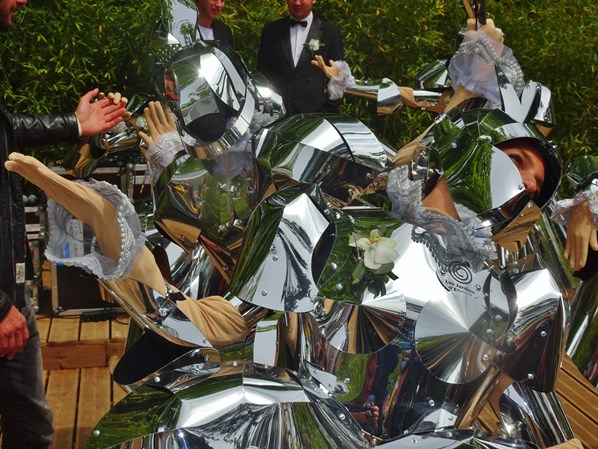 The effect of their extraordinary Avant-Garde costumes – conceived by Dumas and Moscow-based fashion designer Venera Kazarova – was part Joan of Arc, part Victory Over The Sun.
The soft-spoken Dumas also delivered an inaudible welcoming speech that was drowned out by a specially composed, ecological version of the Marseillaise, beginning Allonsensemble en Normandie! and ending:
Aux arbres, citadins!
Sortez de vos voitures
Marchons, marchons
Qu'un peu d'air
Abreuve nos poumons
Abandoning your car to fill your lungs with fresh air sounds like sound advice but, although the Greens ranked a decent third in France's recent E.U. elections, the chances of this winsome ditty becoming the new national anthem seem remote.
Just outside the exit at top of the Gardens, providing an unintended but inspirational coda to the sculpture tour, is a striking concrete monument to hapless aviators Charles Nungesser and François Coli, last seen on 8 May 1927 above the cliffs of Etretat – hours after taking off from Paris on what was billed as the first-ever transatlantic flight. Huge crowds congregated for their intended landing in New York next day. They never made it.
The monument (below), designed by Gaston-Henri Delaune in 1963 (to replace one destroyed by the Nazis in 1942), is 25m high and inclined at an angle of 60°. It bears an uncanny resemblance to the larger Conquerors of Space monument erected in Moscow in 1964.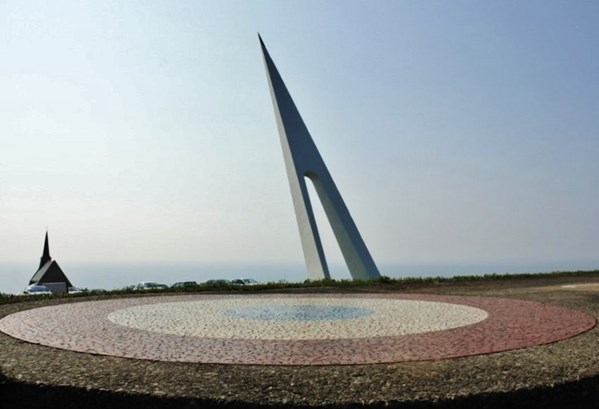 Let's hope Delaune's masterpiece portends soaraway success for the Dumas/Grivko sculpture initiative. Despite Etretat's inaccessibility and iffy accommodation – hotels are mostly small, creaky and two-star – Mark Dumas is adamant that Les Jardins can become the same sort of 'destination venue' for sculpture-lovers that the out-of-the-way Dutch town of Maastricht has become for antiques buffs.