Born in Germany in 1945, just as the Second World War was drawing to a close, Anselm Kiefer found himself growing up in a world surrounded by educators and peers who shied away from direct discussions about recent history and the horrors of the previous decades. For Kiefer, this silence was not a workable solution.
Kiefer gained acclaim for his large-scale works and panoramas, filled with references to mythology, history and poetry and echoing themes of war and conflict. As an artist, he shows a desperate need to stare into the face of German and European history in order to find answers that will resonate with humanity as a whole.
"Germans want to forget [the past] and start a new thing all the time, but only by going into the past can you go into the future." Anselm Kiefer.
Kiefer depicts landscapes, seascapes and architecture. His canvases are encrusted with resin, plaster, oil and acrylic or occasionally gold, silver, wood, steel, straw, lead or ash. The heaviness of the lead in particular seems to speak to Kiefer's sensibility around the heavy history of the scenes he creates. He is also known for exposing his canvases to eroding forces including fire and acid to achieve the aesthetic he wants.
Showing his complex and bold relationship with his country's troubled history, in the 1970s, Kiefer took a tour of Europe, driving through the continent and stopping at various war monuments whilst dressed in his father's German military uniform. He appeared to feel a personal drive to study and explore this moment in history.
Kiefer was born a Catholic but showed a great amount of interest in exploring other faiths and was thought to be an atheist for most of his life. Religious symbols can often be found in his works as part of his greater exploration of human existence and myth.
Kiefer's work is not limited to painting and photography. He has also created sculpture and large-scale installation pieces. In 1992 he moved from his German studio to a new space in Barjac, Southern France. While working in the space, he transformed the 35 acres of land around him into a huge installation. Eventually, he moved his work to Paris, leaving the site behind. Since leaving, he has often invited other artists to visit and contribute their own works, whilst allowing parts of the land to fall to the natural process of decay. These natural, uncontrollable changes seem to reflect some of the themes and images in Kiefer's two-dimensional works.
As he gained recognition and developed his personal style, Kiefer received mentorship and support from Georg Baselitz and Joseph Beuys. In 1980, he represented Germany in the Venice Biennale alongside Baselitz. His work looked at the Nazi movement in great detail. Art critic Robert Hughes once stated that Kiefer's work asked two questions: 'What can I remember?' and 'What should I remember?'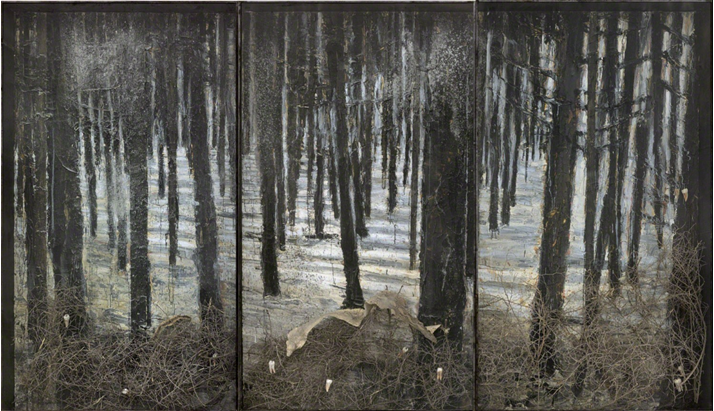 There are many symbolic references in Kiefer's works. One of the most enduring symbols is the tree or the forest landscape. The name 'Kiefer' can be roughly translated to mean pine tree in English. In evoking the forests, he seems to evoke a mix of deep symbolism and intuitive meaning.
The forest is one of the most enduring symbols in international literature. This is a land ruled by nature, where man does not have control over the environment. The trees tower above the human form, silently demonstrating their majesty and grandeur while man is left diminished below. Forests are also a symbol of secrecy – countless romantic lovers have snuck away into the forest to find their hiding place.
During World War II it became necessary for German civilians to seek refuge from the bombings amongst the trees of the forest. For Kiefer the forest seems to be a place of refuge and rest as well as a place where deep symbolic meaning can be found. It is the place where man's pretence and posturing is stripped bare, revealing man as he really is – powerless and overwhelmed by nature's forces.
In Ancient Roman Times, forests were places of sacred gathering and reverence. The laws of man did not apply in the forests as they did in the city. Gods and men often retreated to the woods in hiding. To this day, forests seem to retain a symbolic association with lawlessness and freedom.
Traditionally, the forest has come to represent being lost, exploration and potential danger as well as mystery and 'other worldliness'. There has always been a strong subconscious link with the forest and it is a frequent motif in children's fairy tales. Like Hansel and Gretel or Alice in Wonderland, children in story books are often lured into the forest where magical and mysterious people live, both good and bad. The enchanted forest, a place where reality is left behind and the rules of the universe bend, also appears in adult stories including Shakespeare's Midsummer Night's Dream, Tolkein's The Lord of the Rings and countless works of poetry.
In Autumn Forest, Kiefer pairs a small picture of the face of a reclining woman alongside a painting of the tops of a tree. In the pairing, Kiefer reminds us of the links we make between nature and humanity and the mood they display. The trees are a place where we see the echo of mankind, of his moods and his sensibilities in an altogether more static form. In Mann im Wald, Kiefer depicts a man standing amongst a forest of trees, holding what appears to be a burning stick and dwarfed by the height of the natural world around him.
Kiefer returns to the motif of the forest and its trees again and again. He leads us to a place where our certainty and control over the world are thrown into question – where man is humbled and dwarfed by the unmoving, inflexible nature of history, rooted to the spot. By placing man amongst the trees, Kiefer reminds us that we are not in control, that we are primal in nature and that we are always in danger of losing our way, of falling into the dark forces of the other worlds that surround us.