Flesh And Spirit by Jean-Michel Basquiat is announced today as one of the outstanding highlights of Sotheby's New York Contemporary Art Evening Auction on 16 May. Made up of multi-canvas panels measuring a combined 145 by 145 inches, the work is one of the largest ever made by the artist and almost certainly the biggest to appear at auction. The 1983 work was acquired by visionary collector and patron of the arts Dolores Ormandy Neumann that same year, and has remained in the distinguished collection of the Neumann family since. After the Hong Kong exhibition, the work will travel to London before the opening of the New York view on 4 May.
Dolores Ormandy Neumann – a distinguished figure in the arts – was perhaps best known as a collector and early champion of graffiti artists. In fact, it was her discovery and encouragement of graffiti art that presciently drove the influence and recognition of these emerging artists in downtown New York in the early 80s, leading to their embrace by an audience outside of the East Village. The present work, Flesh and Spirit, is a symbol of her support in this arena. Acquired from Champions, the legendary exhibition at Tony Shafrazi Gallery in January 1983, for $15,000, the painting has remained in the family collection since.
Mrs Ormandy Neumann comes from an artistic family with connection to China, making the choice of Hong Kong for the unveiling of Flesh and Spirit a fitting continuation of the Neumann legacy. In 1973, the year following President Nixon's historic 1972 trip to the country, Mrs Ormandy Neumann's uncle, Eugene Ormandy, led the first American orchestra to perform in China as the trailblazing conductor of the Philadelphia Philharmonic. The tour, which took place seven years after the start of the Cultural Revolution and was attended by the Chinese First Lady Madam Mao in Beijing, is widely heralded the start of artistic exchange between the two countries.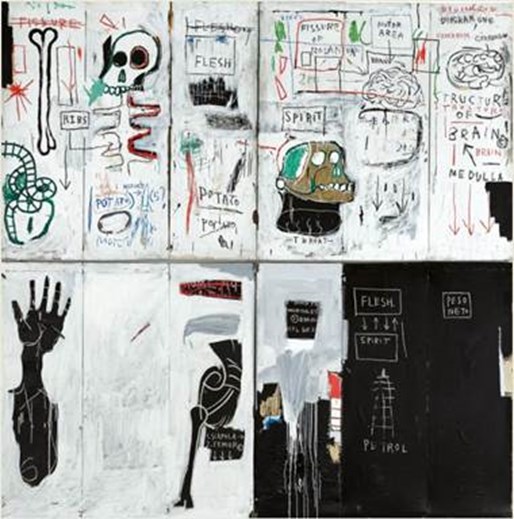 The work pays homage to Robert Farris Thompson's seminal 1983 text Flash of the Spirit: African & Afro-American Philosophy, which Basquiat himself declared the best book on African art. The painting is rich with many of the central themes and subjects of the artist's revolutionary practice, with symbols found throughout his oeuvre such as an exploration of the human anatomy and scrawled terminology, which appear on a furiously worked surface of oil stick, gesso, acrylic, and paper collage. Jean-Michel Basquiat often created large-scale works such as this by placing the canvases on the floor or propping them against a wall in a technique recalling some of the performance aspects of action painters like Jackson Pollock.