If you think you know little about Vietnamese art you might be surprised to find out that you are not the only one - not much is known even among art historians. Historical records are rare and wherever they exist they tend to contain long lists of artists' names without any additional information. Analysis of artistic movements is virtually non-existent. Paintings have been destroyed, artists have died, too much has been lost for any thorough research on Vietnamese painting to be.
What is known is that in Vietnamese society artists have always been seen as "producers of commodities" first for imperial rulers and colonial collectors then for the Party, foreign tourists and the global market. To put it simply - the subject and style of choice followed the demands of the buyers. For foreign rulers and tourists artists drew pristine landscapes, folk motifs, women in traditional clothes and rice paddles. For the Party and the nationalist movement scenes of rural life and national heroes were represented. For the attention and acknowledgement of the global market international trends were followed. Below are five of the paintings which have withstood the test of time to become classics in history.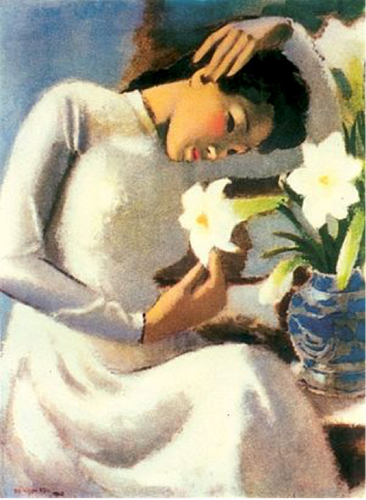 "Girl with Flower" by To Ngoc Van 
The French arrived in Vietnam in the mid 1800s and brought with themselves all the variety of artistic styles and techniques. In those years Impressionism was all the rage back home and naturally it was this style and oil on canvas that were first promoted among the local population of Indochina. To Ngoc Van was one of the first painters to use the new medium of oil to depict scenes from Vietnamese life. "Girl with Flower" is an obvious allusion to the Impressionist female portraits of the 1860s.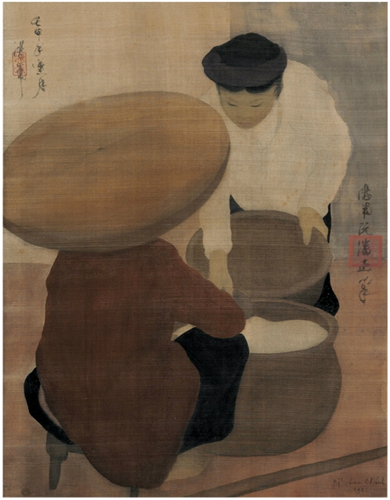 "Rice Seller" by Nguyen Phan Chanh
Nguyen Phan Chanh was one of the first students to enroll in the newly-opened French art school in Hanoi. Where oil paintings were the norm he insisted on preserving the art of silk painting mixing Western and local motifs. His biggest innovation was that he employed silk, a medium previously preserved for portraits, to depict rural scenes.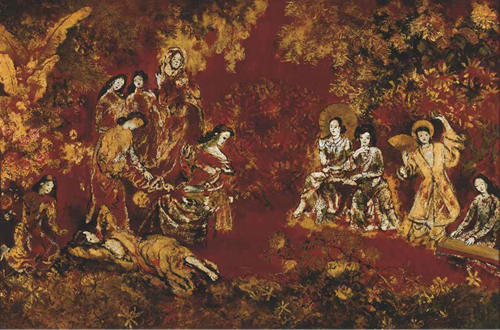 "Untitled" by Nguyen Gia Tri
 Nguyen Gia Tri is one of the pioneers of Modern Vietnamese art and a distinguished master of lacquer paintings. He is credited with raising the status of lacquer from decorative to fine art, a change which coincided with the burgeoning nationalism during the 1930s and 1940s.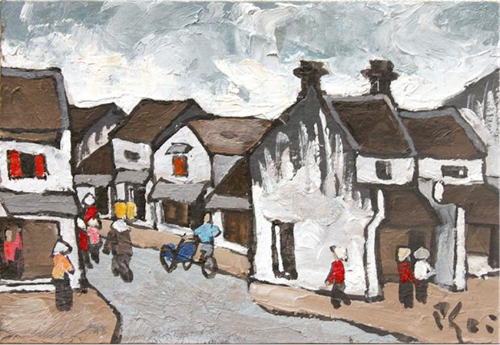 "Hang Giay Street" by Bui Xuan Phai
Bui Xuan Phai has often been compared to van Gogh for introducing Expressive Realism in the history of Viet art. His most famous paintings reveal the beauty of his native Hanoi depicted in expressive colours. He is the best-selling artist who lived in Hanoi post-1950s whose influence on the younger generation of artists cannot be overstated.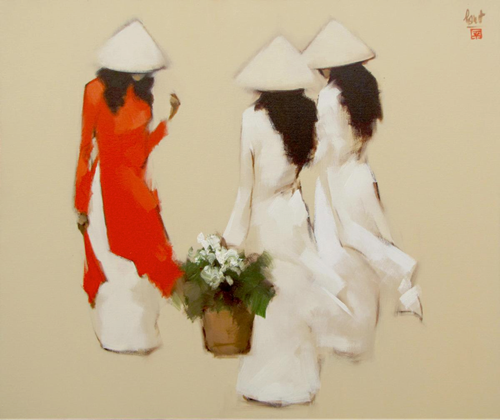 "Untitled 02" by Nguyen Thanh Binh
When it comes to Vietnamese art paintings of women in traditional clothes performing their daily duties are a genre in itself and its most famous master is Nguyen Thanh Bihn. His works are a celebration of female grace and power. Markedly minimalistic they allow the viewer to be drawn in the mystic charm of the unknown ladies. Their surroundings are never shown, their faces - never revealed. It is left to the viewer's imagination to speculate about the purpose of their journey.