From the moment she introduces herself, Bridget Donahue is genuine and unguarded. Her manner is a stir of warmth, directness and acuity - she is the confidant you would call for honest advice. When an aspiring artist unexpectedly stops by the gallery to meet her, they readily ease into an amiable exchange. Through a mutual contact, they are fast new friends, one of whom just happens to be a celebrated New York gallerist. "It is very important to be present, one thing leads on to the next," said Donahue.  Her comment could not be a more definitive statement of the gallery's burgeoning development, or her personal path from archivist to gallery director to gallery founder.  Three years have passed since Donahue opened her namesake space and she is now at a place of reflection, able to see clearly the initial aspects of the gallery endeavor and also have a line of sight on how to continue forward. The artists who comprise the gallery are presently organizing their sophomore shows, capitalizing on the momentum of their first successes. The gallery's collector base continues to grow and expand with the diverse interests one would expect of a venue with broad, inventive programming. Donahue encourages a vision of the gallery as less directed and specialist in its orientation, sharing that a wider audience connects her with different people and provides a better-rounded education for her understanding and approach.  In her asides about youth in Iowa and the best level of morning caffeination, there is an unspoiled sincerity to Donahue, particularly in her candor that the business aspects of the gallery are secondary to the art that fills the space.  Most of all, what comes through is her deep reverence and appreciation for the gallery artists themselves.
ArtDependence Magazine: Your collegiate studies include degrees in anthropology and textiles. How has this background informed your approach to the gallery and its artists? 
Bridget Donahue: I think you see things differently when you have other contexts and vocabularies to work from, your ideas are informed by a broader lens. Over time, I have noticed that many of the gallery's artists tend to be multidisciplinary, too. That is not something I intentionally cultivated, I think I am just drawn to people who move between arenas. 
AD: In what ways do you feel that having studied and lived abroad, in the UK and Berlin respectively, brings a distinct point of view to how you look at art and art spaces?
BD: It was definitely interesting to learn about art in those contexts.  Then when I moved to New York, my first job was as an archivist. In that role, you immerse yourself and become a total expert in certain artists and their work. This early experience helped form my perspective, I am still an archivist at heart.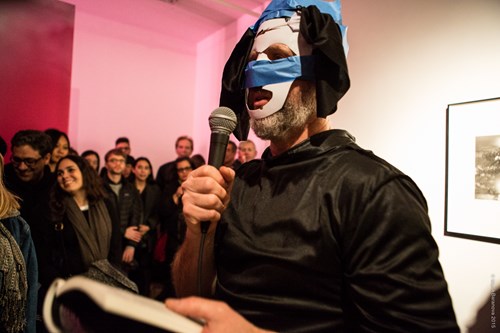 John Russell, JUDGEMENT NOW, a performance by Head Gallery, November 14, 2015, photo by Baranova, image copyright John Russell, courtesy of the artist and Bridget Donahue, NYC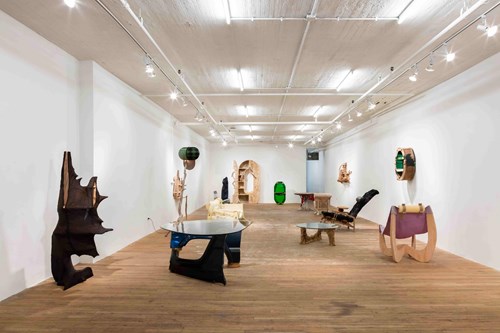 Installation view, Jessi Reaves, April 10 - June 5, 2016, Bridget Donahue, New York, image copyright Jessi Reaves, courtesy of the artist and Bridget Donahue, NYC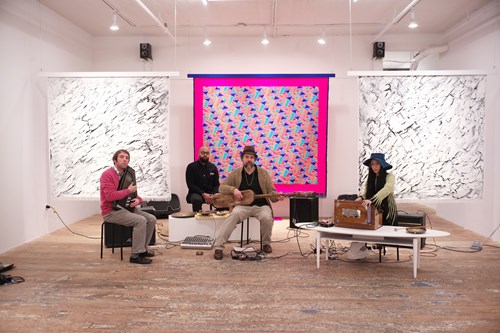 Joshua Abrams & Natural Information Society, with paintings by Lisa Alvarado, April 26, 2017, Bridget Donahue, New York, photo by Charlie Gross, image copyright Lisa Alvarado, courtesy of the artist and Bridget Donahue, NYC
AD: Opening your own gallery as a young entrepreneur is a bold move particularly in Manhattan, a notoriously competitive art world environment.  What spurned your ambition to on-take this venture? 
BD: I would not say that I embrace risk by nature, in many ways I am even risk averse. I was, and still am very enticed by the idea of developing your own program and choosing artists you really believe in. 
AD: You have said that your focus is to listen and learn from the artists and people interested in their work in building the gallery.  How does this vantage point motivate your space as more artist-driven than other galleries?
BD: All galleries are storytellers - of ideas, or the art history canon, or art as investment. I have a solid interest in emerging artist markets, which are not as affected by external pressures. I think our approach is unique, it is less granular and more conscious of not being redundant. I look to world-building and the project as a whole, showing art that resonates with me and how I think about it as an art lover. When you really believe in something, people want to believe in it with you. 
AD: The range of your artists is stylistically and conceptually broad.  Which elements develop cohesion between them within the gallery umbrella?
BD: I often start with what feels exciting and new, what I am conjuring that impacts me. Then there are conversations with the people around me, who are often artists, curators and friends in the art world. There is a timeliness for art that is topically relevant and dovetails with those conversations, as well the greater dialogue with contemporary art and culture at large.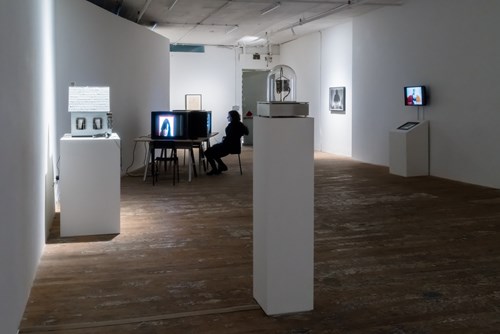 Lynn Hershman Leeson, Remote Controls, January 27 - March 12, 2017, Bridget Donahue, New York, photo by Jason Mandella, image copyright Lynn Hershman Leeson, courtesy of the artist and Bridget Donahue, NYC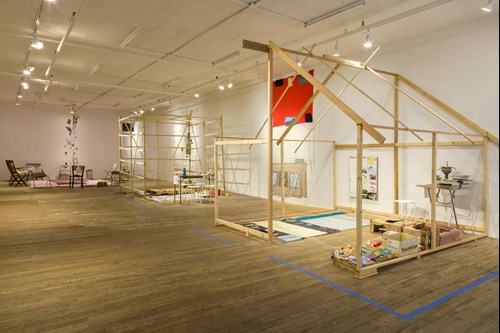 Susan Cianciolo, RUN PRAYER, RUN CAFÉ, RUN LIBRARY, December 21 - December 3, 2017, Bridget Donahue, New York, image copyright Susan Cianciolo, courtesy of the artist and Bridget Donahue, NYC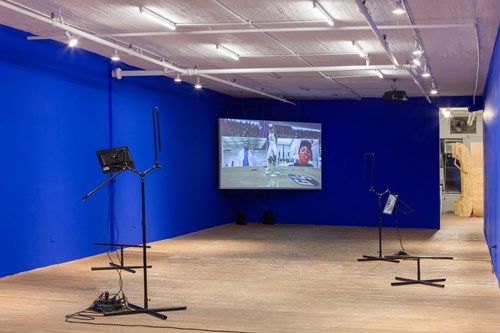 Installation view, Sondra Perry, January 7 - February 25, 2018, Bridget Donahue, New York, image copyright Sondra Perry, courtesy of the artist and Bridget Donahue, NYC
AD: You have expressed that you are more interested in what your artists have to say than the works they make. Why do their concepts resonate moreso, and how does that translate into their ultimate art product?
BD: I am generally on board with my artists' entire projects versus a series - the artist's mission, in other words.  If there is something there conceptually, it comes through in the work. I gravitate towards things that move me in some way, things that everyone can access. 
AD: With a gallery that is idea and instinct driven, how do you develop exhibition programming that has meaning across art audiences?
BD: Artists and curators are my milieu, so the gallery program is influenced by that audience. You find that when you trust yourself and it works, that reinforces your approach. You have to be willing to dedicate fully and present what you feel is significant. 
AD: Three years in, the gallery is well-established and continuing to expand. What trajectory do you see for the years to come?
BD: Often you learn what works as you go, and the process of trial and error refines your path. Sometimes you learn from what you did not do as much as what you did.  The sky is the limit with my artists - they all continue to grow and do well, and challenge themselves towards new projects. I have the upmost faith and confidence in them, their devotion to their art and what will come next.