Image: 'Woman with a Cat' (1880) by Édouard Manet 
Édouard Manet was a 19thcentury French modernist painter who helped pave the way for impressionism. He was born in Paris in 1832 and travelled extensively in his early years, absorbing several different styles and philosophies of art and creativity.
Manet was born into an upper class family and was destined for a political life, but soon became fascinated with the arts and particularly with painting. Having failed two tests to join the Navy, Manet's father gave in to his wishes and allowed him to pursue an artistic career. He established his own studio in 1856 and began showing signs of his own unique style. He used broad brushstrokes and started to simplify the details of his paintings, moving away from the realist style that was so prevalent at the time.
Manet's earliest works caused widespread controversy and laid the groundwork for other young artists to discover and progress an impressionist style. Manet was an original and bold artist, who was not afraid to question the norms and create unique images.
In 1863, Manet painted one of his earliest and best-known works, Olypmia. In the painting, a nude female reclines on a bed wearing nothing but seductive shoes and placing her hand over her vagina. The woman appears to be what was known at the time as a demi-mondaine, or a woman who lived prosperously on the gifts of her various lovers. In Paris, where prostitution was rife at the time, this was an unwelcome glamorisation of this subset of women. At the subject's feet, almost hidden against the dark backdrop, sits a small black cat.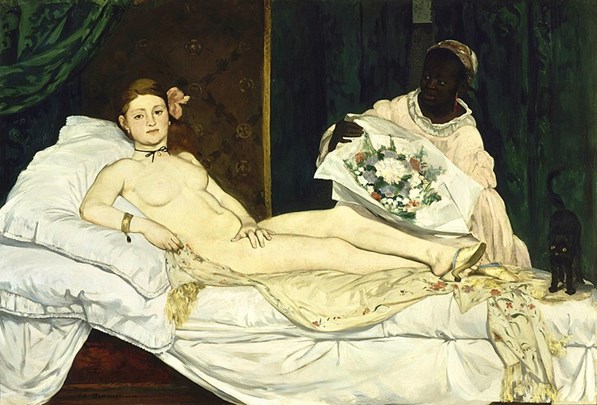 Eduard Manet, Olympia, 1863
It is widely agreed that Manet's inspiration for this painting came from Titian's Venus of Urbino, which features a nude depiction of the goddess Venus, taken into a domestic setting and seen reclining on a couch. In Titian's painting, a small dog sleeps calmly at Venus' feet and seems to speak of domesticity and of loyalty and fidelity.
Conversely, the black cat in Manet's Olympia subverts this image, with a mysterious cat, who stands upright and stares back provocatively at the viewer, summoning images of witches cats, of darkness and black magic. The cat is somehow uncomfortable to look at and looks mischievous, powerful and shrouded in darkness. Unlike Titian's loyal dog, this cat speaks of mystical feminine energy.
When this painting was exhibited at the Paris salon in 1865 it caused widespread controversy, splitting critical opinion and rocketing Manet into the limelight. His career continued to elicit strong opinions for much of his life.
In 1863, Manet married Dutch-born Suzanne Leenhoff, a piano teacher who had been employed by his father to teach him and his brother piano. It is believed that Manet and Leenhoff had been romantically involved for several years before they were married.
In 1880, he created a homely portrait of his wife, titled Woman With a Cat. The painting was left unfinished after Manet's death at the age of 51. In the painting, Suzanne sits, fully clothed, with the family cat Zizi resting calmly on her lap.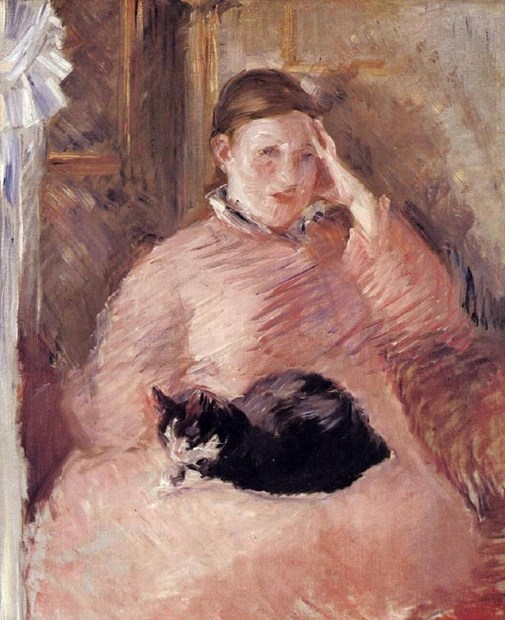 'Woman with a Cat' (1880) by Édouard Manet 
This is not the only painting to include an image of the family cat. Zizi also appears in several watercolour sketches.
Cats are well known to mankind and are a favoured domesticated animal around the world. As well as black magic and dark forces, cats can also be used to symbolise comfort and homeliness thanks to their association with domestic scenes. The cat is clearly comfortable on the sitters lap, suggesting that this is a familiar relationship. It is a far cry from Manet's earlier use of a seductive, mischievous black cat, hiding against a dark backdrop and staring out towards the viewer.
It is possible that Manet's late return to the image of the cat was in some ways a more adult, more worldly answer to his youthful self. Perhaps Manet, the married older man, suffering pain from untreated syphilis and rheumatism, was redressing his earlier image of women and the home by re-rendering the symbolic cat in an image of familiarity, cosiness and homeliness.