Born in Iran and now based in Brussels, Sanam Khatibi embraces a broad range of artistic techniques, from sculpture and embroidery to painting and pencil drawing. Dealing with animal instincts and primal nature, her work contains echoes of Renaissance paintings and contemporary themes of power, gender and dominance.
ArtDependence: Tell us about your education, how and when did you realise that you wanted to become an artist?
Sanam Khatibi: I studied Political Science. My two passions were painting, and working with wild animals. I worked with a man who trained and was breeding birds of prey. Eventually, painting took the ascendant above everything else.
AD: You were born in Tehran, Iran. Do you think your work is influenced by your geographical origins or has it become international?
SK: I had a very international upbringing. I've always been very much aware of the mixed upbringing I've had. As a result, I consider my work as international, although of course, somewhere along the way the Persian mythology that was recounted to me as a child, and the hunting scenes from the Persian tapestries and miniatures, have most certainly influenced my work.
AD: How long have you been an artist? Has anything changed in that time?
SK: It has always been there, it just takes a certain amount of time for the work to mature and for everything to come together. I worked more sporadically until 4-5 years ago, where as today, art is part of my daily life and in everything I do.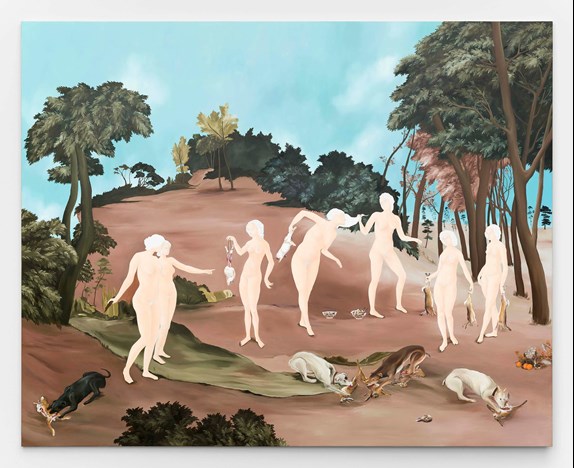 Rivers in our mouths. Oil and pencil on canvas. 200 x 250 cm, 2017. © Hugard & Vanoverschelde Photography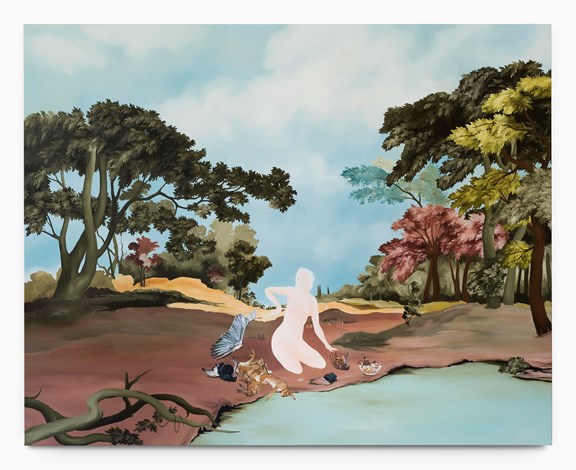 Days and days without love. Oil and pencil on canvas. 160 x 200 cm, 2016. © Hugard & Vanoverschelde Photography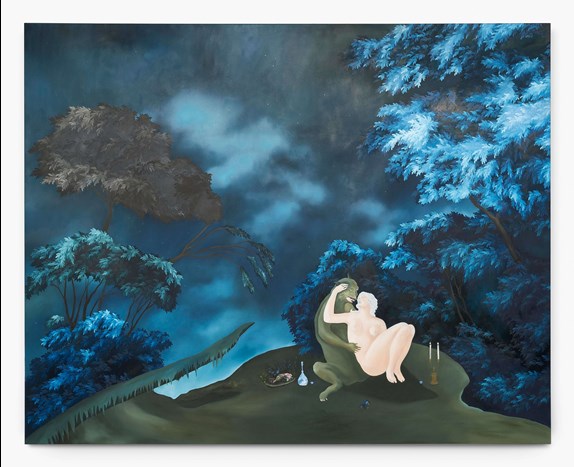 But I want to swallow you. Oil and pencil on canvas. 160 x 200 cm, 2016. © Hugard & Vanoverschelde Photography
AD: Each of your works has a storyline behind it: mystical characters against dreamlike backgrounds. How are these stories born?
SK: I think the core of my practice deals with our primal impulses, bestiality, and our relationship to power structures. I question our ambiguous relation to dominance and submission, and how closely they can be related.
My current paintings revolve around a group of female figures who are often getting themselves into mischief. They are very strong, dominant figures, who are quite impulsive and playful. They are ambiguous with their relationship to power, violence, sensuality and each other. We are all made of contradictory traits, and this is what makes our interactions complex. This is what interests me most. These are the recurrent themes in my practice and the basis that forms the works.
AD: Does art need any explanation or is it self-explanatory? 
SK: If it isn't self-explanatory then it has failed (or the person viewing it is daft)!
AD: What is the most disappointing thing about being an artist?
SK: I don't think that I've had any big disappointment. I've always been aware of the difficulties and challenges involved. It's a privilege to be able to do work that one loves and is passionate about, but at the same time, you also pass through difficult times, where you often throw everything into question - not to mention going through the isolation that comes with it.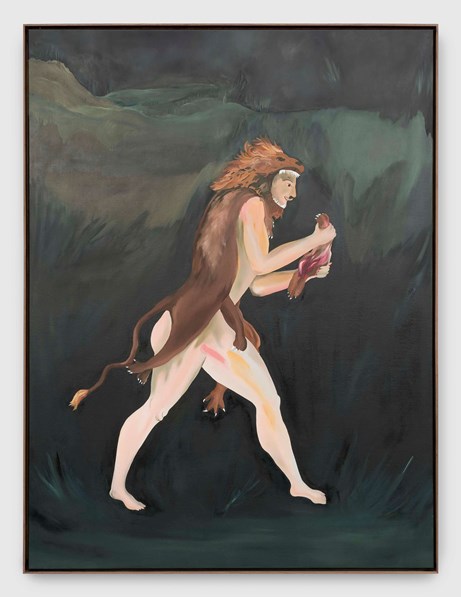 Chicken Soup. Oil and pastel on canvas. 122 x 92 cm, 2017. © Hugard & Vanoverschelde Photography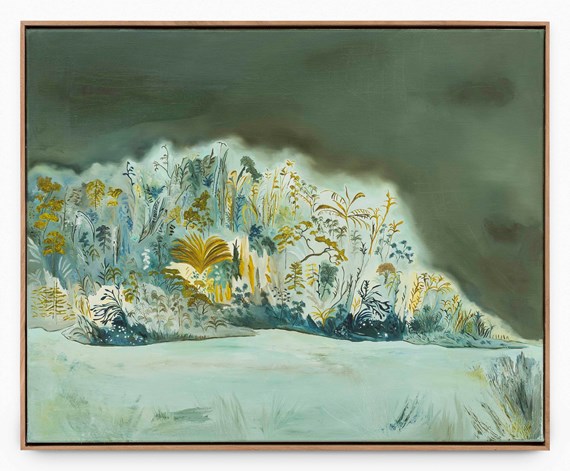 I've kept it all for you. Oil on canvas. 40 x 50 cm, 2017. © Hugard & Vanoverschelde Photography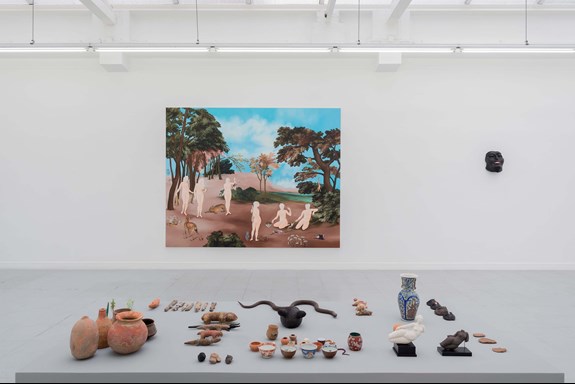 Exhibition view Rivers in your mouth at rodolphe janssen, Brussels, 2017. © Hugard & Vanoverschelde Photography
AD: What is your attitude towards artists who do not create art with their own hands, like Jeff Koons or Damien Hirst, for example? Do you think idea is more important than its implementation?
SK: I think having a vision and a universe of one's own is what is essential to being an artist. Once you have these, the rest is of no crucial importance.
AD: Where would you like to see your work in 10 years?
SK: I hope to continue making works and showing exhibitions that I feel strongly about.
AD: Is it hard to be an artist? 
SK: It's no bed of roses! But, at the same time, there is nothing better in the whole world.