Born in Pennsylvania in 1955, American artist Jeff Koons has become one of the most recognisable figures in contemporary art. He is best known for his large-scale works that play with familiar objects and symbols from our everyday lives.
But it's been a rocky road for Koons of late. Amidst a series of lawsuits over non-delivery of work, a controversial licensing agreement and a lengthy debate with the French Culture Minister over the location for a gifted artwork in memory of the 2015 terror victims, Koons' PR team has been under strain. But despite the controversy, the artist's popularity doesn't seem to have waned.
Koons has always been an artist who has divided critics, with some writing him off as a rampant self-promoter and others hailing him as a pivotal artist who is ushering in a new wave of art history.  
Koons developed a taste for the arts at an early age. Born to a furniture dealer father and a seamstress mother, he took to recreating the work of the great masters at the tender age of just 9. His father would proudly display his son's art works in his shop window to attract new business. Ever the entrepreneur and businessman, the young Koons also earned himself extra pocket money with door-to-door sales of gift-wrapping and sweets.
His appetite for the arts led him to explore the medium of painting, spending periods of his early life studying in both Chicago and Baltimore. In 1977 he moved to New York where he developed his artistic style and took a front of house job at the Museum of Modern Art, growing a pencil moustache in reverence to his great hero and artistic inspiration, Salvador Dali.
Quickly understanding his place in the competitive art world of New York, Koons found an unusual solution to securing financial stability. Leaving his front of house work behind, he qualified as a commodities broker, taking his place in the cities financial ranks in order to earn enough money to buy himself financial freedom from the art market. For Koons, this allowed him to focus on creating the art he wanted to create instead of chasing his next payment.
By the mid 1980s, Koons' hard work was paying off. His pieces were gaining significant critical attention and his works were beginning to be in high demand.
In response to the demand for his work, Koons set up a factory-style production house in the SoHo district of New York, quickly acquiring dozens of assistants to help him create his pieces. Today, his production house employs upwards of 100 assistants who are able to reproduce works in a style that feels as though they have been produced by 'one single hand.' Koons' work is often referred to as pop art thanks to his use of industrial methods and his focus on everyday, popular objects.
Jeff Koons' reproduction balloon animals are amongst some of his most recognisable pieces. Usually rendered in a mirror-finished stainless steel in a variety of colours, the works reflect an element of childhood play and disposable culture but in a definitive, substantial form.
Proving the overwhelming success of his vision, in 2013, his Balloon Dog (Orange) sold at auction for $58.4million – a world record-breaking price for a living artist.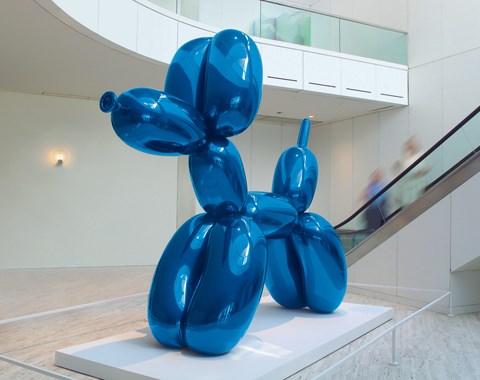 Koons has always vehemently maintained that there are no hidden meanings in his work. Despite this, in an interview, Koons once described his balloon dog sculptures as a 'symbol of us'. He claimed that the way the balloon dog references the act of inhaling and exhaling is deeply symbolic of the human condition. He also compared inflatable animals to the Trojan horse – perceived as empty and yet full of symbolism. It "has this interior energy…it's having a dialogue with interior life and exterior life."
Dogs are one of the most recognisable and familiar animals in the life of mankind. They have long been used as a symbol of connection and companionship for man. Known for loyalty, trust and dedication, dogs have become man's best friend and an enduring symbol of our connection with non-human animals. In the balloon animal form, the dog has deep connections with our individual memories of childhood fun and play – an experience that manages to be both collective and at once deeply personal. Most often handed out at parties or funfairs, balloon animals are a disposable symbol of our materialistic youth and our fascination with temporary sculptures and symbols.
There is something palpable about the emotional reaction many of us have to an object that reminds us so vividly of the magic and charm of childhood – a sentimentality that feels strangely at odds with the apparent commentary on capitalism and the commodification of art in Koons' works.
As well as the smaller Balloon Dog sculptures, Koons is also known for producing an enormous 10-foot version of the work, which writes our childhood sentimentality large, dwarfing our memories. The solid, metallic surface of Koons' balloon dogs also seems to defy our expectations and memories, playing with the form and capturing our own reflection as we pause to study it.
Koons' Ballon Dog taps into our memories and our emotions, representing the eerily familiar and trustworthy form of a party favour, a fun rendering of our close animal companion, but somehow subverting the form to make it instantly unfamiliar and undeniably commercial and crass.  
Balloon Dog, mirror-polished stainless steel with transparent color coating. 121 x 143 x 45 inches, 307.3 x 363.2 x 114.3 cm © Jeff Koons. 5 unique versions (Blue, Magenta, Yellow, Orange, Red). 1994-2000