Image: Claw Hand Woman, Flagra series, 2018
Mohamed Thara was born in 1972 in Fez, Morocco. He lives and works between Bordeaux and Paris. As a multidisciplinary artist, he holds a National Diploma (DNSEP) in Visual Arts Expressions from the "Ecole supérieure des Beaux-Arts" in Bordeaux. After having trained in Paris in the different films and photography technics, first, at INA SUP (Audiovisual National Institute) and then at Arscipro (Professional Film School). Mohamed Thara is a Doctor in Aesthetics and Art Theory (PhD) at Bordeaux-Montaigne University.  Mohamed Thara has participated in numerous exhibitions around the world: The "Soho International Art Contest" in New York, USA (1999), the "Biennale of Contemporary Art in Sharajah", United Emirates Arab (1995), the collective Grand Palais "Jeune Peinture" in Paris, France (1999), the "Mutation" at the Museum - (CAPC)- of Contemporary Art in Bordeaux (2001), France and also at the Museum of Modern Art in Rio Janeiro, Brazil (2017), at the Kochi Musiris Biennale, in Kerala India (2017), the Venice Architecture Biennale (2018), and many other artistic events. Several private collectors from France, Morroco and abroad have acquired his work.
ArtDependence (AD): Do you have any thoughts on whether that'sa responsibility of artists, reflecting our time is important within the political context?
MT: Yes, in creating a work of art, it is fundamental to be authentic, so as not to betray critical intent, for me the use of universal forms is a means to achieve aesthetic distance. In the aesthetic sphere, it is the aesthetic theory that prolongs artistic practice and raises the question of its content of truth, as a criterion for the detection in the work of art of a partial or total ideology. (In reference to the aesthetic theory of Theodor W. Adorno).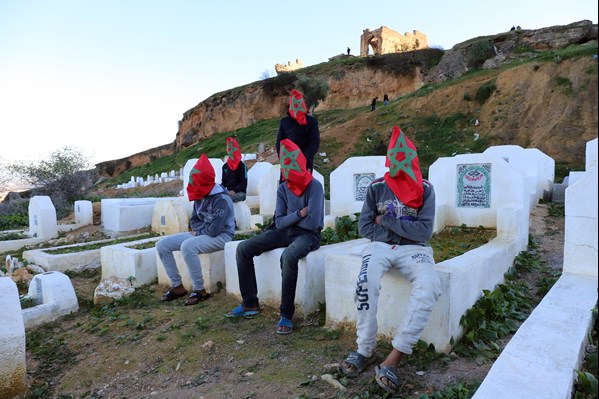 Untitled 1, Homeland series 2019
For my part, I only do what I consider essential; make sure from beginning to end that I can feel happy and satisfied in my work; so that after all the inevitable efforts and doubts I can say: "Yes, that's what I want to express - that's exactly how I want to express it - there's no other way to express it. If I had said it differently, I wouldn't have been myself.
AD: What are you currently working on? Is there anything in particular that you'd like to get across through your work?
MT: I am currently preparing a solo exhibition for the Musée d'Aquitaine, (the Museum of Civilizations and Ethnography in Bordeaux, France). In my studio, I am currently creating a series of large-scale paintings, photographs from the Homeland series created in Morocco will be exhibited and installations that address the issue of collective trauma, memory, history and oblivion. Through a series of works, I connect repressed traumas, unpredictable dynamics, moving identities, typical of conflicts and current globalization. I show the fractures and mutations of the world after September 11. I reveal the wounds of this universal immigration, which affect the self. In this way, I bring into play the notion of survival, both personal and cultural. The spectator will be invited to discover disturbing works with the aesthetics of black and denunciation.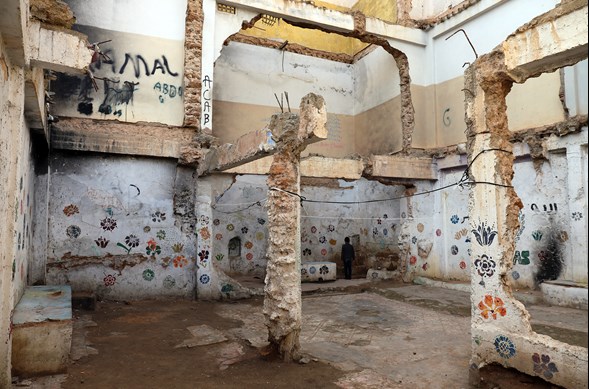 Untitled 2, Homeland series 2019
The example of the installation "Hey Colin Powell, lies are multi-shape and deadly" which addresses between aesthetics and anthropology the collateral damage, the American invasion of Iraq and Colin Powell's incredible lie during his famous speech at the UN or the installation Rendition composed of painting, sculpture and a - "Les détenus fantômes" - video which addresses the theme of transferring prisoners kidnapped from one country to another outside the judicial framework. The example of the United States in the fight against terrorism involving the torture of prisoners in allied countries or in secret CIA prisons, the "black sites" outside the territory of the United States, the example of Abu Gharib prison in Iraq or that of Guantanamo Bay in Cuba.
AD: What place does creativity have in education? Do you view yourself as a creator?
MT: The ability to create is first perceived as a rare skill reserved for a few exceptional individuals, and is now considered a widespread and easily accessible phenomenon. This new conception of creation, referred to as the new word "creativity", has taken on such importance that it has now invaded all sectors of human activity. Educational circles have not escaped this trend and the "development of creativity" has become an important objective. But beware, you don't invent in a vacuum or with a vacuum. Intelligence does not work empty, it needs knowledge and organized knowledge. A successful work requires a sense of discipline and a form of competence, with a concern for work well done and a lot of intellectual rigour. 
AD: Do you think that by challenging conventional views, art can truly make a change in the public's perception?
MT: The reception of art is a particularly rich theme for reflection because of the different aspects it covers. It concerns what concerns taste, subjectivity, emotion and sensitivity. He also questions the interpretation, sometimes considered as an extension of the work, or even as a possible completion of it.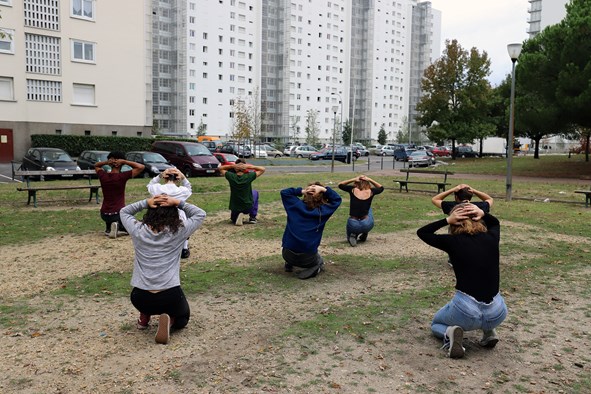 La Seconde Zone, series, 2019
It also refers to issues related, among other things, to astonishment, surprise, confusion, shock, provocation, scandal, and consequently to any form of reaction on the part of the public, institutions and authorities. This theme is mainly aimed at the viewer, but it also concerns the artist and the work. The position of the work is central. The creator creates (or causes to be created) a work that results from an approach, an intention, a project, a process. What the work becomes, once presented to the public, escapes its author. In addition, a world sometimes separates the artist's intention from the public's reception. Production and reception are actually two distinct worlds. The question is whether they are compatible. 
AD: How has your work developed since you began and how do you see it evolving in the future?
MT: In my early days, I did a lot of painting, which I gradually abandoned at the expense of conceptual art and video. In large part because of the courses I took at the École des Beaux-Arts in Paris and Bordeaux. In my last pieces I try to combine painting, photography, installation and video in the same space of the exhibition to create variations with different media that deal with the same subject, a kind of meta-art, an augmented art. It is therefore a question of the truth that art manifests and the direct manifestation of this truth in a form of coherence of a structural aesthetic thought.
AD: Is sophistication, aesthetic accomplishment in the eye of the beholder?
MT: To answer your question, it is interesting to recall the quote from Kant, who wrote in The Critique of Pure Reason: "All forms of our knowledge begin with the senses, go beyond understanding and end in reason. ».  Kant thinks that all our knowledge begins with experience. It is the experience, the experience of the objects that affect our senses, that awakens our power to know. For my part, I think that the question of experience is central to the viewer's relationship to the work of art. A work of art is not considered immutable, since it is constantly reinterpreted, reevaluated, replayed in the infinity of experiences and only within these different processes does it take on its meaning and value. This requires the viewer to learn to see the works correctly in order to better understand them.
AD: What do you think is the social role of art? How would you like to be remembered?
MT: I remember a replica of Godard's – The Chinese (1967) - film that left a strong impression on me as a teenager in Morocco. One of the protagonist states: "France in 1967 is a bit like dirty plates... he adds: "Where do the right ideas come from? They fall from the sky? They come from social practice and the struggle for production, scientific experimentation and then... the class struggle." I think that art must dialogue with its time, to resume its function of talking about reality, with, as in the 1960s, positions on social and current issues. The new worldview, austerity policies, the question of refugees, materialism extended to social life, women's emancipation... etc., questions that are at the heart of my reflection and work. I want to be remembered as a humanist figure.
AD:How does art school form ideas about art? Does it shape people into being certain types of artists?
MT: To answer your question, I will talk about art schools in France and the United States, two examples that I know well. The American model is more instructive: the most important artists have taught there, in art schools and major universities, many of them in line with the impetus given by the transatlantic migration of European avant-garde artists, where teaching was a full part of artistic practice.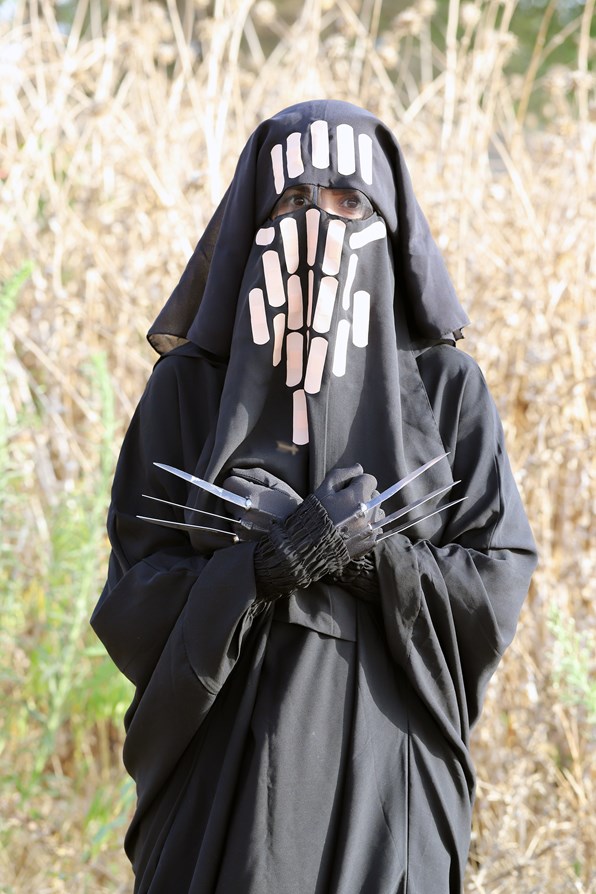 Claw Hand Woman, Flagra series, 2018
Paul McCarthy, who studied at CalArts when Stan Brakhage, Nam Jun Paik or Bruce Nauman were professors there. In France, an artist-teacher in an art school is often frowned upon. I think you learn ideas about art from experienced artists. There are many famous examples in art history, Delacroix was Géricault's student, Matisse was Gustave Moreau's student or Thomas Schütte was Gerhard Richter's student. It would be unfortunate to ignore these skills by ignoring them, to further disregard the role of artistic training, teaching and transmission by established artists as the driving force behind creation.
AD: What do you think about the art world and art market? Do you accept that art is inherently an elitist activity?
MT:  I think that the economic value of a work has nothing to do with its artistic value. It seems to me that contemporary creation cannot be summed up only in the speculative market that makes the headlines in the press. As a result, the financialization of the high spheres of contemporary art contaminates the entire market with a stock market logic disconnected from the realities of creation. There are similarities between the world of contemporary art and that of luxury: a market that seems to be nourished by the rise of inequalities brought about by globalization; a market where a few entrepreneurial artists supervise dozens of highly qualified assistants in vast workshops that produce flagship works for a handful of billionaires while translating the brand (the artist's name) into derivative products for the various strata of buyers, just as haute couture and its fashion shows are the flagship of a lucrative perfume, jewelry and ready-to-wear industry; a market that extends its hold on the planet while keeping its heart in the financial centers of New York, London, Paris, Berlin or Hong Kong. Yes, I think the art world is an elitist world, something I do not accept, but in the interest of collectors and artists, it is time to put everything back in its place.
AD: What's the last great book you read? Any other thoughts/projects to share?
MT:  At the moment, I am reading several books to feed my current work on the issue of collective trauma. At present I am reading the latest- Diviser pour tuer. Les régimes génocidaires et leurs hommes de main'- book of a Dutch sociologist, heir to Norbert Elias, called Abraham de Swaan. A remarkable book on mass extermination, which helps us to understand the mechanisms of mass violence affecting disarmed populations.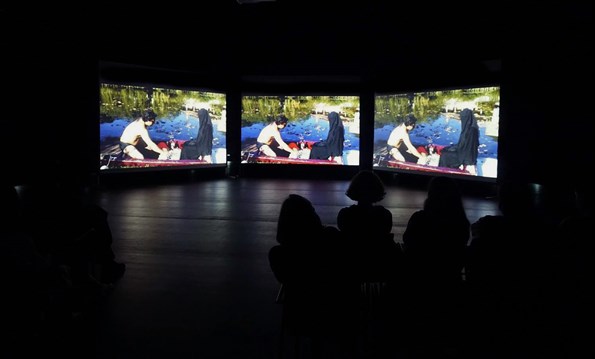 Milk vs Whisky, video installation at ZKM Museum, Karlsruhe Germany, 2017
A book that challenges Hannah Arendt's thesis about the "banality of evil". At the same time, other writers are grabbing my attention at the moment with writings devoted to "human madness" or "social madness" such as Kafka, Dostoevsky or Victor Hugo as well, with "the Laughing Man", which I am currently reviewing. For my future projects, I am preparing several works for two group exhibitions in New York and Paris, there is also my first exhibition in Bordeaux at the Musée d'Aquitaine and my new film 'La Seconde Zone' which is selected in several festivals this year. Thank you very much.
Translation : Patrice Buyle